Canada Oil, Gas Assets Beat US in Clash for Foreign Cash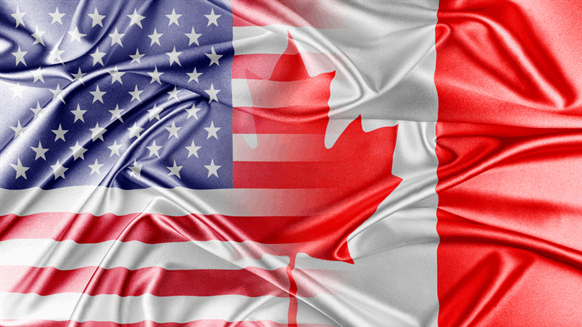 As energy mergers and acquisitions activity in North America heats up, Canada's attitude toward foreign investors welcomes cash from China, other nations.
Investors from outside North America busting into the continent's oil and gas business are increasingly more likely to make a buy in Canada than in the United States, a recent Firmex report with Mergermarket found.
Looking beyond the pricey Permian Basin – where assets can command prices upward of $45,000 per acre – investors are turning their money and attention to the Montney formation in northeast British Columbia and northwest Alberta, as well as Alberta's oil-rich zones in the Duvernay, said Scott Cochlan, partner and co-head for the capital markets practice at Torys LLP.
In the last five years, Canada won the most foreign investment in energy mergers and acquisitions (M&A) with $58.6 billion. Foreign investors ventured into U.S. oil and gas with $44.2 billion during the same period. However, in terms of deal count alone, the United States bested its northern neighbor, 191 to 61.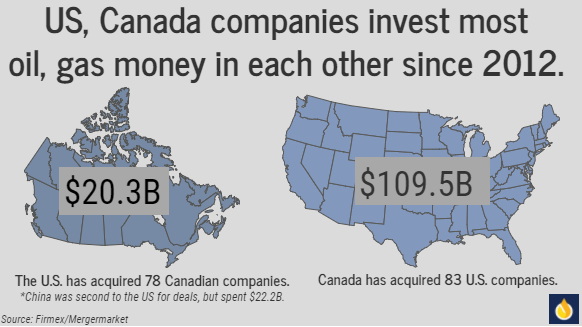 The brisk ramp-up of the U.S. shale boom caught many outside the country by surprise, according to the June report, "Surging Ahead" Energy M&A in 2017." Lower commodity prices coupled with costly land acquisition dampened their appetite for the shale gale.
During the last 18 months, foreign buyers have largely ignored U.S. shale assets. Domestic buyers have dominated the acquisition landscape.
"Instead, most of the inbound activity to North America has involved Canadian targets," the report said. "Part of the reason is Canada's more open policy toward international acquirers, especially from China."
In a single midstream deal, Hong Kong's Cheung Kong Infrastructure Holdings bought assets worth $1.3 billion from Alberta based-Husky Energy. During the last five years, the Asia-Pacific region has led North American energy bids by volume, according to the report.
Nevertheless, the United States' neighbors to the north have their own hurdles to attracting investment. Worries over pipeline access, regulatory challenges and a carbon tax may vex investors who have fewer of those headaches when dealing with the United States.
In fact, Cochlan noted that regulatory uncertainty is driving much of the highest midstream dollar investment away from Canada and into the United States.
"I think the fundamentals for the sector are more attractive in the U.S. than Canada, which has driven recent outbound activity," he said, pointing to the Enbridge/Spectra deal, as well as the $13 billion TransCanada deal with Columbia Pipeline Group.
"Those were both driven by a perceived lack of growth opportunities in Canada, so they're looking outside of Canadian borders to continue to grow their businesses."
But outside of North America, foreign investors are hesitant to engage in the expensive, stringent U.S. market, said Stephen Trauber, vice chairman and global head of energy at Citi. In the report, he told Mergermarket that high-dollar valuations of unconventional assets makes it difficult for them to buy into the space.
"I also think that many of the international oil companies don't necessarily feel competent operating in the current unconventional market in the U.S.," he said. "They would need to have a management team to run the company, and often it's challenging to retain a management team when a large foreign entity comes into the U.S."
1
2
View Full Article
Generated by readers, the comments included herein do not reflect the views and opinions of Rigzone. All comments are subject to editorial review. Off-topic, inappropriate or insulting comments will be removed.