Mexico Whets Foreign Oil, Gas Appetite: Awards 10 Shallow Water GOM Blocks
by Deon Daugherty
|
Rigzone Staff
|
Monday, June 19, 2017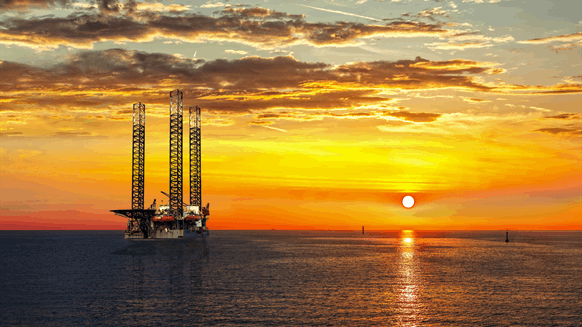 Mexico's Gulf of Mexico shallow water auction nets 10 bids on 15 blocks June 19 - an amazing result for Mexico, analysts say.
Mexico's Gulf of Mexico shallow water auction June 19 awarded 10 of 15 blocks to the likes of Eni, Royal Dutch Shell and Total – suggesting the nation's bet on foreign oil company investment will pay off.
Round 2.1 in the nation's auctioning process for private companies to lease southern blocks drew participation from 20 companies from more than a dozen countries. Pablo Medina, Wood Mackenzie's senior analyst for upstream Latin America, live-Tweeted on the proceedings, which were broadcast live from Mexico's National Hydrocarbons Commission headquarters in Mexico City.
Awarding two-thirds of the blocks to international companies is "an amazing result for Mexico," Medina Tweeted.
Almost 20 percent of the United States' total crude oil production comes from the Gulf of Mexico – a basin of opportunity for the nation for decades – and now, oil and gas companies from around the world are tapping into Mexico's southern share of the briny waters.
In January, the U.S. Gulf produced about 1.7 million barrels of oil per day (bpd), according to the U.S. Energy Information Administration. That's more than enough to easily power the consumption needs of France, Indonesia or the United Kingdom.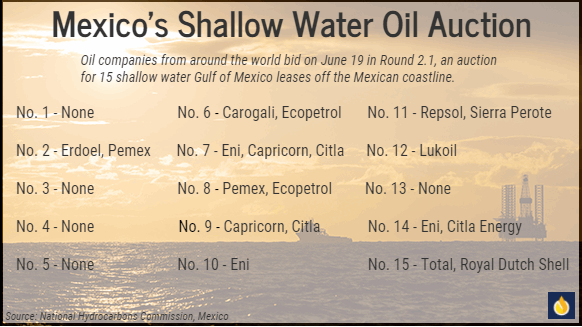 And surely, industry insiders believe, the opportunity for offshore Mexico must be there, too.
"Geology doesn't know geographical boundaries so if there's oil on the northern side, I'm pretty sure there's going to be oil on the southern side," said Scott Munro, vice president of Americas, Europe and Africa at McDermott International. "But then, that's just a guess – it's definitely a forward-looking statement."
It's a guess that many companies are banking on.
Mexico's Gulf of Mexico acreage is vastly underexplored and certainly unexploited compared to the waters of the United States – and with the emergence of Mexico's newly open market, the nation is virtually awash in offshore opportunity.
Three offshore bidding rounds since 2015 have yielded interest from supermajors to private companies trying to make it as first-movers. Already, Exxon Mobil Corp., Total, Chevron, Statoil and BP have shallow water concessions in the Sureste Basin, and a second deepwater lease auction is scheduled this year.
Courting Currency
To be sure, Mexican government leaders are anxious to catch up. In March, operators Italy's Eni, Argentina's Pan American Energy and Texas-based Fleetwood Energy drilled the first private appraisal well drilled in Mexico's Gulf in 80 years. Then on May 21, a joint venture consisting of Premier Oil, Talos Energy and Sierra Oil & Gas spudded the Zama-1, another first as the inaugural exploration well drilled there without the input of long-time monopoly Petróleos Mexicanos (Pemex) in decades. Zama-1's scorecard is expected in July, when its results will be released. The well is estimated to access between 100 million and 500 million barrels of oil and has a 52 percent geological chance of success, said analysts at Edison Investment Research.
Driving Mexico's 2014 reform was the impact of oil production declines, coupled with plummeting oil prices, on its treasury. State-owned Pemex has been the sole producer since 1938, but the company's ability to invest in new production has dried up. In 2004, the Cantarell shallow water play produced more than 2.1 million bpd, but by 2015, production was down to less than 280,000 barrels of oil equivalent per day (boepd), Edison noted.
But reform efforts to lure investment appear to be working. Service providers, such as McDermott, are already on the ground. McDermott made its presence in Mexico four years ago, and the company plans to double its headcount there by the end of the year.
"There's a little bit of an advantage on the Mexican side of the border over the U.S.A. It can be lower risk, lower cost for our customers because there's a lot of shallowater opportunities that are still left," he said. "In the U.S., most of the good shallow water pickings have been taken, so everyone is playing in the deepwater. And of course, that requires a lot more capital to play."
Companies including Italy's Eni E.p.A, Argentina's Pan American Energy, and Talos Energy LLC in the U.S. are already drilling the leases they acquired in Mexico's shallows.
1
2
View Full Article
Generated by readers, the comments included herein do not reflect the views and opinions of Rigzone. All comments are subject to editorial review. Off-topic, inappropriate or insulting comments will be removed.
RELATED COMPANIES