Gadfly: Pipeline Masters Have Turned Into Puppets of Oil Prices
by Bloomberg
|
Liam Denning
|
Friday, June 16, 2017
This column does not necessarily reflect the opinion of Bloomberg LP and its owners.
(Bloomberg Gadfly) -- If you invest in MLPs, look away now:
Master limited partnerships -- tax-advantaged entities that mostly own and operate energy infrastructure like pipelines (see this) -- have been having a tough time lately. After treading water for almost four months, the Alerian MLP Index has slumped by 10 percent since the end of April.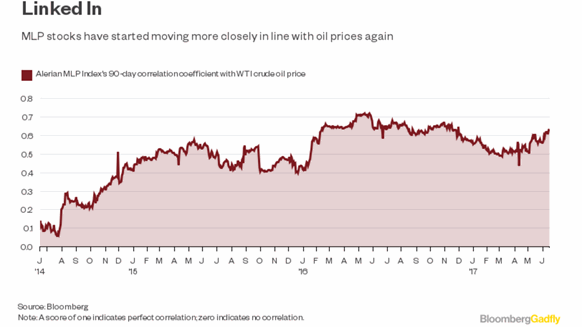 More troubling is that chart above, showing the sector's linkage to oil prices has strengthened again. It brings back uncomfortable memories of the prior two years, when MLPs, so often touted as insulated from oil-price swings, were swept up in the broader crash.
Decline in Alerian MLP Index Since April
10%
The prior boom had led many companies to expand into more-exposed businesses, such as gathering and processing, and load up on debt. Dividends were slashed, giant M&A deals unraveled, and, in one case, investors were just plain thrown under the bus. Meanwhile, many of their clients, the exploration and production companies, looked destined for Chapter 11. Relieved of their rosy assumptions, investors dumped MLPs along with anything else vaguely smelling of oil.
Things began to stabilize in 2016. Oil prices bottomed out, the wave of E&P bankruptcies turned out to be more of a ripple than a tsunami and rigs went back to work. Dividend cuts, after the initial shock, helped to repair balance sheets: Over the past four quarters, aggregate net-debt-to-Ebitda for the Alerian's members dropped from 6.9 times to 5.2 times, according to data compiled by Bloomberg. And then, the November twofer of the election of President Donald "infrastructure" Trump and OPEC's supply-cut deal really got everyone pumped.
November's fireworks have fizzled. Still, the rig count has kept on climbing and oil production is surging back, which should mean more barrels going through pipes (along with natural gas and natural gas liquids) and, therefore, more profits to pay MLP distributions.
So What Gives?
One problem is timing, says Hinds Howard, a portfolio manager focused on MLPs at CBRE Clarion Securities. While U.S. oil production is clearly on the rebound, it is weighted more to the second half of the year:
The point being that, after the experience of the past two years, investors are likely waiting to see if that growth actually materializes before they go all-in. Meanwhile, companies such as Kinder Morgan Inc. and Targa Resources Corp. have been tapping investors for cash. Equity issuance by U.S. pipeline companies hit its highest level in the first quarter since the early stages of the crash. Too soon?
In fact, this show-me story is evident across the entire energy sector. Tudor, Pickering, Holt & Co., an energy-focused investment bank, noted early last month that its investor survey, "Energy Pulse", was barely registering a pulse in terms of responses. The whole industry is a turn-off:
The fact that even the darlings of the Permian shale basin have sold off is particularly troubling.
With OPEC's spell having worn off amid forecasts suggesting the oil glut may not drain meaningfully through 2018, it sets up an anxious summer. Those second-half projections for higher oil production depend on E&P companies maintaining their growth plans. The recent drop in prices may not prompt revisions to budgets during second-quarter earnings season, which kicks off within a month or so. But if it goes on and, importantly, keeps 2018 futures below the magic number of $50 a barrel, drillers may start to ease up.
While that would tend to set up higher oil prices as drilling eventually slowed, those supplies would be coming out of U.S. pipes -- providing investors with another reason to stay away from MLPs. Such is the outcome of U.S. oil production taking the lead in terms of setting prices.
Continued listlessness, with stocks simply washing up an down on the range-bound tide of oil, might yet prompt a sector that could use some consolidation to get down to it. Absent that, it's hard to see how the sector wrests back the initiative for itself.
Liam Denning is a Bloomberg Gadfly columnist covering energy, mining and commodities. He previously was the editor of the Wall Street Journal's "Heard on the Street" column. Before that, he wrote for the Financial Times' Lex column. He has also worked as an investment banker and consultant.
To contact the author of this story: Liam Denning in New York at ldenning1@bloomberg.net. To contact the editor responsible for this story: Mark Gongloff at mgongloff1@bloomberg.net.
Generated by readers, the comments included herein do not reflect the views and opinions of Rigzone. All comments are subject to editorial review. Off-topic, inappropriate or insulting comments will be removed.