Key Shale-Boom Booster Threatened by Trump's Spending-Cut Plans
by Bloomberg
|
Catherine Traywick
|
Wednesday, June 07, 2017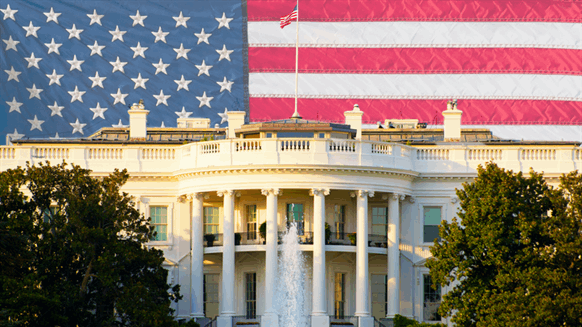 An agency instrumental to America's surge in energy production would lose half its funding in President Donald Trump's proposed federal budget.
(Bloomberg) -- An agency instrumental to America's surge in energy production would lose half its funding in President Donald Trump's proposed federal budget.
The Energy Department's Office of Fossil Energy, whose research helped push the U.S. closer to self-sufficiency, is slated for a 58 percent cut for next year, to $280 million. The shale innovations the office develops are available to any company that can use them, including industry giants that keep results of their own studies, but they're most beneficial to independent drillers that might otherwise find it tough to compete with behemoths such as Exxon Mobil Corp. and its $1.06 billion annual research-and-development budget.
"What the federal government, at times, has done very well is they help get experiments run that many companies may not be able to afford on their own, or wouldn't have the moxie to pull off," said Greg Leveille, chief technology officer for ConocoPhillips, one of the country's biggest producers.
Many in Congress, even Republicans who favor cutting programs, have balked at the cuts. Senate appropriators defended the Energy Department's research program, citing the agency's work on shale gas development.
The U.S. government has had a hand in virtually every major energy innovation in the past half century, from nuclear power to carbon capture. The shale revolution is a descendant of federal research, and agency dollars have supported the development of biofuels, flying wind turbines and the lithium ion batteries that power electric cars. Most of the research budget today is dedicated to nuclear and renewable energies. The share that focuses on oil and gas aims to reduce the environmental harm of fossil-fuel production, which can have the added benefit of boosting a company's bottom line.
Directional Wells
In 1975, in the Appalachian Basin, the federal agency drilled the first directional wells to tap shale gas. Over the next two decades the agency invested $137 million to help demonstrate and commercialize many of the shale-drilling technologies used today.
"Small producers were able to take some of that data and say, 'Hey, there's something here, we can start risking private capital,'" said Chris Smith, former chief of the Fossil Energy office. "The shale gas revolution certainly wouldn't have occurred on the timescale it had if it weren't for the Department of Energy." U.S. natural gas output has increased 30 percent since 2008.
Among other projects, the Fossil Energy office is funding a study that's already improving the efficiency of hydraulic fracturing. Laredo Petroleum Inc., a Tulsa, Oklahoma-based explorer with market capitalization of $3 billion, said it's already benefiting from the research, which cost $7 million.
"Without the seed funding, it probably couldn't get done," Laredo Chief Executive Officer Randy Foutch said in an interview. This way, "it becomes part of the public database, and will help the entire industry. Instead of one company keeping it proprietary, this is public."
Young Tech
Given the far-reaching impact of hydraulic fracturing, it's easy to forget how young the technology is. The fractures, tucked thousands of feet below ground, remain a mystery, their dimensions only inferred through seismic measures and mathematical modeling. Explorers still don't know how many fracture stages are optimal, or why some stages are more productive than others. The process has gotten better, but is far from efficient.
The Laredo study aims to answer some of those questions. In the Wolfcamp shale in West Texas, the company partnered with the Gas Technology Institute to drill 11 horizontal wells running 10,000 feet long. Then they fracked those wells -- pumping each with a slurry of sand, water and chemicals that creates fissures in the surrounding rock. The cracks unlock the trapped resource by allowing oil and gas to flow into the well. Researchers tested the wells to determine which produced more oil and gas, and why.
They then drilled a 600-foot core through the fractured shale. That core enables the researchers to study actual physical fractures for the first time, giving them new insights into how they form and which are most productive.
Game Changer
Laredo said it's reluctant to detail its findings before the official release date late next year. But based on the core sample, the Energy Department predicts that "the fundamental understanding of hydraulic fracture propagation, modeling and effectiveness is about to undergo a game-changing alteration." Laredo is building more efficient wells without having spent a dollar on R&D.
Under Trump's budget proposal, released last month, the Fossil Energy office's carbon sequestration and clean-coal programs would be cut even more deeply than its oil and gas programs.
1
2
View Full Article
Generated by readers, the comments included herein do not reflect the views and opinions of Rigzone. All comments are subject to editorial review. Off-topic, inappropriate or insulting comments will be removed.