BLOG: Oil, Gas Aims to Remain Attractive to Working Moms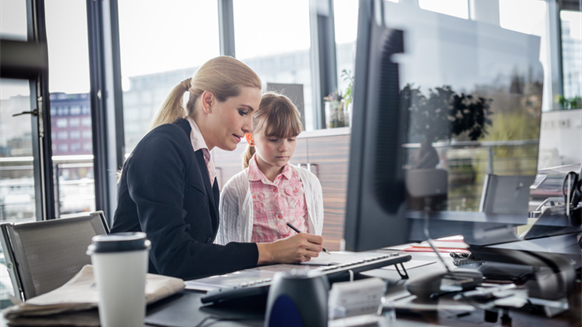 Companies are putting more emphasis on creating a diverse workforce by implementing programs to attract and retain working mothers.
Employee retention in the workplace is a relevant issue across all industries. Just ask any HR professional. The process of interviewing and subsequently hiring, training and onboarding a new employee can be timely and costly. So just imagine doing that every three to six months? Not ideal for any employer.
Now let's zoom in on the oil and gas industry. It may be more important than ever to hire the right talent needed for newer positions. Remember, the oilfield is changing and more technical competencies are needed in industry. Oil and gas employers need to develop their younger talent and groom them to become great technical leaders in the future. So not only do they have to attract them to the industry – (which may mean luring those back who have left) – they have to keep them there.
A few oil and gas majors have implemented programs to help attract a certain subgroup to the industry and retain them – working moms.
Countless female professionals have successfully climbed the corporate ladder while having a family. The outdated mindset of women having to choose between career and family is laughable today. So I'm not saying it can't be done. But it's not always easy.
In efforts to increase diversity and inclusion, companies such as GE Oil and Gas and Royal Dutch Shell plc have introduced programs to help attract and retain female employees. Aside from GE's goal of employing 20,000 women in STEM roles by Year 2020, the company also recently piloted its Moms on the Move program, in which nursing mothers who are traveling on business can ship their breast milk home to their babies.
And Shell recently announced it would offer a generous 16 weeks paid maternity leave to its employees across the globe.
"All women should receive the support they need as new mothers, regardless of where they are in the world," Claire Punins, Shell exploration geologist and leader in establishing the program framework, said in a release. Not only is the global maternity program "the right thing to do" and "makes business sense," but "it makes us more attractive to women seeking jobs, and means they stay with us for longer."
These programs aren't the be-all, end-all for attracting and retaining women in the industry, but I can appreciate the effort. For all the chatter of wanting diversity (in gender, ethnicity, age or thought) in the industry, I'll admit it's refreshing to see so much work being done by companies to put action behind their words.
Generated by readers, the comments included herein do not reflect the views and opinions of Rigzone. All comments are subject to editorial review. Off-topic, inappropriate or insulting comments will be removed.