Renewable Energy Sector Added Jobs during Downturn
A new report from the International Renewable Energy Agency found that despite a tough oil and gas climate, jobs in renewables increased in 2016.
While oil and gas employment took a nosedive globally throughout the industry's most recent downturn, the renewable energy sector actually added jobs in 2016, according to a new report by the International Renewable Energy Agency (IRENA).
Though the rate of growth in renewable energy jobs has been modest during the downturn, job growth has been positive compared to traditional energy industries. IRENA's annual review reported that employment in renewables (excluding large hydropower because it's challenging to determine), increased by 2.8 percent to 8.3 million in 2016. China, Brazil, the United States, India, Japan and Germany were the leading job markets. Asian countries accounted for 62 percent of renewable energy jobs in 2016.
IRENA's report also explored the gender gap in the renewables sector. A survey of 90 renewable energy companies across the world found that women represent an average of 35 percent of the workforce. While the percentage of women employed in renewables is greater than traditional energy sectors, it still lags that of the broader economy.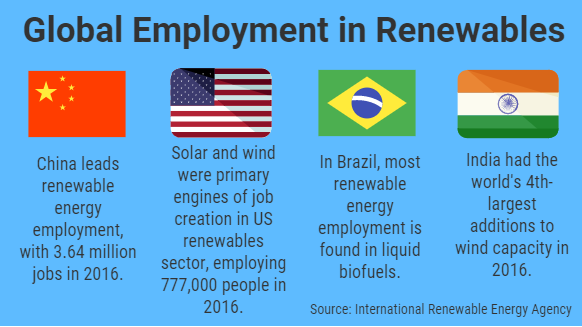 Generated by readers, the comments included herein do not reflect the views and opinions of Rigzone. All comments are subject to editorial review. Off-topic, inappropriate or insulting comments will be removed.