Former House Speaker Boehner: Trump 'Still Learning How to be President'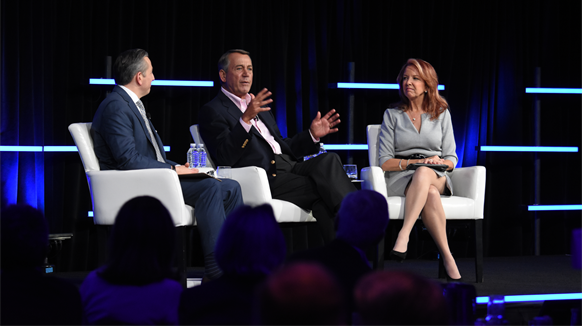 John Boehner delivers a fierce keynote in which he shares his view on Trump's presidency, whether or not he'd consider running for president and of course, Russia. Image courtesy of KPMG.
Regina Mayor, KPMG's global sector head and U.S. national sector leader of energy and natural resources, promised no question would be off the table as she introduced former House speaker John Boehner as the luncheon keynote speaker for the KPMG Global Energy Conference May 24.
She was right.
For an hour straight, Boehner candidly – and at times, humorously – answered questions about a little bit of everything, from what he thinks of Donald Trump's first 100 days as president to possibilities of impeachment.
Boehner resigned from the Congress in October 2015 and is still quite content with his decision today.
"I wake up every day, drink my morning coffee and say hallelujah, hallelujah, hallelujah."
Still, he has a lot to say about the goings on in the White House. For one, the election of President Trump himself.
Boehner said he's been friends with Trump for 15 years, golfed with him and even said if he was having a bad day, Trump would be the first person to call and check on him or offer a pat on the back.
"But president? I just never envisioned him in that role," he said and also suggested that Trump not be allowed to tweet overnight.
Still, when asked what he thinks Trump's done well in his first 100 days in office, Boehner said he's done well with international affairs and foreign policy. In regard to national security, international leaders are thrilled to death that Trump is aggressive about fighting ISIS and getting more boots on the ground to do so, he said.
Boehner said Trump "did what he could" with healthcare, but never subscribed to the idea of 'repeal, then replace.' Instead he should have worked to 'repair' Obamacare.
"Everything else he's done [in office] has been a complete disaster," said Boehner. "He's still learning how to be president."
Here are more of Boehner's candid responses on the following:
Tax Reform

"I was a little more optimistic about it early in the year; now my odds are 60/40 … the border adjustment tax is deader than a doornail … tax reform is just a bunch of happy talk."

Russia and Impeachment

"I don't know why either of these campaigns (Hillary Clinton or Trump) were talking to Russians, but they need to get to the bottom of this … the crazy left wing Democratic colleagues of mine bringing up impeachment talks … talk of impeachment is the best way to rile up Trump supporters. Remember, impeachment is not a legal process; it's a political process."

Possible Presidential Bid

"I don't want to be president. I drink red wine. I smoke cigarettes. I golf. I cut my own grass. I iron my own clothes. And I'm not willing to give all that up to be president."

Being an Optimist

"I think Americans are the luckiest people on Earth. We're the envy of the entire world," said Boehner before reflecting on his own life. "It's the only world where you can grow up as the son of a bartender and end up as the Speaker of the U.S. House of Representatives."
Generated by readers, the comments included herein do not reflect the views and opinions of Rigzone. All comments are subject to editorial review. Off-topic, inappropriate or insulting comments will be removed.