TECH SHOWCASE: 'End to End' Molecular Fuel Marking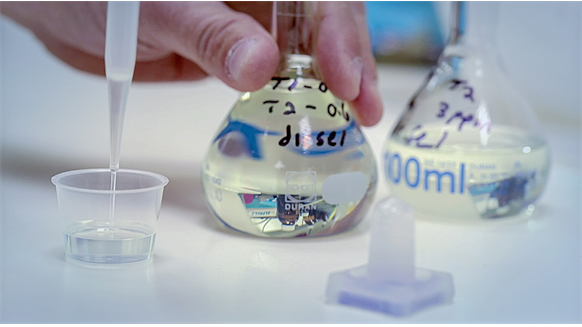 This chemical technology binds to molecules to detect adulterated fuels and crude oils.
As the author of a recent study on refined oil product theft has told Rigzone, one promising approach to countering the multibillion-dollar global problem is to track fuels with chemical markers that bind to fuel molecules. In order to learn more about this process of "molecular fuel marking," which identifies fuels and determines whether they've been adulterated, Rigzone recently caught up with Eric Besson, vice chairman for fuel fraud solutions with the Switzerland-based company SICPA.
SICPA, which specializes in identification, traceability and authentication technologies geared toward various industries, has commercialized a molecular marking system designed to detect adulterated fuels as well as crude oils. Read on for Besson's perspective on molecular fuel marking.
Rigzone: What is molecular fuel marking?
Besson: Molecular fuel marking is the process of applying a unique chemical marker to petroleum products which, working at high precision, allows companies and government officials to identify fuels and detect any adulteration or comingling. This helps tackle many different types of criminal activity. For example, tax evasion - markers can be used to identify fuels that are either subsidized or exempt from certain taxes (such as off-road diesel) or to show taxes have been correctly paid. It is worth underlining that adulterated fuels can be environmentally harmful and cause damage to the appliances/vehicles which run on them.
Historically dyes have been used as fuel markers, but their effectiveness is limited since experience has shown that criminals can remove them - often creating hazardous wastes in the process. SICPA's molecular marker cannot be removed and provides a stable protection over time without negatively impacting on the fuel in any way.
Rigzone: Is SICPA the only company that specializes in molecular fuel marking? If not, what's unique about your technology?
Besson: There are numerous approaches to fuel marking but SICPA's solution is cutting-edge. It is the only product that is end-to-end, from fuel marking to a real-time integrity management system – which interfaces with government and/or corporate databases. The solution includes various additional elements such as the fuel analyzer, GPS locator and wireless reporting capability, providing unparalleled confidence and security to our customers.
The marker can be added manually or in an automated way and is impossible to imitate, remove or alter. It has been extensively tested and meets U.S. regulatory requirements. It has been proven to remains stable for long periods and does not change the characteristics of the marked fuel.
Rigzone: How does your technology work?
Besson: The solution consists of three steps:
Marking: The unique fuel marker is applied in varying, customizable densities to different types of fuels from trusted sources establishing trusted certification of genuine and correct fuel type.
Analyzing: Fuel can then be tested at numerous locations along the supply chain – gas station pumps, in tanker trucks, sea vessels, storage tanks, underground tanks, pipelines, etc. – using the dedicated mobile analyzer. Accurate, fast and reliable detection enables the solution to provide on-the-spot results.
Reporting: testing data is recorded, stored, and securely transmitted on a continuous basis to customers via GPRS (General Packet Radio Service) protocol and if necessary can be used as evidence in legal proceedings.
Rigzone: How does your technology help to deter oil thieves, and what impact is it making on that front now?
Besson: SICPA's solution gives companies and law enforcers a powerful detection tool – in itself a strong deterrent – as well as providing the evidence for successful prosecution and sanction, which in turn is highly dissuasive. In short it helps detect crime, catch the perpetrators and provide the proofs to ensure their punishment.
The solution is currently deployed in a range of challenging environments and has proven its worth. In one implementation, marking of domestic fuel resulted in only 9 months in a 38-percent increase in tax collection. In another country, implementation resulted in a decrease of smuggled fuel from 22 percent of imports to approximately 2 percent – with a corresponding increase in declared import and customs duties.
(EDITOR'S NOTE: Tech Showcase is a new Rigzone feature highlighting new oil and gas-related technologies and techniques and novel applications of existing tech. If you'd like to suggest an item for Tech Showcase, email Rigzone Senior Editor Matthew Veazey at mveazey@rigzone.com. Be sure to include "TECH SHOWCASE IDEA" in the subject line.)
Generated by readers, the comments included herein do not reflect the views and opinions of Rigzone. All comments are subject to editorial review. Off-topic, inappropriate or insulting comments will be removed.