Canada's Permian of the North Roused by Cheap Gas Drilling
by Bloomberg
|
Kevin Orland & Robert Tuttle
|
Friday, May 19, 2017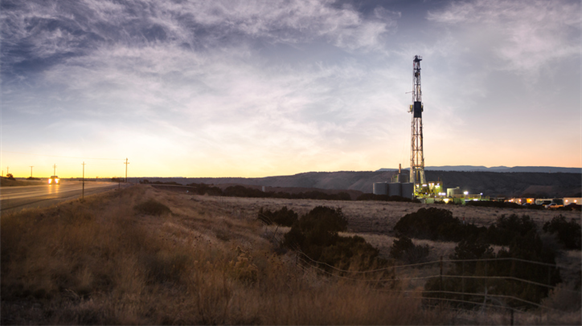 Drilling rigs and roughnecks are hot commodities once again across the Montney shale formation and companies are having a hard time keeping up with demand.
(Bloomberg) -- Drilling rigs and roughnecks are hot commodities once again across the Montney shale formation in northern British Columbia and Alberta, and companies like Grimes Well Servicing Ltd. are having a hard time keeping up with demand.
That's because the Montney, unlike many parts of Canada's oil and gas region, is seeing a surge of investment three years after the worst energy slump in decades. During the first four months of 2017, the number of wells drilled jumped 80 percent from a year earlier to 277, according to Calgary-based Grobes Media Inc.'s BOE Report. It's the most for the period since 2014, when oil prices were twice what they are now and natural gas was 50 percent higher.
Grimes started noticing a pickup in orders back in November and December -- the start of the winter drilling season -- as more customers put in urgent orders for equipment. Demand hasn't let up. "By January, it was getting pretty crazy," Derek Mackey, the company's accountant, said by telephone from Edmonton. "Some people called saying: Can we get a rig in a couple days?"
Exploration is roaring back because energy prices stabilized, halting the slide at levels that remain profitable. The slump also left idle equipment, making it cheaper to drill. A new well now costs about C$5 million ($3.7 million), down from C$8 million in 2014, according to Wood Mackenzie Ltd. Seven Generations Energy Ltd. and ARC Resources Ltd. are among those stepping up exploration in the gas-rich Montney, which may signal more energy investment elsewhere.
"We call it Canada's bellwether play," said Mark Oberstoetter, lead analyst for upstream research at Wood Mackenzie in Calgary. "We have seen reduction in activity in every play, but the Montney has held up better than most."
Like Permian
The deposit straddles the northern border of Alberta and British Columbia. It was dubbed the " Permian of the North" by Vancouver-based Blackbird Energy Inc. because the Montney has the same layered, stratified geology as the Texas shale formation that has led a resurgence in U.S. oil production. But unlike the Permian, which yields mostly crude, the Montney is rich in gas and associated liquids such as condensate.
Shale deposits have become popular targets for North American producers as technologies like horizontal drilling and hydraulic fracturing made it cheaper to extract oil and gas trapped in narrow seams deep underground. The techniques led to gushers at old fields in Texas, North Dakota and Pennsylvania.
That surge in supply helped to make the U.S. the world's largest oil and gas producer. It also led to a crash in prices. Crude that fetched more than $100 a barrel in 2014 tumbled as low as $26 by early last year. It's recovered since then, averaging just under $50 for much of the past 12 months, as the Organization of Petroleum Exporting Countries and partners like Russia cut output.
West Texas Intermediate traded at $49.84 a barrel as of 11 a.m in London on Friday.
Western Canadian gas also has recovered. After dropping as low as 65 Canadian cents (50 U.S. cents) per million British thermal units last May, the lowest in about 20 years, prices have more than quadrupled to almost C$3, data compiled by Bloomberg show.
Rising Output
The Montney contains about 449 trillion cubic feet of marketable natural gas, Canada's National Energy Board estimated in 2013. That's about half the total reserves of Qatar, the Persian Gulf country that is the world's biggest exporter of liquefied natural gas. The Canadian formation also contains 14.5 billion barrels of natural gas liquids and 1.13 billion barrels of oil, according to the NEB report.
With investment and drilling on the rise, daily gas production at the Montney will jump to 7 billion cubic feet by 2019, compared with 4.9 billion cubic feet now, according to Wood Mackenzie. Condensate, oil and other natural gas liquids will grow to 470,000 barrels a day from 250,000 barrels, as development proceeds in liquids-rich areas of northern British Columbia, Heritage/Tower, Elmworth and Kakwa, the industry researcher said.
On April 27, the Petroleum Services Association of Canada raised its 2017 well-drilling forecast for the country by 60 percent to 6,680.
Encana Corp., the largest Montney producer, plans to drill about the same number of wells this year as in 2014, Jay Averill, a spokesman, said in an April 20 email. By 2019, the company expects to double gas output to 1.2 billion cubic feet, with similar gains in production of liquids to more than 70,000 barrels a day.
1
2
View Full Article
Generated by readers, the comments included herein do not reflect the views and opinions of Rigzone. All comments are subject to editorial review. Off-topic, inappropriate or insulting comments will be removed.