Midstream Gains $1.9 Billion on Gas in the Mighty Marcellus, Utica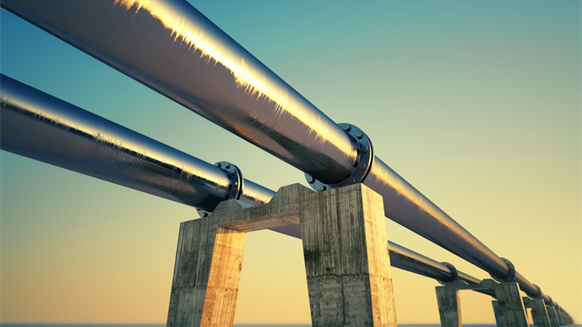 Northeast Pennsylvania pipeline expansion will distribute $1.9 billion in adjusted earnings almost in the middle between gathering systems and long-haul transportation, according to East Daley Capital report.
As the gas glut continues to build in the Marcellus and Utica plays of the Northeast, pipelines and other infrastructure needs are becoming perhaps even more valuable a commodity.
Capacity is currently set at 9.04 billion cubic feet per day (Bcf/d), but is expected to climb to 14.2 Bcf/d by 2020, said analysts at East Daley Capital Advisors in a new report, "Righting A Wrong – The Marcellus/Utica: Balanced on a Knife's Edge."
"What we really wanted to do was connect the dots between pipeline contracts and [earnings before interest, tax, depreciation and amortization] contribution for midstream companies, explained Ryan Smith, East Daley's research director. "At the best case scenario (for the dry Marcellus acreage in Northeast Pennsylvania), the maximum growth opportunity for midstream companies in that area is $1.9 billion by 2020."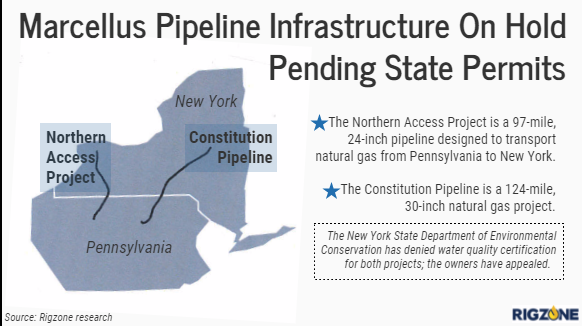 But, the storage and transportation capacity needed to deal with the natural gas supply growth includes some risky projects, specifically the Constitution pipeline and the Northern Supply Access 2016, both of which have been denied water permits by the state of New York, Smith said. Those projects were taken out of East Daley's equation.
Smith said infrastructure is behind the production curve in Northeast Pennsylvania largely based on state-by-state regulatory constraints. Both the Constitution and Northern Access lines were intended to be online last year. As a result, natural gas infrastructure has to catch up to the exploration and production (E&P) companies' development.
"The infrastructure is more needed (than production) especially in Northeast PA," he said. "Beyond 2020, I think you could argue that there could be some more pipeline announcements. We make the case that you can fill every new long-haul pipeline coming out of the Northeast Marcellus. Especially without [Constitution and Northern Access], there could be additional infrastructure announced or built in the future."
For now, most of the region's infrastructure is filled, which maintains the commodity's price discount.
"As a whole, the problem we're coming to is you have this pent-up supply. In Northeast Pennsylvania, you have supply growth forecasted over 4 Bcf per day coming out of Northeast PA. You have that all coming online in mid-'19 through 2019. That's a pretty quick period of time that you're bringing on a lot of production," Smith said. "We think once that new production comes online with new infrastructure, that will depress prices in the meantime because the supply reaction will be quicker than what demand can act by."
Generated by readers, the comments included herein do not reflect the views and opinions of Rigzone. All comments are subject to editorial review. Off-topic, inappropriate or insulting comments will be removed.