BLOG: Job-Hopping Traders May Weigh Down Oil, Gas Prices
by Deon Daugherty
|
Rigzone Staff
|
Wednesday, May 17, 2017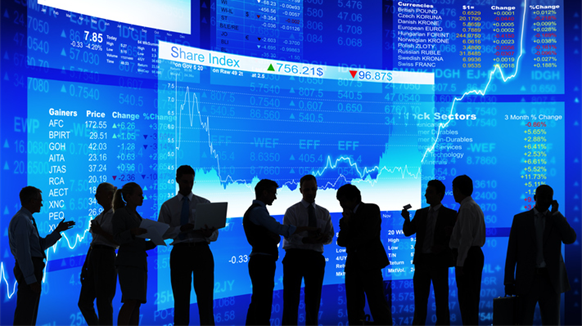 Market optimism gives commodity traders incentive to shuffle between jobs in search of better pay, more flexibility, but that freedom may come at a cost to oil and gas price points.
Right around this time of year – when the kiss of spring is still fresh and the promise of summer vacation beckons – oil and gas traders begin cashing their annual bonus checks. And when business is good, a relative term, for sure, many of them also cast around for their next big thing.
Deon Daugherty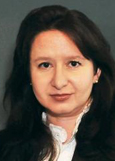 Senior Editor, Rigzone
But while their personal bank accounts may be more active, their professional trades may begin to wane. And that could be artificially holding down oil prices around the world.
As one Houston oil and gas investment banker told me, throughout the supply chain, as folks begin looking for new jobs in earnest production at their current gig may slow. For an oil trader, that translates into less market activity, a sense of ennui that may be reinforcing current commodity price stagnation.
Why Now?
"People never feel like they're getting paid what they deserve – and maybe they're not – and you see a lot of action," one expert in the business told me. "But this year, it's a little different."
In recent months, there's been more mergers and acquisitions (M&A) action among trading groups than during the doldrums of the downturn. My expert, a Houston investment banker who preferred to keep his name out of the fray, noted that Macquarie bought Cargill's trading business. Saudi Aramco and Shell splintered off Motiva Enterprises last year, and Motiva has created its own trading group. And Exxon Mobil is developing its financial derivatives portfolio.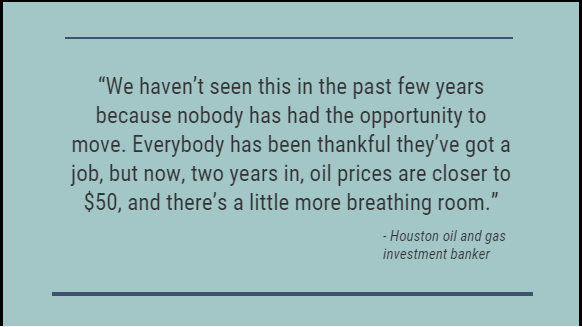 In short, there's more opportunity for traders to move on. More than a dozen individual traders have privately shared their plans to climb the corporate ladder elsewhere.
And as these folks prepare to depart, their trading of oil and gas positions slows down. They don't want to make trades that they won't be around to justify – and the smartest ones don't want to burn a bridge. Still, basic economic theory tells you an apparent lack of interest in a given market equates to a drag on price.
"We haven't seen this in the past few years because nobody has had the opportunity to move. Everybody has been thankful they've got a job, but now, two years in, oil prices are closer to $50, and there's a little more breathing room," he said.
But it's been a while. Traders hopped between jobs almost every spring between 2003 and 2008, when industry cash was more plentiful and trader salaries could grow upward of 20 percent with such movement, the banker said.
As the downturn took its toll, especially on the exploration and production (E&P) oilfield services sectors, some trading groups grew more … thrifty with their traders' compensation.
At one prominent national oil company, traders work under contracts and as those agreements expire, the group historically has opted not to pay bonuses, another incentive to find work elsewhere, the banker said.
"Rather than re-up people, they decided not to pay out bonuses. They'll pay you upfront for the first year or two, or at least the first year guaranteed, and in your second year, it just kind of fades away. They decide to go in a new direction or something changes in their system," he said. "There's a lot of companies out there that are playing this hand."
1
2
View Full Article
Generated by readers, the comments included herein do not reflect the views and opinions of Rigzone. All comments are subject to editorial review. Off-topic, inappropriate or insulting comments will be removed.
MORE FROM THIS AUTHOR
Deon Daugherty
Senior Editor | Rigzone