Saudi Arabia, Russia Push to Extend Oil Output Cut until March 2018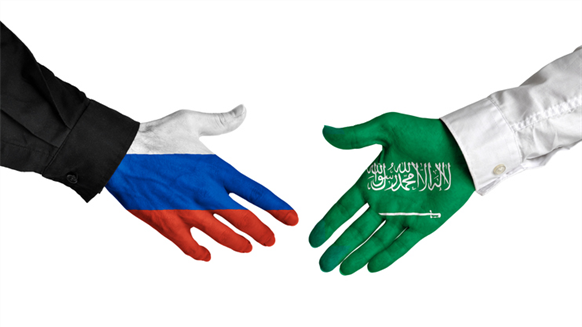 Saudi Arabia's energy minister and his Russian counterpart pledged to "do whatever it takes" to reduce the crude inventory overhang.
Saudi, the de facto leader of OPEC, and Russia, the world's biggest producer, together control a fifth of global supplies. Their latest joint action was spurred by oil prices dropping to under $50 per barrel, below their budget needs.
Under the current agreement that started on Jan. 1, the 13-country OPEC and other producers pledged to cut output by almost 1.8 million barrels per day in the first half of the year.
"OPEC and Russia recognise that in order to get the market back on their side they will need 'shock and awe' tactics where they need to go above and beyond a simple extension of the deal," said Virendra Chauhan, Singapore-based analyst at Energy Aspects.
"The market will also be looking at export cuts and not just production cuts, which is what is required to rebalance the market."
So far, OPEC producers have not yet debated whether to deepen the cuts from July, OPEC sources told Reuters.
If producers maintain their cuts at the current pace, it could push the market into a small deficit by the fourth quarter, said Edward Bell, director of commodity research at Emirates NBD in Dubai.
U.S. drilling activity last week rose to its highest in two years, while U.S. production has jumped more than 10 percent since its mid-2016 trough. (Reporting by Aizhu Chen in BEIJING; Additional reporting by Henning Gloystein and Florence Tan in SINGAPORE; Writing by Josephine Mason and Dmitry Zhdannikov; Editing by Dale Hudson)
1
2
View Full Article