Oil, Gas Industry Responds to the Gender Gap
by Valerie Jones
|
Rigzone Staff
|
Thursday, May 11, 2017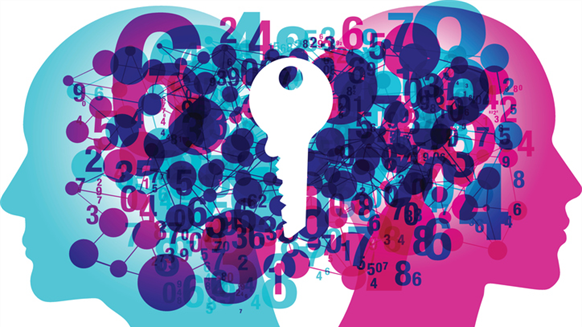 A new initiative by GE aims to employ 20,000 women in STEM roles by 2020.
The disparity between men and women in STEM roles, specifically in the oil and gas industry, is often discussed, but not with much action behind it. One company has decided to move past the lip service and launch a companywide initiative to actively address the gender gap.
Earlier this year, GE announced its goal to have 20,000 women in STEM roles at its company by Year 2020. The company has dubbed the initiative Balance the Equation and it is effective across all of GE's business units, including GE Oil and Gas.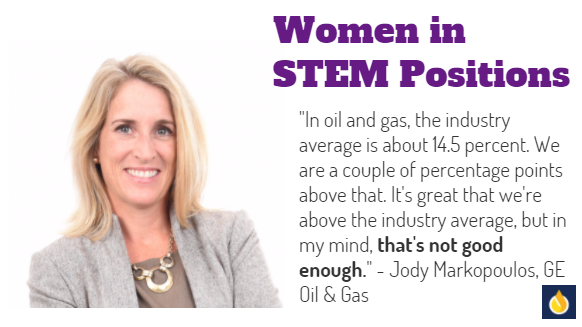 GE is known for its two-year, introductory programs for fresh graduates, such as the Operations Management Leadership Program (OMLP); Digital Technology Leadership Program (DTLP); and the Edison Engineering Development Program (EEDP), Jody Markopoulos, vice president of operations for GE Oil and Gas, told Rigzone. The initiative is aimed toward employees at those program levels.
In regard to the current number of women in STEM positions, Markopoulos said GE is on par with industry average.
"In oil and gas, the industry average is about 14.5 percent. We are a couple of percentage points above that," she said. "It's great that we're above the industry average, but in my mind, that's not good enough."
Balancing the Equation
With a few years left and more work to be done, GE has begun reaching out to the very people who they will need to narrow the gender gap – university students.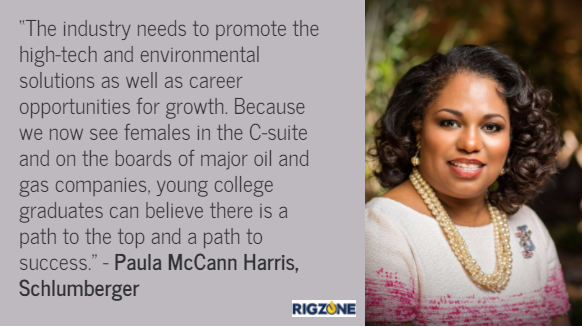 "In the past few weeks, we have visited seven U.S. schools in which we do a lot of our entry-level recruiting from," said Markopoulos, who is also coleader of GE's internal Women's Network. "We visit the schools in an interactive RV and speak to them about STEM education and what kinds of careers they can have at GE with a STEM background."
Being a part of the dialogue is essential to encouraging the retention of young women in a career path that has a backbone in STEM, she added. Active engagement in the community and being representative of different experience levels is important, too.
Paula McCann Harris, director of global educational programming for Schlumberger, started as a field engineer working offshore 30 years ago and believes while the industry still has a ways to go in equal gender representation, significant strides have been made.
"Making STEM accessible to girls while tying STEM solutions into their interests will be important," Harris told Rigzone. "The industry needs to promote the high-tech and environmental solutions as well as career opportunities for growth. Because we now see females in the C-suite and on the boards of major oil and gas companies, young college graduates can believe there is a path to the top and a path to success."
In 2004, Schlumberger launched its Faculty for the Future program, in which 600 women from 78 developing and emerging countries have received fellowships to pursue doctorate and post-doctorate STEM degrees.
Upon completion of their studies, Fellows are expected to return to their home countries and contribute to the country's economic, social and technological advancement. This includes bolstering STEM teaching and research faculties of their home institutions, pursuing positions in the public sector where they can use their new skills to influence support for STEM policy-making.
1
2
View Full Article
Generated by readers, the comments included herein do not reflect the views and opinions of Rigzone. All comments are subject to editorial review. Off-topic, inappropriate or insulting comments will be removed.