All Washed Up? Shale Oil and Gas Drowns Out US Gulf of Mexico Shallows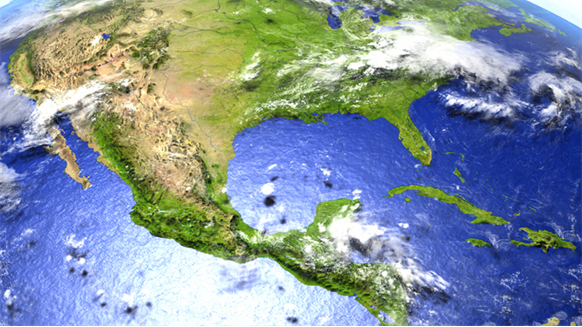 More than 10,000 jobs in the US Gulf of Mexico may be lost, never to return, as shallow water drilling lands in the doldrums where experts say it will remain.
The Biggest Jackup Market in the World
There was a time when the Gulf of Mexico ruled the jackup market. With almost 200 jackups, the shelf was the biggest jackup market by far, said Terry Childs, director of Rigzone Data Services.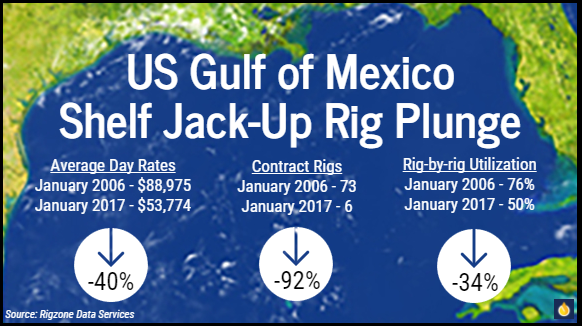 Rowan, Ensco and Enterprise, which bought the now-defunct Hercules Offshore assets, run the majority of the jackups in the GOM. They number less than a dozen, and Childs said it's unlikely there will ever be more such rigs on the shelf.
"All the regions of the world that have mature shelf basins – the North Sea, Southeast Asia and West Africa – their jackup activity isn't probably what it once was either, but I don't think there's any region that has declined like this one," he said.
Today, the Middle East's jackup market is the largest shelf drilling area in the world, Childs said. With a breakeven at $27 per barrel of oil, producers there aren't motivated much by price fluctuations. Since September 2014, the Middle East market has only lost 10 rigs, dropping from 116 jackups to 110 rigs. Conversely, the GOM count has declined from 37 jackups to 11 rigs at the end of March.
It's the short-term contracts and lower dayrates that have mostly driven producers away from the Gulf's shallow water, he said. Contracts in the GOM can be signed on a week or two's worth of work; rigs in other shallow water plays can be tied up for years.
"This market is done, in terms of ever having a lot more jackups. It's just not going to happen," Childs said. "Here, deepwater is clearly where the focus is in the future. The only reason there's as many jackups still existing in supply as there is, is because they just haven't scrapped them yet."
1
2
View Full Article
Generated by readers, the comments included herein do not reflect the views and opinions of Rigzone. All comments are subject to editorial review. Off-topic, inappropriate or insulting comments will be removed.