Trump to Expand Offshore Drilling, Review Post-Spill Rules
by Bloomberg
|
Jennifer A. Dlouhy
|
Friday, April 28, 2017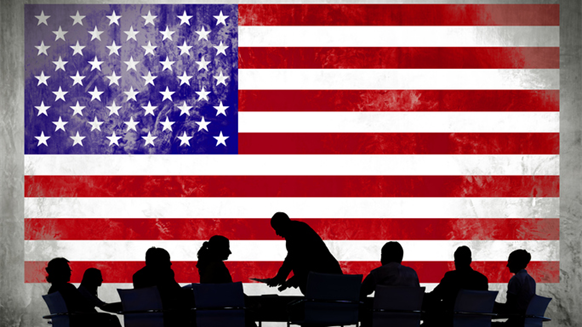 President Donald Trump moves to expand offshore oil drilling and to reconsider rules that safeguard the activity.
(Bloomberg) -- President Donald Trump moved to expand offshore oil drilling and to reconsider rules that safeguard the activity -- including mandates designed to prevent a repeat of the Deepwater Horizon disaster. Trump on Friday ordered Interior Secretary Ryan Zinke to revise a five-year schedule for auctioning offshore drilling rights with the aim of potentially including territory left out by former President Barack Obama. Trump's executive order also seeks to reverse a potentially more enduring decision by Obama to indefinitely withdraw most U.S. Arctic waters and some Atlantic Ocean areas from leasing.
"Our country is blessed with great natural resources" but too many have been closed to exploration, Trump said, during a signing ceremony in the White House Roosevelt Room. He was joined by Republican lawmakers from oil-producing states, including Senator Lisa Murkowski of Alaska and Representative Steve Scalise of Louisiana.
Trump said his executive order starts the process of opening new offshore waters to "responsible" oil and gas development, adding: "It's going to lead to a lot of great wealth for our country and a lot of great jobs."
The executive order also instructs Zinke to review a raft of protections governing offshore drilling, including a measure designed to address shortcomings revealed by the 2010 Deepwater Horizon disaster, triggered when a BP Plc well blew out in the Gulf of Mexico. The resulting explosion killed 11 workers and spewed millions of barrels of crude.
That rule review could take years to unfold, even if it results in only modest changes to the regulation of offshore wells. In a White House briefing Thursday, Zinke told reporters it would also take "a couple years" before the government could auction off new drilling rights in Pacific, Atlantic or Arctic waters. Even then, it's not clear whether oil and natural gas companies would line up to buy them.
Important Signal
But energy analysts say Trump's directive sends an important signal to oil and gas companies that U.S. waters are open for business. The offshore effort follows Trump's previous moves to reverse a raft of Obama-era regulations limiting the extraction, transportation and use of fossil fuels.
"It shows the industry the administration is listening," said David Pursell, a managing director at investment bank Tudor Pickering Holt & Co. "The industry ought to feel pretty good given what Trump is doing inside the EPA and with these rules."
The well-control rule, estimated to cost the industry $890 million over a decade, requires oil companies to keep a close watch on distant, deep-water drilling operations and conduct more frequent inspections of emergency equipment.
Industry lobbyists have focused their complaints on provisions requiring special permission to drill through potentially more treacherous terrain -- after already investing in the territory. Without confidence of getting those approvals, companies may be reluctant to invest in offshore projects where that issue could arise, said Erik Milito, a policy director for the American Petroleum Institute.
Prevents Mishaps
Environmentalists say the 2016 rule -- imposed after six years of analysis -- is already working to prevent mishaps offshore.
It's "reducing dangerous offshore events like the Deepwater Horizon tragedy in the Gulf of Mexico," said Lois Epstein, an engineer and Arctic program director with the Wilderness Society. "It only will help unsafe offshore operators if these important protections are changed."
Zinke said essential safeguards would not be eroded as part of the broad assessment set to cover regulations "from bow to stern."
"We will find ways to look at our regulatory requirements that strengthen our safety and environmental policies," Zinke told reporters. "America leads the world in environmental and safety protections, and I assure you we will continue that mission."
1
2
View Full Article
Generated by readers, the comments included herein do not reflect the views and opinions of Rigzone. All comments are subject to editorial review. Off-topic, inappropriate or insulting comments will be removed.