Cruise Line Exec: LNG Represents the Future
by Matthew V. Veazey
|
DownstreamToday Staff
|
Thursday, January 05, 2017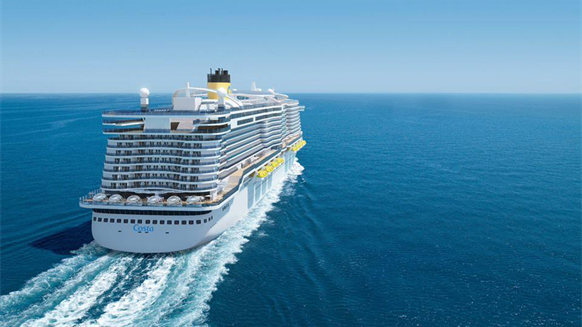 Carnival opting for LNG instead of marine diesel oil.
As this series on natural gas utilization has shown, initiatives to develop new markets for abundant natural gas supplies are prompting significant changes within the realms of power generation and transportation. In some cases, the effects of these changes will be evident to end users. For instance, residents of communities previously isolated from the natural gas grid may soon notice new pipeline infrastructure or shallow-draft liquefied natural gas (LNG)-laden ships and barges. Also, employees of organizations switching to natural gas-powered vehicle fleets likely will detect some minor differences in how they refuel cars, trucks and buses with compressed natural gas or LNG compared to gasoline or diesel.
A major player in one high-profile industry recently unveiled plans to begin switching to natural gas, but its customers likely won't notice a difference – and that's fine with the company devoting the considerable time, money and other resources necessary to make the change.
Carnival Corp. & plc, the world's largest leisure travel company with 10 cruise line brands traveling to all seven continents and nearly 750 ports of call, has ordered a total of seven fully LNG-powered cruise ships – a first for the industry. The company, via its "green cruising" initiative, has already begun integrating LNG-powered vessels into its fleet. The ships, the first of which will set sail in northwest Europe and the Mediterranean, will feature dual-fuel engines that will burn LNG both in port and at sea. On Sept. 30, 2016, Carnival and Shell signed a deal in which the latter will supply the cruise operator with LNG from the Gas Access To Europe (GATE) terminal in Rotterdam, the Netherlands and at a Western Mediterranean port. The Carnival-Shell fuel and infrastructure partnership could be expanded to other locales and more ships in the future.
Tom Strang, Carnival Corp.'s senior vice president for maritime affairs, recently told DownstreamToday about his company's pioneering foray into LNG cruising. Read on for details about the rationale for the switch from marine diesel oil to LNG and what Carnival is doing to make it a reality.
Tom Strang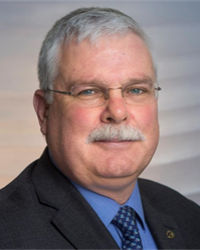 Sr. VP for Maritime Affairs, Carnival Corp.
DownstreamToday: What are the key drivers behind Carnival's decision to switch to LNG?
Tom Strang: Many factors influenced our decision to be the world's first cruise company to use LNG to power ships in port and in the open seas. Ultimately, the environmental benefits of LNG, in combination with regulatory and supply chain factors, were a tipping point for us to build the world's first LNG-powered cruise ships.
As part of our ambitious 2020 Sustainability Goals -- which we've published and are on track to meet or exceed – we set our targets regarding reducing our rate of emissions and our footprint. LNG is the world's cleanest-burning fossil fuel and will play a major role in meeting those targets given that shipboard fuel consumption is the most significant contributor to our emissions and carbon footprint. Compared to marine diesel oil, LNG offers a 95- to 100-percent reduction in sulfur oxide, an 85-percent reduction in particulate matter, an 85-percent reduction in nitrogen oxides and a 20- to 25-percent reduction in carbon emissions.
Additionally, there are various regulations and guidelines on the horizon that encourage LNG adoption. (On Oct. 28, 2016) the International Maritime Organization (IMO) confirmed the introduction of a global 0.5 percent sulphur limit in 2020, and we see continued adoption of emission control areas (ECAs) in many heavily populated coastal areas. By adopting LNG as a fuel source for our cruises and building out the necessary infrastructure to expand its adoption in the sector, we are future-proofing our business for these and other future regulations.
DownstreamToday: Aside from the environmental advantages, what other benefits does Carnival expect to realize by using LNG in its new vessels?
Strang: LNG is an economic, clean and safe marine fuel with increasing global availability, and it also complies with existing and scheduled emission requirements while providing the opportunity to significantly reduce particulate matter and greenhouse gas (GHG) emissions. For these reasons, it is seen by many as the fuel of the future. By building new ships that will be powered by LNG both while in port and at sea, we believe we are setting ourselves up to take advantage of these benefits and future-proofing our fleet.
DownstreamToday: What significant changes will Carnival's LNG integration require in terms of infrastructure and ship design?
Strang: Integrating LNG into our operations requires infrastructure changes both in port for fuel supply on onboard our ships for fuel storage and use.
While port infrastructure is improving all the time and certain areas in Europe are investing heavily into the infrastructure that allows for the use of cleaner fuels, we are actively working with ports around the world to ensure that the fuel we need, in the form and quantities we need it, will be available when our ships arrive. This is particularly true in the South Florida region where natural gas is available, but not in the liquid form or quantities we need. Examples of this infrastructure coming to life include gas bunkering facilities and terminals currently being developed in Europe that will allow for the further adopting of LNG fueling.
One example is the supply of LNG to the world's first LNG Hybrid Barge that we developed in coordination with Becker Marine Systems in Hamburg, Germany. In 2015, this barge was used to supply LNG generated electricity to AIDAsol from our AIDA Cruises brand, making it the first cruise ship in the world to be supplied with power from an LNG barge of this kind.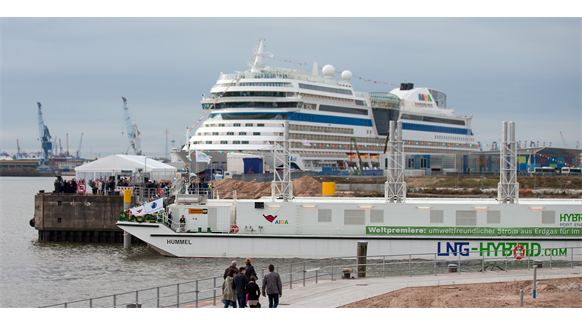 The LNG Hybrid Barge provides LNG-generated electricity to the AIDAsol cruise ship in port in Hamburg, Germany. Photo source: Carnival Corp.
AIDAprima, the latest and most environmentally-friendly ship from AIDA Cruises, is the first cruise ship to use LNG in port and is currently in operation in the North Sea, calling at five different ports between Hamburg, Germany, and Southampton, England. The ship has one dual-fuel engine, but because there is not currently storage onboard for LNG to be used while at sea, our team has helped secure LNG at each of the ports on which it calls.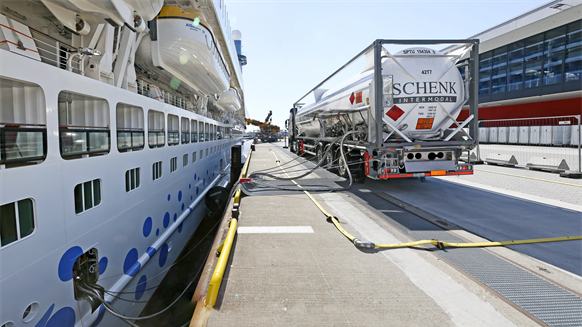 The AIDAprima receives a supply of LNG at port in Hamburg. Photo source: Carnival Corp.
Simultaneously, we are working to develop the infrastructure on our ships to accommodate LNG fueling both in port and at sea – an advancement that will be incorporated on our new fully LNG-powered ships entering service beginning in 2019. These new vessels will be equipped with dual-fuel powered engines in case supply of LNG is not available.
LNG is natural gas that is turned into liquid by cooling it to -260 degrees Fahrenheit, which shrinks its volume by a factor of 600 and allows for ease and safety of storage and transportation. When it is liquefied, it has a density that is about half that of conventional fuels, and therefore requires a larger tank volume than conventional fuel – typically about 1.8 times more space. As a result, we are working with shipyards to optimize the design of the ships to best utilize space in engine rooms to accommodate this storage.
The fuel will be stored in type C tanks located in their own hold spaces, and the engine room spaces will be inherently safe with double-wall pipes used for gas lines and gas control valves located in their own safe spaces. In our new vessels, we will be designing them to be able to operate for 14 days between refueling with a combined volume of approximately 3,600 cubic meters of LNG stored onboard.
DownstreamToday: Other operators of oceangoing vessels outside the cruise ship industry – for instance, cargo ships, supply vessels, ferries – have turned to LNG. What has Carnival learned from their experiences, and how is your situation unique from a fuel-switching standpoint?
Strang: When it comes to LNG implementation, we are taking a partnership approach on all sides – from learning key takeaways from those to who are experienced in the sector to working with other groups to educate them on the safety and benefits of LNG. We joined the Society for Gas as a Marine Fuel (SGMF) and the cross-industry coalition SEA\LNG. It is important for us to look around the sector and find groups that can help us develop and understand the challenges and opportunities of LNG, not just as a cruise company, but in broader terms.
We learned that it is important for us to work together to develop industry-wide standards so we can move forward with a unified approach as we work to make the use of LNG as a marine fuel a global reality. We also have learned that collaboration with regulators, ports and LNG providers is essential as we work to expand the supply chain and infrastructure.
DownstreamToday: Looking beyond the recent Carnival-Shell announcement, what longer-term effects do you think adopting LNG will have on the broader cruise industry? Might any of these benefits even become evident among the customers aboard your ships?
Strang: To us, LNG is the future. As organizations continue to enact safety regulations and codes demanding cleaner emissions, it is crucial for the cruise industry to adapt and build cruise ships that use cleaner fuel. In building LNG-powered cruise ships, the cruise industry will abide by increasing regulatory demands, and reducing air emission overall impact on the environment.
Additionally, we know that the transition to LNG is no simple task, and the demands – technical and otherwise – associated with its implementation make it something of a milestone both for Carnival Corporation and the wider cruise industry. Our hope is that by moving forward with LNG and helping to establish it as a trusted power source and develop the infrastructure needed to use it, we will make it more readily available and more of a viable option -- not only our fleet, but the industry as a whole.
For the passenger, we don't see the cruise experience changing based on the ship's fueling system. Passengers who have things such as environmental impact high on their list of what goes into planning a vacation will note that Carnival Corporation is the industry leader in this field, but in terms of onboard experience the transition will be seamless and behind the scenes.
DownstreamToday: Would you like to add any comments?
Strang: LNG delivery to ships, its storage and its supply are all subject to regulations that vary not only from country to country but from port to port. As a company that sails 102 ships to over 700 ports each year, you can imagine this poses a significant challenge for us as we begin operating more and more on LNG in the years to come. We applaud the efforts of organizations such as SGMF, SEA\LNG as well as the EU Sustainable Shipping Forum, or ESSF, that are working to pursue some uniformity. This will be an important element in the successful evolution of our industry to one that incorporates LNG into everyday operations.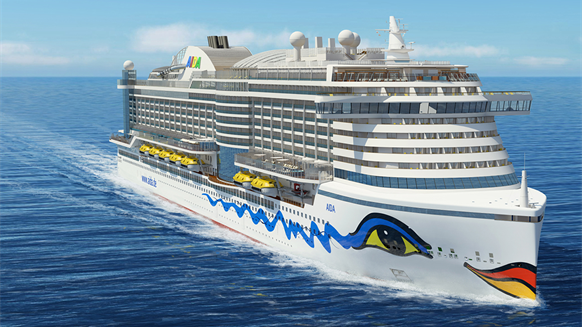 A rendering of one of Carnival's new LNG-fueled cruise ships that will sail under the AIDA brand. Photo source: Carnival Corp.