Report: Downstream Maintenance on the Rebound
by Matthew V. Veazey
|
DownstreamToday Staff
|
Monday, October 10, 2016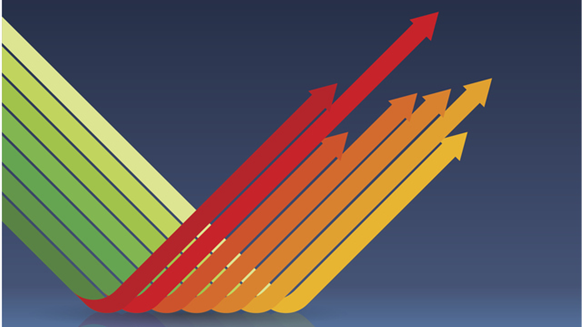 Saturated refined product market has eroded maintenance opportunity cost, says Douglas-Westwood analyst.
The downstream asset maintenance market is on the rebound, and the upturn should prevail through 2021.
That's the assessment by the energy market research and consulting firm Douglas-Westwood, whose recent World Downstream Maintenance Market Forecast 2017-2021 depicts a downstream sector emerging from a period of aggressive pressure to control costs.
"2016 should be a good year for downstream maintenance providers," Matt Adams, an analyst with the UK-based consultancy who wrote the report, told DownstreamToday. "2015 saw a lot of non-essential work being delayed in order to keep utilization high while margins were favorable. Much like the crude market, the refined product market is now saturated which has eroded margins and reduced the opportunity cost of maintenance work."
In addition to the lower maintenance opportunity cost, strong growth in liquefied natural gas (LNG) terminal capacity that began last year and should run through 2018 will bolster downstream maintenance spending – particularly in the United States and Australia, Adams noted. "Maintenance requirements for LNG processes are relatively intensive, due to the stresses placed on equipment, so have a reasonably high cost per tonne of capacity compared to refineries and petrochemicals," he explained.
For more about the downstream maintenance outlook through the start of the next decade, including a "fairly surprising" revelation, read on.
DownstreamToday: What are some common types of downstream maintenance projects we can expect to see?
Matt Adams: Our report aggregates expenditure into two core service lines: Asset Services (Mechanical Services, Electrical & Instrumentation, Fabric Maintenance, Rotating Equipment, Process Equipment) and Asset Integrity (Consultancy, Asset Management, Integrity Services). The fastest global growth rate we expect to see is in Rotating Equipment maintenance, including servicing and parts replacement for compressors, blowers, turbines, turbo expanders and pumps. This is largely due to the increases in LNG capacity expected, but will also be helped by investment in gas processing in emerging markets with growing natural gas demand.
DownstreamToday: Is there much variance in project types by region?
Adams: This is largely determined by the make-up of the installed base in each region – that is, the proportion of gas processing, refineries, petrochemical and LNG plants. For instance, Asia has a high proportion of the global petrochemical population, thus the maintenance project requirements will be slightly different to Africa and Australasia which has a relatively small petrochemical capacity base. Generally speaking, petrochemical plants require less Electrical & Instrumentation maintenance but more Mechanical Services maintenance.
DownstreamToday: Which types of contractors and equipment suppliers should benefit from this trend?
Adams: I would say the contractors with the broadest scope for a complete maintenance provision will be in the best position going forward. Any cost savings that can be delivered through economies of scale will be welcomed by operators, but those who can offer a simple bundle of maintenance services across multiple areas will be popular. The growth in LNG capacity also offers a good opportunity for new business for contractors and suppliers – particularly in the U.S., which is expected to increase LNG export capacity almost 5,300 percent over 2015-2021!
DownstreamToday: Did any major trends surprise you or at least deviate from previous five-year outlooks?
Adams: The underlying drivers for the downstream maintenance market are reasonably stable (product demand, facility capacity, feedstock throughput), thus the overall trend in the market doesn't typically alter too much between editions of the report – especially over a five-year forecast. However, what we did see after conducting a consultation exercise is that service pricing has been hit in a similar way to the upstream market – either through direct reduction or through the bundling of additional services free of charge. That was fairly surprising given how well the downstream sector has been performing relative to upstream, although given the number of operators and contractors involved across multiple sectors it is not altogether unexpected that cost reductions have been across-the-board.
Douglas-Westwood forecasts that 62 percent of downstream asset maintenance spending from 2017 through 2021 will occur in Asia and North America. SOURCE:Douglas-Westwood