The $10 Billion Petchem Growth Engine for Appalachia
|
Monday, September 05, 2016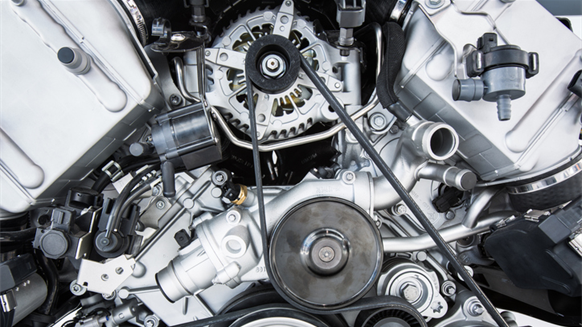 Advocates of proposed Appalachian Storage Hub say project would rev up region's manufacturing, employment.
Supporters of a proposed massive infrastructure project in Appalachia say that it would provide a strong impetus for growth in the region's petrochemicals sector.
"The Appalachian Storage Hub is needed to take full advantage of chemical and plastic raw materials found in the Marcellus, Utica and Rogersville shales," Kevin DiGregorio, executive director of the economic development non-profit Chemical Alliance Zone, Inc. (CAZ), said of the proposed $10 billion natural gas transmission and storage project that would provide regional access to natural gas liquids (NGL) from shale plays in West Virginia, Ohio, Pennsylvania and Kentucky.
The storage and distribution system would comprise underground storage facilities for ethane – and possibly other NGL such as propane and butane – as well as pipelines to move ethane and other raw materials to cracker and other manufacturing facilities, DiGregorio explained. "The proposed 'six-pack' pipeline system would transport methane, ethane, ethylene, propane, propylene and chlorine to manufacturing facilities throughout the region," he said.
Possible federal hub study
The Appalachian Storage Hub proposal boasts some key backers in Washington, D.C., but a provision couched in legislation working its way through Congress may help it to garner even more support at the federal level.
In April, the U.S. Senate passed a broad energy bill – S. 2012, the Energy Policy Modernization Act of 2016 – that includes an amendment requiring the U.S. Departments of Commerce and Energy to study the Appalachian Storage Hub's feasibility. The study outlined in the amendment – introduced by Republican U.S. Sen. Shelley Moore Capito of West Virginia and supported by her state's senior senator, Democrat Joe Manchin – would give federal decision-makers a better grasp of why the ethane storage and distribution hub is needed, said MATRIC President and CEO Steve Hedrick.
"In order for the federal government to fully understand the benefit that may be realized through the Appalachian Storage Hub, a study by the Department of Energy and the Department of Commerce must be conducted," Hedrick said. "This will allow a deeper understanding of its impact, both on the nation's energy independence and on commerce in total."
One of West Virginia's three GOP congressmen, David B. McKinley, introduced a similar amendment to the U.S. House of Representatives' version of the energy bill.
Whether Energy and Commerce will be compelled to conduct the study remains to be seen. Senators and representatives on a conference committee have been meeting this summer to resolve differences in the bills passed in each chamber. A member of Capito's staff told DownstreamToday in late August that the bill remains in conference. The House and Senate, which have been in recess since July, go back into session this week.
To learn more about the amendment, visit
Capito's website
. You can also track the status of S. 2012 on the
Library of Congress' website
.
NGL likely would be stored in depleted natural gas fields, depleted salt domes or other natural underground caverns, noted DiGregorio. Exactly where the hub would be located remains undetermined, but experts reportedly are exploring candidate sites.
Geology researchers from universities in West Virginia and Ohio are compiling a list of the top three to five potential locations in the quad-state region based on various technical criteria, said Steve Hedrick, president and CEO of the Mid-Atlantic Technology, Research and Innovation Center (MATRIC). From its facilities in the West Virginia cities of South Charleston and Morgantown, MATRIC conducts contract research and development activities for global clients in the chemical, technical and software sectors.
"I believe this is a regional opportunity and the best locations in the region should be considered for placement of infrastructure," DiGregorio continued. "The storage area will likely be defined by the nearness to manufacturing facilities and the availability of adequate underground storage sites."
Much of Appalachia's existing chemical and plastic manufacturing capacity straddles the corridors of the Ohio River and its main tributaries. New capital projects – particularly Shell's ethane cracker near Pittsburgh and PTTGC America's proposed ethane cracker in Belmont County, Ohio – would also enjoy easy river access to facilitate transport of raw materials, products and equipment. The benefits of having a multibillion-dollar storage hub would extend well beyond the locality and state hosting it, said Hedrick.
"With the accomplishment of the built-for-purpose Appalachian Storage Hub, the citizens of all four states stand to gain in a similar way," he predicted. "The petrochemical industry, and innovation engines associated with it, will grow with the availability of critical raw materials and intermediates delivered in a safe and environmentally sound manner."
The storage hub would serve two purposes, added DiGregorio. "First, it would boost much-needed manufacturing and job creation in the four-state region," he said. "Second, it would reduce the dependence of chemical and plastic manufacturing on the Gulf Coast, reducing the risk of having most of this vital manufacturing in one place."
Jobs on both sides of the fence line
On the job creation front, Hedrick said it is difficult to gauge good estimated figures at this early stage. However, he and DiGregorio anticipate the project would make a noticeable dent in the region's unemployment rate and offer students and career-changers new science, technology, engineering and math (STEM) training opportunities.
"Suffice it to say that the construction effort for the built-for-purpose Appalachian Storage Hub's infrastructure and associated petrochemical facilities will require thousands of hard-working and knowledgeable craftspeople, engineers, business people," Hedrick said. "Further, the permanent jobs associated with these facilities generate an estimated five-to-one benefit. This literally means that five jobs are created outside the fence line of a petrochemical facility for every one job created inside the fence line. This truly is a compounded, generational opportunity."
"All citizens in the four-state region would benefit from increased opportunities for direct and indirect jobs, increased opportunities for STEM education and workforce training, increased tax revenues and more," added DiGregorio, who agreed with Hedrick's view that the project would represent a win for those outside Appalachia as well. "The nation as a whole benefits when our natural resources are utilized in a manner to maximize their value and contribute across the entire value chain."
Whose 'skin in the game'?
Given the storage hub's hefty price tag in the neighborhood of $10 billion, finding an entity or entities to pay for it will be a challenge, admitted Hedrick and DiGregorio.
"I could envision a number of options for this – from a single, private company to a joint venture among several companies to some private-public partnership," said DiGregorio, who views the latter as the most likely vehicle for constructing and operating the facility.
A private-public partnership comprising state and federal governments and private entities such as natural gas and chemical companies would ensure that "all – or most – concerned parties have real skin in the game, collaboration is maximized and the risk and high cost are spread among major players," he pointed out. "Of course, that also means the chance for success is greatly enhanced and any rewards are also shared among collaborators and key stakeholders."
"This likely should be a public-private partnership," added Hedrick. "The benefit of the effort, of the success, will be shared by the public and private sectors. Therefore, the upfront effort and contributions should come from all directions as well."
Although he expressed optimism that support for the hub will grow, DiGregorio acknowledged that much work remains to be done before a site for the hub can be chosen and ground can be broken. "We need to lay the groundwork, showing the importance of the hub, and bring the right public and private partners around the table to work together," he said. He explained that getting prospective stakeholders onboard will demand a detailed review of the project's anticipated impact to the region from a number of angles: capital outlays, tax revenues, job creation, educational enhancement, reduced risk to U.S. manufacturing and other societal benefits.
"I'm honestly not sure how long it will take," DiGregorio said, "but I do know that things are progressing."
Hedrick contends that construction on the hub could begin well before the end of this decade. "It realistically could be started in the next couple of years," he said. "Once it is initiated physically, it will likely require two to four years to complete, depending upon the final complexity of the infrastructure to be built."
Despite the obstacles that remain, both men see the proposed Appalachian Storage Hub as a rare chance to diversify the region's energy and manufacturing sectors on a dramatic scale. "The idea is a natural extension of the development of the NGL from the various shale gas plays of the region," said Hedrick. "In determining how best to develop this resource, it only makes sense that we need adequate infrastructure to facilitate this historic success."
"This is a generational opportunity that requires vision, leadership, collaboration and a will to get it done," concluded DiGregorio.