Analysts See Limited Price Impact from India-Japan-S. Korea LNG Network
|
DownstreamToday Contributor
|
Wednesday, August 03, 2016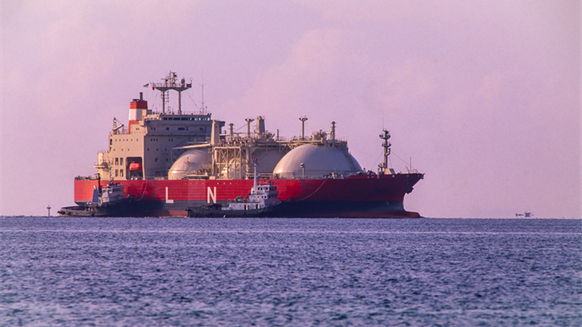 The agenda for having a joint LNG procurement network is quite different from what it was three years ago, says one analyst.
Dharmendra Pradhan, Indian minister of petroleum and natural gas, said in June that India, South Korea and Japan had restarted talks for joint liquefied natural gas (LNG) procurement. He added that China may also be included in the talks at a later date.
"For the next two to three decades, gas is going to be a major part of the energy basket for Asia's energy consumers," he said. "We want to bring together the countries and form a network which can together source reasonable, rational and affordable LNG. State-owned GAIL Ltd. Is spearheading the talks, which follow a similar attempt in 2013."
India and Japan also held joint LNG procurement talks in September 2013; but, at the time prices were reaching record highs amid increased demand from Japan and South Korea (the world's top two LNG importers, respectively) and still somewhat limited supply.
LNG prices in the Asia-Pacific region were up to five times higher than gas prices in North America in 2013. In the ensuing three years, however, the situation has changed dramatically. More supply, mostly from new Australian LNG projects, is entering the market. Meanwhile, demand growth in Asia-Pacific, which accounts for nearly two-thirds of global LNG demand, has slowed.
Wood Mackenzie Energy Markets Analyst Terence Ang told DownstreamToday that the agenda for having a joint LNG procurement network is quite different from when it was in 2013. "Back then, the consumer countries wanted to bargain for lower LNG prices," he said. "Their key concern today is to remove contract destination clauses due to increased demand uncertainty. A pricing alternative that the importers would want is to index the long-term contracts to market prices."
Supply-demand drivers
Ang added that a joint LNG procurement agreement likely would not put further downward pressure on LNG prices in Asia. "Many sellers are already accommodating buyers' request for increased flexibility," he said. "Hence, even without a joint procurement, the demand-supply fundamentals are driving how low prices would go."
"Depending on how the joint procurement looks like, it could accelerate the development of an Asian hub pricing," continued Ang. "For instance, if contracts have no destination clauses, this will make more available cargoes in the market to trade, and if more contracts are indexed to a particular spot marker, that will generate more financial trading interests around that marker."
Mangesh Patankar, Head of Business Development at energy advisory firm Galway Group, agreed that a joint LNG procurement deal would have a limited impact on prices. He told DownstreamToday that supply-demand fundamentals will more likely determine LNG prices than LNG procurement mechanisms.
"LNG prices are already under pressure and developers will take FID [final investment decisions] on new projects only if they see a reasonable return on their investments," explained Patankar. "Costs will thus always act as a natural floor on a long-term horizon."
Both Ang and Patankar questioned how a new joint LNG procurement plan would unfold. Ang said that he wasn't sure if joint procurement really meant jointly off-taking volumes from a particular LNG project or forming a loose buyers group that agrees on contract negotiation principles. However, he added that he believes it is more likely the case of the latter rather than the former.
Patankar said that it will be important to understand the mechanics underpinning any joint LNG procurement efforts. "Will these countries set up a conglomerate that will act as an aggregator and buy LNG?" he asked.
"We are in fact witnessing a reverse trend today, where the role of aggregators in individual countries is getting challenged, given end users are keen to procure LNG on their own and are finding support in the liberalization measures proposed for several gas markets, which will open up access to regas terminals and pipelines," said Patankar. "The commoditization of gas/LNG is likely to pose some challenges for joint procurement."
Impact on India's energy mix
India's role in a joint LNG procurement agreement could also impact the country's energy mix, which in the last two years has seen an increase in LNG buying as prices for the super-cooled fuel have fallen.
In February 2014, LNG prices in Asia breached the $20 per million British thermal units (MMBtu) mark. Prices for May 2016 delivery dropped as low as $4.24/MMBtu, a 42.5 percent drop year-on-year, and a seven-year low, as demand failed to keep up with a growing supply glut from Australia and the U.S. However, prices for September 2016 delivery have trended upward to $6/MMBtu, a 35-cent increase from the previous week and a marked increase from earlier this year.
Pradhan said last month that the Indian government plans to triple gas's share of India energy mix. "We want to put it around 20 percent," he said. "Coal will be there for a long period, but we want to remix and remodel our energy basket… We want to create new marketing plans [for] how we increase gas consumption."
India, the fourth-largest energy consumer in the world, has abundant coal and natural gas reserves but lacks the infrastructure to bring sufficient quantities of both fuel sources to market in order to meet demand. India was the world's fourth-largest LNG importer in 2015, following Japan, South Korea and China, while the country consumed nearly 7 percent of the global trade, according to IHS Energy, Historical LNG Trade.
Patankar said that India is a price-sensitive market while the country is witnessing a jump in LNG demand this year in response to softer LNG prices. "LNG prices, however, in Asia are still far away from being competitive to coal but lower LNG prices will help to increase oil substitution," he concluded.