LNG Producers Will Go Downstream to Strengthen Demand
by Tim Daiss
|
DownstreamToday Contributor
|
Thursday, May 12, 2016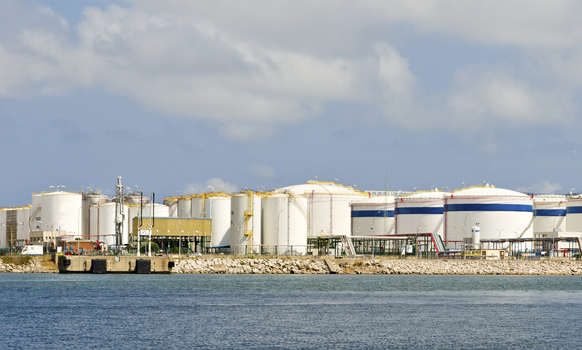 Regasification could provide a cheap entry point into new markets, according to head of Woodside Energy.
Repressed global liquefied natural gas (LNG) prices are creating both fundamental and structural changes in the sector that most could not have envisioned just a few years ago. LNG prices in Asia, following the plunge in global oil prices, are off by more than two-thirds in the last two years. Asian spot LNG prices breached $20 per million British thermal units (MMBtu) in February 2014, while cargoes for June delivery are now trading at just $4.55/MMBtu.
The price plunge coincides with an unprecedented supply glut for the super-cooled fuel. With more projects in Australia now on-stream and with more projects from both the U.S. and Australia scheduled to go on-stream by the end of the decade, analysts are projecting global LNG output to reach 330 million metric tons annually by 2018 and to continue to increase into the next decade. This also comes as demand growth in the Asia-Pacific region, which accounts for around two-thirds of global LNG demand, slows.
Industry changes force new LNG business models
Falling prices and surging supplies have prompted many LNG producers to not only postpone and cancel projects, but also to consider changing their business models. At the LNG 18 conference held in Perth, Australia in April, Woodside Energy chief executive Peter Coleman said that there could be opportunities for LNG producers to move further into downstream markets – particularly in developing countries where demand for gas exists but barriers to entry have slowed take up.
Coleman said that regasification could provide a cheap entry point into new markets if the industry sought to venture beyond just selling at the border. French oil major Total SA and others have also expressed interest in downstream activities like regasification terminals, pipelines and power plants to boost LNG demand in an over-supplied market, Bloomberg reported last month.
Steve Sinos, vice president of Houston-based Mercatus Energy Advisors, told DownstreamToday that LNG producers are trying to control the supply chain because LNG contracts are now more competitive and buyers have more options. Consequently, producers can extract a greater amount of return from the same value chain by going downstream, he explained.
"When looking at capital deployment, at first it doesn't make sense to diversify to a downstream model," he said. "Until recently Woodside just focused on upstream. But the question now is why is Woodside looking downstream to build the equivalent of a refinery, when they could keep plugging with upstream?"
Sinos said that it's a profitability trade-off. "If LNG markets are over-supplied for years, going downstream may not make a large return, but investing in downstream you still get a positive return."
When prices are high and there is more demand to fill than existing supply can handle, returns are so high that energy company executives cannot justify spending money downstream to investors, Sinos added. So they all follow the same path, chasing the same returns, he pointed out.
"In LNG (for that matter, crude oil and natural gas, as well) they have destroyed returns by overdeveloping upstream capacity," continued Sinos. "To secure positive returns going forward, it's necessary to move down the value chain."
Graeme Bethune, CEO of EnergyQuest Australia, offers a different take. He told DownstreamToday that if we count regasification facilities as downstream, then LNG producers have already invested in regas terminals – notably both Qatar Gas and PETRONAS in the UK.
"If there is a relatively large, liquid domestic gas market, regas terminal capacity allows the producer to access a domestic spot market," said Bethune. He added that the case for pipelines and power stations would depend heavily on specific market characteristics.
Sinos said that power plants in developing markets – particularly Southeast Asia and the Caribbean – offer plenty of demand growth. "If you can prove to them there is demand for gas, it could work," he said. "Gas gets competitive environmentally and can replace heavy fuel oils in countries that burn these fuels, some developing countries see this as a win-win situation."
Not an entirely new model
Sinos juxtaposed Woodside's statements about going downstream with ConocoPhillips' decision three yeas ago of focusing purely on upstream and divesting itself of its downstream assets.
In May 2012, Houston-based ConocoPhillips, the world's largest independent exploration and production company, completed the spinoff of its downstream businesses to its stockholders. ConocoPhillips stockholders received one share of Phillips 66 common stock for every two shares of ConocoPhillips common stock.
Phillips 66 became an independent, publicly traded company focused solely on downstream activities. It has weathered the nearly two-year old plunge in oil prices much better than ConocoPhillips, which now focuses solely on upstream activities.
"Now ConocoPhillips must be looking back now at their decision giving up their downstream assets activities to go upstream in light of repressed oil prices," Sinos said.
Marty Stetzer, president of Houston-based EKTinteractive, told DownstreamToday that the move to an integrated model can help smooth returns, because oil prices are always volatile – like most commodities – while downstream oil products is a marginal business. "Often, when crude prices dip, refining margins can move up, thanks to lower crude prices," he said.
"Woodside is likely looking for both margin improvement components and cost efficiency components in going downstream [in LNG]," he said.
Stetzer said that another big shift in the U.S. and globally is natural gas replacing coal for power plants: Woodside could hope to improve margins this way as well as move into an entirely different market with petrochemical plants, and improved petro-chemical margins.
Stetzer, who also spent four years working in the oil industry in Saudi Arabia, said that the Saudis have had a master gas system in place for more than 50 years where they collect associated gas, leveraging every hydrocarbon molecule, in one of the largest petrochemical complexes in the world at Jubal, and will soon convert gas for power plant usage. "So models are out there already for Woodside to follow," he said.