Mexico's Power, Industrial Projects Drawing More US Natural Gas
|
Thursday, January 07, 2016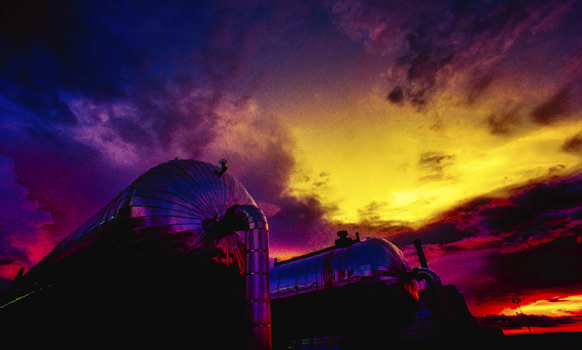 Analyst with Genscape sees continued gas export growth to Mexico in 2016.
Natural gas pipeline exports from the United States to Mexico increased sharply in 2015. As figures from the U.S. Energy Information Administration (EIA) show, monthly Mexico-bound gas shipments surged from just under 58.5 billion cubic feet (Bcf) in November 2014 to slightly more than 101.1 Bcf only nine months later. A significant contributor to the dramatic growth in cross-border exports during this period was NET Midstream, LLC's introduction of its NET Mexico Pipeline, which delivers natural gas produced in Texas' Eagle Ford Shale play to a unit of Pemex Gas y Petroquimica Basica under a long-term contract.
"In 2015 the major story in exports to Mexico was the introduction of the NET Mexico export pipeline," said Rick Margolin, senior natural gas analyst with Genscape. "This is a 2.1 Bcf/d export system that pulls gas out of the Agua Dulce hub in South Texas for delivery to Mexico. It accounts for more than 30 percent of total exports."
Margolin says that U.S.-produced natural gas will head to Mexico in even greater volumes in 2016 as new southbound pipeline capacity goes online. Read on for excerpts from DownstreamToday's recent chat with Margolin regarding these pending developments.
DownstreamToday: What do you think we can expect to see in 2016?
Rick Margolin: The big theme for 2016 will be similar: large increases in exports with new pipelines coming into service. The first will be OneOK/Fermaca's Roadrunner Pipeline out of the Waha Hub in west Texas sometime in Q1. Following that would be Impulsora's Colombia Crossing near Laredo, Texas, sometime around the end of Q2/start of Q3. It is possible by the end of the year the NET system will see a planned expansion come online as well.
These projects are being built to serve expansions and new builds in Mexico, which, themselves are designed to facilitate demand growth in Mexico's power and industrial sectors. Mexico is still in the process of converting power plants from fuel oil to gas and is actively building new gas-fired generation. And the industrial sector is poised to grow. We believe a brake on growth there has been access to gas and power, which these projects resolve. A great example is the Kia Motors manufacturing facility in Pesqueria. The pipeline that connects to NET is being built in large part to serve Kia's brand new, 300,000 vehicle/year manufacturing plant.
DownstreamToday: Are there any major economic, technical, political or other variables that could significantly alter this outlook you've presented for us?
Margolin: The risks to increased exports are: the health of Mexico's economy and an overbuild of infrastructure. Should Mexico's economy falter, that would obviously have an impact on gas demand from both the power and industrial sectors. As per the infrastructure overbuild: there is ambiguity regarding just how much of the new capacity to and within Mexico will actually be utilized. It is entirely possible Mexico is embarking on an overbuild of gas-fired generation, similar to what the United States experienced in the earlier part of this decade, and an overbuild of pipe infrastructure like we're seeing now.
I should also note the risk that Mexican domestic oil and gas production recovers from its recent declines and begins growing again. A major reason Mexico has imported U.S. gas is due to declining production within Mexico. Mexican production has been in decline due to the age of its fields, but, more importantly, the age of its infrastructure. The latter is a product of under-investment is the country's exploration and production (E&P) sector as it has been largely under the management of the state-owned PEMEX. Mexico's president Enrique Pena Nieto has made reform of the energy sector a top priority. As part of that Mexico has been working to open the E&P sector to foreign investment through a variety of auction processes. Recent auctions have been fairly productive at attracting investment. Mexico doesn't lack the physical oil and gas resources, so if they're able to attract the investment resources that could drive domestic production and reduce the need for imports.
DownstreamToday: Any other comments?
Margolin: In general you're likely to find Genscape is more bullish on exports to Mexico, and we have been for the past year or so. However, every month our estimates have exceed market consensus, we've ultimately been confirmed by EIA data releases. I point this out because it is a factor in our forecasts, in which we continue to be more bullish than consensus. We believe there is a sizeable amount of industrial demand for power and gas that has been pent up waiting for adequate infrastructure, and that the current and forthcoming buildout will help facilitate that growth.
(EDITOR'S NOTE: For more of Margolin's insights about U.S. natural gas exports to Mexico, check out this recent posting on Genscape's blog.)