Mideast Refineries Vie for a Place in Asian Market
|
DownstreamToday Contributor
|
Monday, November 23, 2015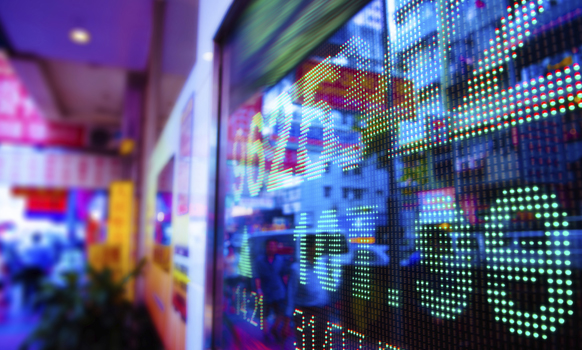 Refineries in the Mideast are ramping up base-oil production capacities to cater to growing Asian lubricant demand, but competition will be tough.
Refineries in the Middle East are ramping up base-oil production capacities to cater to the growing demand for lubricants in Asia, but competition will be tough as base oil plants sprout across Europe and Asia itself.
Asia is still the leading region for finished lubricant demand, accounting for as much as 44 percent of the global market, according to Kline Group. Even with the downgraded growth forecasts by the Asian Development Bank and International Monetary Fund, the region is forecast to represent more than 50 percent of global lubricant demand by 2020.
"Despite the recent economic slowdown in Asia, we believe there is tremendous demand potential in the region," Mark Gainsborough, executive vice president of Shell Lubricants, told DownstreamToday. "China, India and Indonesia will continue to be the growth engines for demand with the highest compound annual growth rates."
This demand is further influenced by increased global concern for emissions regulation, efficiency and sustainability. In addition, original equipment manufacturer (OEM) factory/service fill recommendations and owners' desire for longer oil drain intervals are driving synthetic demand higher, according to Gainsborough.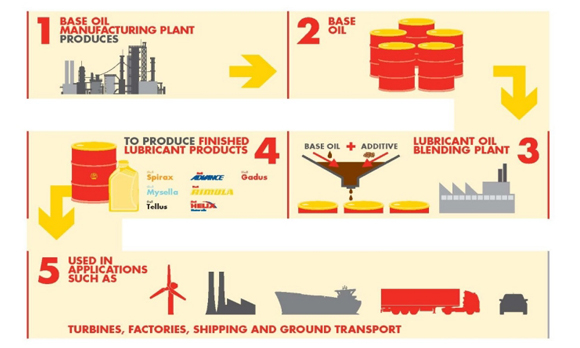 A graphic showing the journey of base oils, the key component in finished lubricants products, from the manufacturing plant through to end product.
SOURCE: Shell
Adjusting to demand
Worldwide, a significant shift is taking place from Grade I to Grades II/III base oils. Alongside today's lower oil prices, the change has fuelled historical ambitions in Arabian Gulf countries to diversify exports away from crude toward refined products and petrochemicals.

Earlier this year, Abu Dhabi National Oil Co. (ADNOC) initiated cuts in its Murban crude oil supply to buyers in Asia while diverting more crude to its Ruwais refinery and processing it domestically. Not long after, Saudi Arabia was reported to have reduced crude supplies to some customers in Japan and South Korea.
The strategy is clear – more oil is being kept at home for the countries' upcoming refineries, which will include large-scale base oil plants.
By the end of 2015, the ADNOC subsidiary Abu Dhabi Oil Refinery Co. (Takreer) will increase annual production at its Ruwais Refinery to 100,000 tonnes of Grade-II base oil and 500,000 tonnes of Grade-III. Much of the new production will be geared toward meeting demand in Asia.
ADNOC's plans go all the way back to 1997, when the group announced it would be building a lubricant base-oil refinery with an annual output of 250,000 tonnes to go onstream in 2001. Today's ambitions are much bigger; Ruwais will soon have the capacity to produce up to 600,000 tonnes annually of high-quality base oils.
According to Omar Al Hamed, process assurance and quality department manager for Ruwais Refinery, the complex is currently undergoing integration with other units and operating companies that will lead to an overall reduction in capital costs and maximization of gross refining margins.
The refinery also benefits from receiving domestic feedstock from ADNOC's subsidiaries. "Crude oil is sourced from ADCO (Abu Dhabi Company for Onshore Petroleum Operations Ltd.), and natural gas used as fuel is sourced from GASCO (Abu Dhabi Gas Industries Ltd.)," explained Al Hamed. "Utilities such as steam and water are produced as captive from within, and power is sourced from TRANSCO (Abu Dhabi Transmission and Despatch Co.)."
But Ruwais won't be alone in the region. Luberef, which is 70 percent owned by Saudi Aramco and 30 percent by Jadwa Industrial Investment Group, is expanding its Yanbu Plant to include the manufacturing of Grade-II base oils. When completed by mid-2016, the expansion will raise base-oil production capacity to 1.1 million tonnes per year.
Like Takreer, Luberef is also eyeing overseas market share (specifically East Asia) – a declaration it made in 2011 when it awarded the Yanbu expansion design contract to Jacobs Engineering.
The new supplies will need to vie for a place in the region, however, as other refineries open up in local Asian markets. While China National Offshore Oil Co. should start its 600,000 tonne/year Grade-II facility in Taizhou, China by the end of 2016, Hyundai and Shell Base Oil have already brought on stream a 650,000 tonnes/year base oil plant in Daesan, South Korea, in 2014.
Gainsborough admits that new capacities are being added much faster than retirements. However, he believes that the changing OEM specifications, emission regulations and growth markets leapfrogging to higher quality levels will continue to increase the demand for Grade II/III base oils.
Ahead of the market
Meanwhile, technological advancements such as gas-to-liquid (GTL) processes, which can produce isoparaffins (a group of high-purity, synthetic hydrocarbon solvents), represent a major opportunity that could eventually overtake conventional Grades III/IV lubricants, a report by U.S.-based Transparency Market Research predicts.
Shell has jumped in early, constructing the Pearl GTL plant – a partnership between Shell and Qatar Petroleum and the world's largest source of GTL base-oils today. The plant manufactures Grade-III base oils from natural gas instead of crude oil that are marketed as Shell PurePlus in the company's engine and industrial oils.
Pearl GTL supplies Shell's four worldwide GTL base-oil hubs, including the newest one in Jebel Ali, Dubai, and the Hong Kong storage facility.
"Our Hong Kong GTL base oil storage hub receives Shell GTL base oils from our Pearl GTL plant in Qatar, which has the capacity to produce up to 30,000 barrels of GTL base oils per day, or 1 million tonnes per year," said Gainsborough. "It is a great example of Shell as an integrated global company working at its best, utilizing synergies between upstream and downstream to improve the underlying margin."
Shell's GTL base oils are used to blend several of its lubricant products, such as the Helix Ultra with PurePlus passenger car engine oils, and the Advance Ultra with PurePlus motorcycle oils, both available in Asia today.
"Asia is our biggest market for these brands and customer demand for the premium products made with advance GTL base oils continues to rise," Gainsborough asserted. In response to this strong demand, Shell opened the largest internationally operated lubricant blending plant in Indonesia in November 2015 with an annual capacity of 136 million liters of lubricants.
"At Shell, we have a significant in-house base oil manufacturing capability, but we also buy significant quantities from the merchant marketplace," concluded Gainsborough. "As the world's largest blender of finished lubricants, this allows us to optimize supply in terms of cost, quality and security of supply."