China Swims in an Ocean of Diesel, with No Apparent End in Sight
by Tim Daiss
|
DownstreamToday Contributor
|
Wednesday, November 18, 2015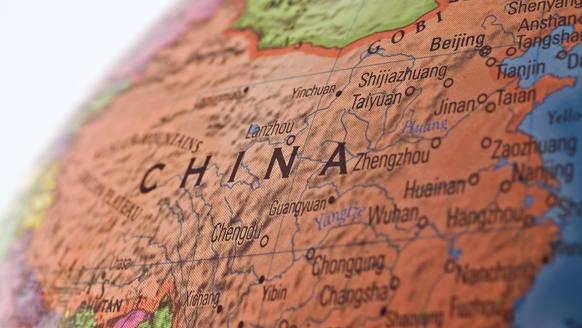 China is awash in diesel and is exporting its excess production.
China's economic slowdown is having ramifications across numerous global markets. In the third quarter, China's economic growth dipped below 7 percent for the first time since the financial crisis in 2009 – growing at 6.9 percent, but slightly beating forecasts of 6.8 percent, according to the country's National Bureau of Statistics. Industrial production for the same quarter increased to 5.7 percent but fell short of an expected 6 percent.
Amid this economic slowdown, China is awash in diesel and is exporting its excess production. Bloomberg said that diesel shipments from China increased in September to record levels for the second straight month as the government granted extra import quotas to refiners to help lower stockpiles of the fuel. In September, China exported 1.11 million metric tons of diesel, a five-fold increase over the same period a year earlier. China's apparent diesel demand increased 3.6 percent from a year earlier, the report added, to 3.5 million barrels per day (bpd) in August; but, it was the second-weakest pace in a year.
Structural imbalance
Some analysts claim that there are other reasons for China's increased diesel exports besides just a slowdown in economic expansion. "The supply situation in China looks healthy and comes as a result of a mismatch in the regional refining system," Virendra Chauhan, an oil analyst at consultancy Energy Aspects, told DownstreamToday.
"Chinese refineries are geared to producing diesel where demand has slowed, whilst consumer-led parts of the barrel (gasoline) remain robust," Chauhan said. So Chinese refiners are being forced to maximize throughputs in order to meet burgeoning gasoline demand, which will naturally produce diesel. Chinese refineries have tried to maximize gasoline yields, which have risen from an average 22.4 percent in 2012 to 27 percent in the year-to-October whilst diesel has fallen from 38 percent in 2012 to below 35 percent in recent months, but an imbalance remains in place and is a structural rather than a cyclical challenge which will need to be overcome."
Li Li, research and strategy director at Guangzhou-based energy consultancy ICIS China, told DownstreamToday that the excess diesel supply scenario unfolding in China corresponds with the country's economic slowdown and a slowdown in industrial growth. However, she also agrees with Chauhan's assessment that the problem has a structural element. "In the past few years refineries have been cutting refining yields, but the problem of over supply will still continue in the future," she said.
Li also said that refiners have historically tried to offset the problem by exporting more jet fuel. "China exports much more jet fuel (also a middle distillate) than diesel," Li explained. "Demand for jet fuel in the region is much better. So, one way to offset the surplus of diesel is to produce jet fuel."
China's record diesel exports are also putting downward pressure on prices for the fuel in the Asia-Pacific region. Li said that the crack spread for diesel in Asian markets declined from nearly $20 per barrel in early 2015 to only $5 per barrel in August then recovered to around $13-15 per barrel in September on high turnaround in the Middle East in the fourth quarter. "I think this indicates the pressure from China in 2015," she said. Additionally, the ongoing global crude oil supply glut and corresponding plunge in oil prices of nearly 60 percent since mid-June 2014 from around $110 per barrel to current prices under $50 per barrel has also put downward pressure on diesel prices.
Impact on global markets
Some analysts claim that excess diesel from China will eventually impact global markets. However, with new refining capacity coming on-stream – particularly Saudi Arabia's planned increased capacity – it's a subject for debate
Currently, the impact from excess Chinese diesel is limited to Asian markets, pointed out Li. "China's diesel export volumes will not affect the overall global picture, the volumes will be consumed in the region, not outside the region," she said.
Chauhan said that as refineries return, supply will rise. "Stocks are very high in a number of important centers," he noted. "And while inventories in the Amsterdam-Rotterdam-Antwerp (ARA) hub and Singapore have drawn down in recent weeks, they are likely to be replenished soon."
"Stock draws in October and November are the norm—not the exception—for middle distillates markets," continued Chauhan. "Furthermore, high crude stocks continue to support diesel cracks at levels above what demand fundamentals suggest. But we think the simple arbitrage between diesel and crude storage costs is breaking down. Once ARA and Singapore refill, the logic of processing excess crude into excess diesel will be more tenuous."
Chauhan added that in the short term the Asian market holds the key to future developments. "Heavy refinery maintenance in Saudi Arabia continues to support Middle Eastern gasoil (diesel) quotas, which in turn are helping to push up Singapore spot values," he explained. "This means there is no need for Asian refiners to export excess diesel to Europe for now."
Chinese diesel oversupply to continue
Chauhan said that China's diesel imports will continue to increase, at least in the short term.
"Chinese refineries have indicated they intend to keep diesel exports near record levels into the New Year, as they work to keep domestic diesel stocks under control and the elevated total product export figure is likely linked to this," he said.
ICIS-China, for its part, expects that China will export roughly 2.5-million more tons of diesel in the fourth quarter, with exports reaching approximately 6.6 million tons for 2015 – up nearly 70 percent on the year. With global economic growth projected to remain sluggish at just 3.3 percent next year amid slowing economic expansion in China and the projected continued glut of global crude supply, it appears that the Asia-Pacific region will be awash in Chinese diesel for some time.