Polyester: A Cooler Choice for Flame-resistant Apparel?
by Matthew V. Veazey
|
DownstreamToday Staff
|
Friday, April 18, 2014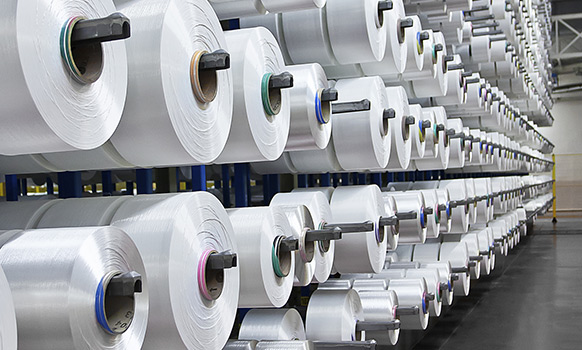 New technology makes FR garments more comfortable without sacrificing safety, according to developer.
Hot. Heavy. Stiff. Itchy.
Anyone who has worn a flame-resistant (FR) garment might use the four adjectives above to describe the experience of wearing such apparel. However, for many workers throughout the oil and gas value chain, uncomfortable FR apparel is a necessary burden in order to protect oneself from flash fire hazards on the job.
"Most everyone at refineries must wear something for flash fire protection," said Jan Newman, president of Rosedale, La.-based Medical/Professional Protective Clothing, Inc. (MED-PRO).
The extent of one's FR garment coverage depends on one's exposure to active plant units, she said. For instance, a craftsperson at greater risk of encountering a flammable event may wear coveralls and other protective gear while a supervisor might comply with safety regulations by wearing a FR shirt and pants, Newman explained.
"There are two major categories of FR fabrics used in the secondary FR protection market: natural fiber fabrics such as 100-percent cotton that are treated to be FR, and inherent fiber fabrics that are man-made to be FR in the fiber state and are then made into FR fabrics," said Chris Holcombe, vice president and general manager of the FR garment maker Bulwark FR. "They both have their benefits and drawbacks. One must evaluate the fabrics' cost, comfort and durability based on the job application to choose appropriately."
Bulwark FR and the fabric manufacturer Milliken & Company have developed a new type of FR fabric that they contend is significantly more comfortable to wear while not sacrificing the safety element. Moreover, the technology largely integrates a material that usually melts when exposed to high heat: polyester.
The lightweight fabric, which Milliken markets under the "Amplitude G2 Comfort Knit" trade name, integrates microdenier polyester, polyoxadiazole (POD) and cotton and is designed to keep those wearing it cool and dry, according to Bulwark.
"In the past, polyester hasn't been able to pass all safety tests," said Holcombe. "However, now, Bulwark and Milliken have made a technological leap and found a way to protect the polyester yarn from melting with Amplitude G2 chemistry."
The two-layer construction of the fabric, which is meant to be worn next to the skin, moves wetness away from the body but disperses moisture throughout the garment to keep the wearer drier and more comfortable, he added.
Before collaborating with Milliken on the new fabric, Bulwark sent researchers out into the field to observe how those who wear FR apparel on a regular basis do their jobs. They found that the discomfort of conventional FR apparel prompted some workers to wear the garments improperly or even not at all, Holcombe said.
"The two most prevalent issues in the field are poorly fitting garments and improper wearing of FR garments," he said. "A poorly fitting garment exposes the wearer to hazards such as long pant legs catching on obstructions and incorrect coverall trunk sizes causing mobility issues. An improper wearing of FR garments such as untucked or unbuttoned shirts and rolled up sleeves results in unnecessary FR risk."
"The iQ Series has been tested to ensure that the product line meets all FR safety and performance standards," Holcombe added, pointing out the garments comply with Hazard Risk Category 2 (HRC 2) and Underwriters Laboratories (UL) certification standards.
"It's new technology," Newman said of the FR garments. "I think the industry will be very happy that something of this caliber is finally here. My customers are asking me for it and I can't get my hands on it yet."
Newman will not have to wait much longer. Bulwark FR is concluding wear trials with the garments and will begin distributing the new product line to MED-PRO and other suppliers in May.
Matthew V. Veazey has written about the upstream and downstream O&G sectors for more than a decade. Email Matthew at mveazey@downstreamtoday.com. Twitter: @Matthew_Veazey