AOPL, API Team Up to Enhance Liquid Pipeline Safety
by Matthew V. Veazey
|
DownstreamToday Staff
|
Monday, February 24, 2014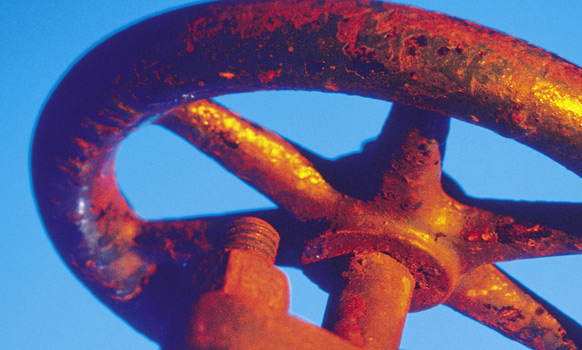 Organizations representing liquid pipeline operators launch joint effort to enhance safety performance.
The transportation of crude oil, petroleum products and natural gas liquids has garnered considerable public scrutiny in recent years. The ongoing debate about the northern extension of TransCanada's Keystone XL pipeline project and several high-profile incidents within the past year involving shipments of hazardous liquids via rail cars in the United States and Canada have shone the proverbial spotlight on how safely increasing supplies of hydrocarbons and products travel from Point A to Point B.
Operators of liquid pipelines in the United States have reported significant improvements in various safety metrics since the turn of the century. In fact, two trade groups that represent them – the Association of Oil Pipe Lines (AOPL) and the American Petroleum Institute (API) – contend that the number of releases from U.S. liquid pipelines declined 62 percent from 2001 to 2012 and the number of barrels released from these pipelines fell 47 percent during the same period.
"Pipelines are the safest way to transport the energy our nation needs," stated AOPL President and CEO Andy Black in a Jan. 15 press release issued by his association and API unveiling a new joint effort to improve the liquid pipeline industry's safety performance.
"Our members strive for zero accidents and are committed to continuous safety improvement in pursuit of that goal," added API Pipeline Director Peter Lidiak in the communique announcing the organizations' new "Pipeline Safety Excellence Initiative."
The new AOPL-API program builds upon industry accomplishments detailed in the groups' 2013 Annual Liquid Pipeline Safety Performance Report & Strategic Plan. It calls on liquid pipeline operators to implement safety measures based on four underlying themes that include:
Embracing a joint set of safety principles
Undertaking continuous industry-wide safety improvement efforts
Annually reporting on industry-wide pipeline safety performance
Annually assessing and pursuing high-priority pipeline safety principles
John Stoody, AOPL's vice president of government and public relations, recently elaborated on the initiative and the broader issue of pipeline safety with DownstreamToday. A transcript of the conversation follows.
DownstreamToday: What prompted the Pipeline Safety Excellence Initiative, and why was January 2014 the right time to roll it out?
John Stoody: Our industry performance shows that pipelines are safe, and getting safer. Over the last decade, the number of pipeline incidents industry-wide is down over 60 percent and the volumes released are down over 40 percent. That said, there are areas we are doing real well, such as corrosion management and third-party damage, and areas we'd like to do better, such as low-frequency electric resistance welded (ERW) pipe seam issues.
While pipeline incidents are relatively rare, they are still occurring and the solutions to prevent them require ever more sophisticated technological solutions and strategic focus. In 2012, pipeline operators adopted a set of industry-wide safety values, such as the goal of zero incidents. We also have a number of ongoing industry-wide safety groups and efforts. The Performance Safety Excellence Initiative takes these safety efforts to the next level with pubic sharing of our safety performance record and strategic initiatives addressing the remaining safety issues we want to solve with the resources and leadership attention needed to make even more safety progress.
DownstreamToday: What do you consider some of the most widespread fears and misconceptions about the safety of liquid pipelines?
Stoody: For most people, pipelines are out-of-sight, out-of-mind. Pipelines contribute so much to the daily lives of American consumers and workers, supplying the transportation fuels they need to get around and the industrial feedstocks that drive many of their jobs. We want to share with people how their lives are made better because we have this way to get energy to them. And we want to reassure them that pipelines are the safest way to transport the energy they need. The Pipeline Safety Excellence initiative will help show that pipelines are safe, and we are doing many things to make them even safer.
DownstreamToday: What do you consider the "untold story" about liquid pipeline safety?
Stoody: Pipelines are an overwhelmingly safe way to transport energy around the country. Last year, 99.9998 percent of the petroleum products we shipped by pipeline made it to their destination safely. Industry-wide, over the last 10 years, the number of pipeline incidents is down over 60 percent and volumes released are down over 40 percent. That said, our goal is zero incidents. So, we will continue to spend money – $1.6 billion in 2012 – to evaluate, inspect and maintain our pipelines, so that the public and environment are safe.
DownstreamToday: AOPL and API have jointly launched the Pipeline Safety Excellence Initiative to improve the safety performance of liquid pipelines. Where are there major areas for improvement, and what do AOPL and API each bring to the table to address them?
Stoody: In developing the 2014 strategic plan for pipeline safety performance improvement, we reached out to stakeholders in the government – Pipeline & Hazardous Materials Safety Administration (PHMSA), National Transportation Safety Board (NTSB) and Congress – and took stock of our performance data and recent incidents. The seven strategic initiatives we are undertaking in 2014 address each one of the main safety areas for pipelines, and we're excited for the specific deliverables, timelines, champions and teams executing them.
We have efforts underway to improve inline inspection "smart pig" research and development, crack detection and response, leak detection, emergency response, safety culture, threat data integration and safety management systems. The results in many cases will be new industry-wide recommended practices in these areas setting a new bar for industry-wide performance and providing operators new tools to help them improve their safety performance.
DownstreamToday: How will this initiative affect how pipeline companies do business? Moreover, how will it influence how individuals at these companies – from the field to the executive office – do their jobs?
Stoody: Our safety improvement efforts will have direct and indirect impacts on pipeline operators from top to bottom. A major theme of the safety management system recommended practice we are developing at the recommendation of NTSB is organization-wide commitment to safety performance, from the executive level through middle management to field workers. The goal is to know your systems, know their level of safety performance, and have formal programs for continuous safety improvement.
Our efforts are intended to be scalable, from the largest operator to the smallest, and flexible, accounting for those with the most sophisticated existing management systems to those new to this area. Likewise, efforts on leak detection, emergency response and crack management will impact staff directly responsible for those areas, and benefit the operators as a whole.
DownstreamToday: In recent years railroads have dramatically increased the volume of crude oil that they transport throughout the United States and Canada. Several high-profile accidents in both countries in the past year have highlighted the growth in crude-by-rail. What impact do you anticipate these incidents will have on the liquid pipeline sector?
Stoody: Pipelines will continue to be the safest, least-cost, and most efficient way to move large amounts of petroleum long distances. That said, there is a role for rail transportation of crude oil and petroleum products depending upon the route, time horizon or specific customer needs. We are focused on pipelines and improving pipeline safety, ensuring that pipelines are a great option to meet the transportation needs of potential shippers.
DownstreamToday: Pipelines and railroads are different modes of transport, but are there some common threads among both sectors in terms of essential safe practices for transporting crude oil, petroleum products and chemicals? From a safety perspective, are there some things that pipelines can learn from railroads and vice versa?
Stoody: We actively pursue lessons we can learn from each other and other sectors. Other industries have made great strides in process safety and safety management systems. We've taken lessons from the refiners, nuclear, offshore and other folks in putting together our pipeline safety management system recommended practice. We look forward to learning from experience, including the experiences of others and what they have to offer.
DownstreamToday: What are some key statistics to compare the safety records of liquid pipelines vs. crude-by-rail?
Stoody: Speaking on behalf of pipeline operators, we're proud of our overall safety record. Last year, we safely transported over 14.1 billion barrels of petroleum and petroleum products. Over the last 10 years, as volumes transported have increased with new U.S. production, our performance has improved with total incidents down over 60 percent and volumes released down over 40 percent. That said, we have an industry-wide goal of zero incidents, and we will continue to have incidents on rare occasions. But only with a goal of zero incidents can we drive ourselves to pipeline safety excellence.
Matthew V. Veazey has written about the upstream and downstream O&G sectors for more than a decade. Email Matthew at mveazey@downstreamtoday.com. Twitter: @Matthew_Veazey