Logistics Exec: Downstream Supply Chain Is Changing
|
Monday, December 30, 2013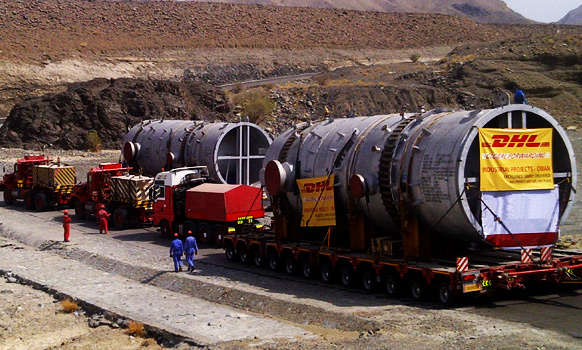 Steve Harley, head of DHL's Energy Sector unit, highlights the changes underway in the global downstream oil and gas supply chain.
Factors such as fluctuating demand and volatile costs are driving companies throughout the oil and gas value chain to source more of their supplies from lower-cost locations worldwide. Although expanding the supply chain into new regions may appear to make economic sense for a company, taking such a step creates a host of new challenges that can cause actual cost savings to quickly disappear.
A longer supply chain – particularly one that extends into regions with inadequate infrastructure and/or a chronically inefficient regulatory regime – can wreak havoc on an oil and gas company's maintenance, repair and operations (MRO) schedules. For example, a delayed delivery of mission-critical equipment for a refinery can heighten safety and environmental risks and diminish relations with customers and regulators. In order to make a longer supply chain work, oil and gas companies should pursue a logistics strategy that achieves global reach but considers the unique health, safety, environmental and compliance demands of local markets, according to the Germany-based transportation and logistics provider DHL.
"Clients are becoming increasingly aware of the cost of MRO provision and the effect that a well-run supply chain can have on productivity and production," said Steve Harley, president of DHL's Energy Sector business. "DHL is focused on providing robust MRO services to reduce cost and drive efficiency up which can only be fully achieved through a strong partnership between a MRO service provider and client."
DownstreamToday recently discussed the downstream sector's changing MRO logistics needs with Harley. Excerpts from the conversation follow.
DownstreamToday: What are some examples of how DHL and other logistics companies service clients in the refining, petrochemicals and other downstream oil and gas sectors?
Steve Harley: DHL has extensive operations in both upstream and downstream oil and gas, providing MRO services to support onshore and offshore exploration and production, refining and petrochemicals plants. We are particularly focused on the provision of integrated in-bound supply chain management services – managing the supply chain from international or domestic suppliers right the way through to the worksite.
A recent example of a proposal for optimization at a refinery in the United States included the following steps:
Review and optimization of local vendor sweeps, purchase order management and international procurement processes
Assessment of current storage, as well as other warehouses for consolidation confirmed that there was enough space to merge both facilities
Separate inbound dock was added
Full demo of office in dock area to maximize staging space
Some racking relocation to increase storage capacity of product
Quality control area review
Mezzanine layout to be confirmed after permit approval
Improvements made to kitting area and process
Outbound loading, cross docking and laydown yard improved for access, speed and accuracy.
DownstreamToday: What are some of the unique logistics challenges of serving downstream oil and gas clients with international sites, particularly in regard to MRO? How do they compare with upstream oil and gas MRO?
Harley: The challenges are, by and large, common across upstream and downstream oil and gas. DHL employs a global team of energy industry professionals with expertise gained in their work with international oil and gas companies, as well as individuals with deep expertise in safety, security, environment, regulatory compliance and a wide range of logistics-oriented disciplines, from large-scale capital projects, such as the building of new drilling rigs, to the MRO activities of remote exploration projects.
Some of the challenges include:
Complexity, scale and coordination: The operations within oil and gas are large-scale and highly complex, demanding a robust supply chain approach – with upstream characterized by multiple on- and offshore locations. The supply chains are potentially long, multinational and are typically fragmented with many different organizations involved.
Accountability and compliance management: Materials supply chain accountabilities can be unclear with a large number of third parties involved, making data interchange difficult. A lack of compliance can also result in excess inventory and an increase in product complexity and line items stocked again because procurement frameworks aren't followed. DHL offers integrated solutions to help manage the inbound flow of materials and tools where and when they are needed, increasing efficiency, productivity and production. The tools include: inbound supply management, transportation, inventory management, warehousing, plant services, contract management and procurement of expediting, tool store management and supply chain design and consultancy.
Multiple suppliers: The use of multiple suppliers – each delivering their own stock – impacts plant safety, security and efficiency, with multiple vehicles coming onto site causing congestion.
Health, Safety, Security, Environment (HSSE) and compliance management will remain top priorities for energy companies. DHL understands the importance of HSSE compliance and provides robust systems and processes to manage the in-bound supply chain for major capital projects anywhere in the world. Health, safety and environmental issues affect everything in this industry. HSSE is a primary factor in all of these decision-making processes, and we are contracted by our suppliers on the basis of our ability to not only monitor our own health and safety, but also monitor and manage the health and safety of our contractors. This is critical to everything we do.
DownstreamToday: How are the MRO supply chains changing for downstream oil and gas customers?
Harley: Independent research showed that many companies are now focussing on MRO, not just in terms of cost and inventory reduction but also because of the knock-on effect that a well-run supply chain can have on asset utilization and plant production. Best-in-class operators can and have reduced costs by 19 percent, with 30 percent of companies now looking to outsourcing some or all of the supply chain to drive such efficiencies. These figures are commensurate with the cost reduction opportunities which we at DHL have seen in our current operations and in the analysis of operations of other oil majors.
Because of this insight, DHL is focused on the provision of integrated inbound MRO supply chain services – to address the challenges above and help clients realize their ambitions to change the supply chain.
DHL has shown that best-in-class supply chain management can lead to a 20-percent supply chain cost reduction and 15-20-percent improvement in maintenance team productivity. Because of this we are suggesting the outsourcing of the MRO supply chain to achieve these benefits quickly while releasing oil/chemical company resources to focus on areas where they can drive greatest value.
DownstreamToday: Have you detected any marked geographical shifts in terms of where the downstream MRO logistics needs are greatest?
Harley: The issues/needs described above as just as prevalent in developed as in developing geographies. DHL has operations across the globe – North America, Europe, Asia-Pacific (APAC), Africa – however, there is a particular focus on the developing areas, as the in-bound material supply chains are longer.
In addition, resources are expensive (particular ex-pat resources) and in short supply, and because of this the consequences of supply chain failure can be more marked. The squeezed margins in refining are leading to greater focus on the location of refineries, the logistics processes and optimizing the use of labor which is seen as being more flexible if outsourced. With our global expertise and insight, it is more efficient and expedient to outsource to a professional MRO specialist like DHL.
DownstreamToday: What are some examples of how counterfeit parts might enter the downstream MRO supply chain, and what types of problems do they create for the logistics company and end user?
Harley: Having a multi-national supply chain certainly has its advantages which results in more cost-effective global sourcing. However, it also means there are more inputting suppliers and accordingly a higher risk of counterfeit.
Industry experts comment that non-compliance of parts is a common supply chain challenge in other industries and can seriously impact the quality and delivery of the product to the end user. However, non-compliant parts are now a growing concern for energy, too, with counterfeit spare parts of inferior quality appearing in the marketplace and compromising the safety-critical environment of oil and gas operations. One example would be products coming out of APAC and distributed through existing distributors in developed countries. This demands robust product traceability at item or batch levels from supplier to site, which is easier to achieve if the supply chain is managed on an integrated, end to end basis by a single service partner.
DownstreamToday: What steps can a logistics company take to prevent a downstream customer from receiving substandard, non-compliant parts?
Harley: DHL recommends robust product traceability at item or batch levels from supplier to site is key which is easier to achieve if the supply chain is managed on an integrated, end-to-end basis by a single service partner. DHL uses a supply chain system which provides for this level of traceability – ensuring transparency to the project/plant/client stakeholders. In addition, DHL can support clients with material sourcing (especially from low-cost geographies), audit, inspection in-country and well as on receipt at the final consolidation center. This approach ensures compliance with a client's framework agreements.
Matthew V. Veazey has written about the upstream and downstream O&G sectors for more than a decade. Email Matthew at mveazey@downstreamtoday.com. Twitter: @Matthew_Veazey