Q&A: Downstream M&A, Investment in North America
by Matthew V. Veazey
|
DownstreamToday Staff
|
Friday, November 29, 2013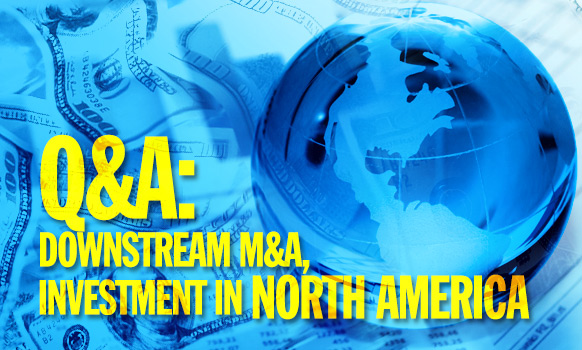 Good opportunities exist, but prepare for recruitment, environmental, financing and natural gas market obstacles, says a Houston oil and gas attorney.
North America's downstream offers a number of attractive mergers and acquisitions (M&A) and investment opportunities thanks to abundant natural gas feedstocks, but those pursuing such transactions need to prepare for the recruitment, environmental, financing and natural gas market challenges that accompany such deals.
That is the overall conclusion of a Houston-based attorney who counsels clients on energy industry transactions.
Hugh Tucker, firm-wide head of the Oil and Gas Practice group and Houston head of the Global Projects Department of the Baker Botts law firm, recently discussed the North American refining and petrochemicals M&A and investment outlook with DownstreamToday. A transcript of the conversation follows.
DownstreamToday: What do you consider the most promising M&A and investment opportunities in the North American refining sector?
Tucker: There are several promising M&A and investment opportunities in the refining sector, in particular: new refineries that utilize natural gas as the primary feedstock, expansions of existing refineries and infrastructure development to bring natural gas to market.
DownstreamToday: Same question, but for the petrochemicals sector?
Tucker: The low cost of shale gas and (natural gas liquids) NGLs are driving producers to construct new petrochemical facilities utilizing natural gas and NGL feedstocks (especially ethane), expand existing facilities, and construct or acquire increased infrastructure to distribute the gas and petrochemicals – pipelines, new railroad tracks and cars, trucks, etc.
DownstreamToday: What are some of the key considerations that a potential investor should consider before entering the North American downstream oil and gas market?
Tucker: Environmental regulations are evolving and becoming stricter, particularly with respect to air quality. There is fierce competition for talent – both to construct new facilities and to operate existing facilities. Strong community relations are more important than ever. The market for natural gas and NGLs are developing and North America does not have a history of long-term supply contracts at fixed prices for natural gas or NGLs. As the market develops, prices will fluctuate and – most likely – increase.
DownstreamToday: You've worked with downstream oil and gas clients based both inside and outside of the United States. What are some of the major differences between buying and selling a refinery or chemical plant in the United States versus other established markets?
Tucker: The regulatory process in the United States is transparent and, generally speaking, approval for the sale/purchase of a refinery or chemical plant in the United States – and associated transfer of environmental permits, if applicable – can be closed more quickly than in other jurisdictions. Generally speaking, the United States is a common law jurisdiction that prioritizes and enforces the negotiated written agreement between sophisticated parties; civil law often includes implied covenants and provisions that cannot be waived by the parties.
While they exist in the U.S., unions and collective bargaining agreements generally apply to a much smaller percentage of the workforce in the United States. Accordingly, owners of facilities in the United States have greater flexibility over the size of the workforce, the identity of the buyer and when to shut down a facility than our European counterparts.
DownstreamToday: The outlook for the U.S. refining and chemicals sectors has brightened, thanks in large part to the shale revolution. Increasingly, U.S. refiners and petrochemical manufacturers are benefiting from access to domestic light sweet crudes and natural gas liquids, respectively. Moreover, transporting these feedstocks to industrial facilities is becoming easier with new pipeline and rail capacity. What are some of the key challenges or threats that could offset these encouraging trends?
Tucker: There are several public relations challenges that could impact the ability to fully develop shale resources. If the protests against hydraulic fracturing continue to gain momentum, we could see increasing regulatory oversight of hydraulic fracturing – or a prohibition on hydraulic fracturing like New York – which in turn will increase costs.
Further, to move shale gas to market, pipeline development across state lines and land owned by numerous owners will need to occur. It would be unfortunate to have a repeat of the approval delays seen with the Keystone Pipeline. Additional challenges arise in applying for export licenses for energy resources. While several licenses have been approved, these take a significant amount of time.
Finally, financing of new refinery projects in the United States continues to be a challenge. Lenders in project financing transactions tend to desire predictability of cost which in part is achieved through long-term supply arrangements. However, neither natural gas nor NGLs have historically been sold in the United States under long-term contracts.
Matthew V. Veazey has written about the upstream and downstream O&G sectors for more than a decade. Email Matthew at mveazey@downstreamtoday.com. Twitter: @Matthew_Veazey