CEA: Five Oil & Gas Predictions for 2013
by Matthew V. Veazey
|
Rigzone Staff
|
Friday, February 08, 2013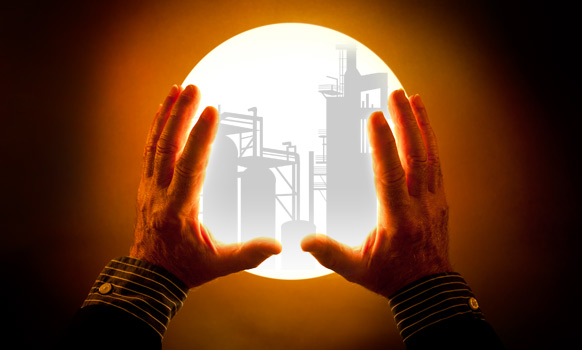 CEA gazes into its proverbial crystal ball for a preview of what may be in store for the U.S. oil and gas industry.
January 2013 has come and gone but not without laying the foundation for what should be a momentous year for the U.S. oil and gas industry.
Perhaps the most significant event for the industry last month was Nebraska Gov. Dave Heineman's approval of a modified route for TransCanada's Keystone XL (KXL) oil pipeline. The Republican governor's action Jan. 22 shifted the spotlight illuminating the controversial project back to the Obama administration, which will decide whether to grant a crucial permit that would allow construction of the pipeline from Nebraska to the U.S.-Canada border to begin in earnest.
Just three days after Heineman approved the new KXL route, another major oil and gas story made headlines: three federal appeals court judges unanimously threw out an Environmental Protection Agency (EPA) mandate for U.S. oil refiners to blend 8.65 million gallons of cellulosic ethanol into gasoline. Neither the lack of any commercially available cellulosic ethanol nor the court's ruling deterred the EPA from upping the ante, however. On Jan. 31, the federal environmental regulator proposed increasing the mandated volume of cellulosic ethanol to 14 million gallons.
Rigzone recently asked the Consumer Energy Alliance (CEA) to offer its perspective on how the KXL, cellulosic ethanol and other critical U.S. energy issues might evolve during the remainder of the year. Below are CEA's top five domestic energy predictions for 2013.
Persistently high gasoline and diesel prices
"While prices are expected to decrease slightly from 2012 highs, 2013 will see continued instability in traditional oil-producing regions," said Michael Whatley, CEA's executive vice president. "[This] will create uncertainty in global oil prices, raising costs for gasoline consumers."
Oil prices will remain high due to increased global demand as the economy improves, OPEC production decreases and anticipation builds that refining capacity declines, Whatley explained. In addition, he pointed out that tensions in key oil-producing regions could exacerbate oil price volatility.
CEA also expects environmental regulations to "squeeze oil and gas producers" despite their efforts to offset foreign energy supplies. The organization also expects regional fueling infrastructure to continue to hamper the efficient flow of crude oil and gasoline, leaving the market exposed to supply shocks and price fluctuations.
Approval of Keystone XL
Heineman's recent approval of a new KXL route through Nebraska that bypasses an environmentally sensitive area in the state's Sand Hills region marks the latest chapter in a project whose environmental review began in 2008. CEA contends that Heineman's action makes it more difficult for the Obama administration to justify withholding the long-coveted presidential permit for the KXL section from Nebraska to Canada. CEA also anticipates continued divergence regarding the project from two of President Obama's core constituencies.
"Labor and employment interests will continue to mount pressure to approve the project against the wishes of the green wing of the President's coalition," said Whatley.
RFS reform
The EPA's cellulosic ethanol mandate is a component of the federal Renewable Fuel Standard (RFS), which annually establishes minimum volumes of biofuels that refiners must blend into gasoline and diesel. Throughout its eight-year history, the RFS has triggered controversy. Oil and gas industry groups such as the American Petroleum Institute (API) and American Fuel and Petrochemical Manufacturers (AFPM) have called for the repeal of RFS, criticizing it as unworkable and unrealistic. Pro-ethanol lobbying groups, meanwhile, advocate for the RFS.
CEA expects Congress to seek the middle ground on RFS policy this year.
"Congress will be pushed to reform the current RFS, rather than repealing the program, providing a compromise position for farm-state lawmakers to support," said Whatley.
Increased activity at the state and local levels
CEA anticipates that state legislators and regulators will continue to take advantage of Congress' inaction to date in regard to federal energy policy. The organization predicts that state policymakers will push for increased oversight of energy development and pursue other energy-related policies in their respective jurisdictions. Examples of such policies might include hydraulic fracturing bans and low-carbon fuel standards.
Regulatory expansion to continue
Expect federal policymakers to become more aggressive in finalizing oil, gas and environmental rules now that Obama has won a second term in the White House.
"Rules that had been tabled ahead of the 2012 election will be quickly moved to the Federal Register and finalized," Whatley predicted.
He cited Tier 3 sulfur standards for gasoline, National Ambient Air Quality Standards reviews, Bureau of Land Management hydraulic fracturing rules and Endangered Species Act listing proposals as examples of new policies that federal agencies will put on the fast-track to implementation.
"The Department of the Interior [DOI] will make several decisions on Alaska oil and gas production in the first few months of 2013," Whatley added. "DOI will need to complete its 60-day review of Shell's offshore program, which will impact other Arctic offshore producers, as well as finalize permitting decisions on the Arctic National Wildlife Refuge and the National Petroleum Reserve-Alaska."
Matthew V. Veazey has written about the upstream and downstream O&G sectors for more than a decade. Email Matthew at mveazey@downstreamtoday.com. Twitter: @Matthew_Veazey