New Training Facility Targets Aussie Skills Shortage
by Matthew V. Veazey
|
Rigzone Staff
|
Wednesday, December 12, 2012
Seven world-scale LNG projects are under construction in Australia, but a shortage of skilled workers has placed upward pressure on project costs and has contributed to delays. GE, which is playing a contributing role in each of these projects, recently opened a facility whose goal is to boost the supply of qualified workers in-country for these large, complex, capital-intensive developments.
"By establishing the GE Skills Development Centre, we are helping our customers in the region provide essential training to increase the productivity of their workforces," GE Australia and New Zealand President and CEO Steve Sargent said at the Nov. 13 ribbon-cutting of the company's new training facility in the Perth suburb of Jandakot.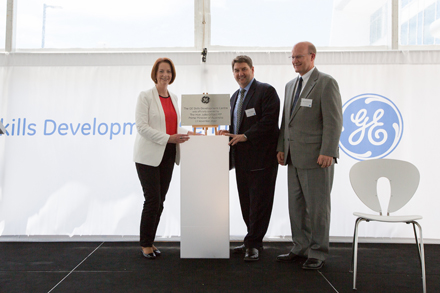 AU Prime Minister Julia Gillard marks the official opening of the GE Skills Development Centre in Jandakot along with GE's Steve Sargent and Dan Heintzelman.
A GE spokesperson told DownstreamToday that the center differs from a conventional educational institution such as a vocational school or university because it targets a very specific student population: GE staff and personnel employed by GE's customers.
"This center is not an open education facility," the spokesperson said. "It is a state-of-the-art center to upskill our existing personnel who work on some of Australia's most significant mega-projects in the resources industry. This is valuable training for our staff and the staff of our customers in some of the industry's most advanced technologies."
The specialized facility will train these individuals on the same equipment they will use on specific LNG projects such as Chevron's Gorgon and Wheatstone, Total and Inpex's Ichthys, Apache's Julimar and Shell's Prelude. A vocational school or university, in contrast, provides a more generalized educational program that emphasizes broader industry needs.
"The GE Skills Development Centre at Jandakot is providing highly specialized, tailored training programs for our staff and the staff of our customers that was not previously available in Australia," the spokesperson explained.
"This new training facility is designed to allow us to bring in the industry's most advanced technologies for a unique and effective training experience. Its immediate proximity to our workshops enables GE to provide participants with invaluable access to hands-on learning on the actual equipment they will encounter in their roles."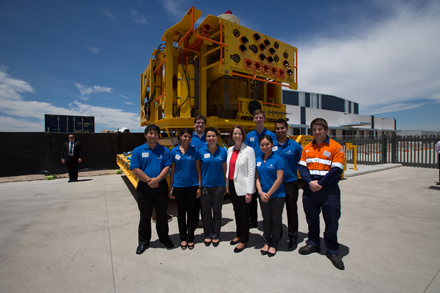 Prime Minister Gillard with GE O&G graduates at the GE Skills Development Centre.
Although the new center will provide instruction that is more specialized than what students can learn at other institutions, GE is teaming up with various academic, corporate, industry and government partners to deliver training to students. Key partners include Chevron, ConocoPhillips and two established Australian training providers -- Challenger Institute of Technology and Navitas.
"In collaboration with the Australian government and private sector, we are making a significant investment in skills and development training to help address the Australian skills shortage," Dan Heintzelman, president and CEO of GE Oil and Gas, said at the ribbon-cutting. "These types of investments are helping to make Australia a world leader not only in production, but in oil and gas talent and expertise as well."
In 2009, Australia's then-Prime Minister Kevin Rudd created a task force charged with helping developers of massive resources projects to find an estimated 70,000 skilled workers. At the Nov. 13 ceremony, Rudd's successor complimented GE on advancing that goal.
"This center is telling you that there are long-term high-skill, high-wage jobs available to the people of Western Australia if they are trained with the right skills," Prime Minister Julia Gillard said in prepared remarks. "That the oil and gas industry here offers people high-skill, high-wage jobs for the next 10, 20, 30, 40 years."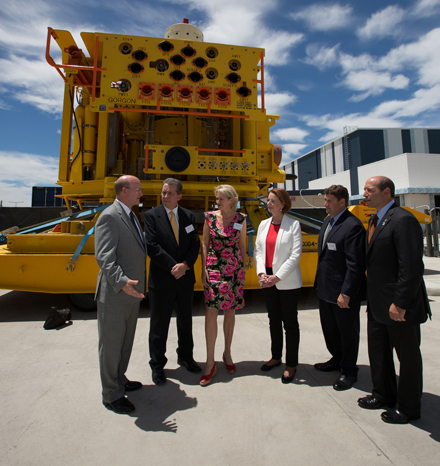 AGE O&G's Dan Heintzelman talks with Australian officials during the opening of the GE Skills Development Center.
Speaking to journalists later that day, Gillard underscored that the training center will serve as a valuable educational resource for those living in the country's westernmost state.
"I think for Western Australians who are looking for work, the very existence of a center like this should give them a cause for optimism and hope about their ability to find an opportunity in the economy in Western Australia," Gillard said.
According to GE, the Jandakot complex is a "Community of Technical Best Practice" for the oil and gas industry and the first facility in Australia to provide the full range of technical training that the resources sector demands. It is also the first GE training facility globally to be accredited against the national qualification framework.
"The training is part of an accreditation framework -- which means these are transferrable skills that will not only help meet the needs of today's megaprojects, but will also help address Australia's long-term skills development objectives," the GE spokesperson said.
"We are committed to training more than 300 people a year at the center, delivering accredited training programs locally that otherwise would have been available only offshore," said Sargent. "This means that our employees and our customers' employees are gaining transferrable skills that will follow them wherever they work."
Matthew V. Veazey has written about the upstream and downstream O&G sectors for more than a decade. Email Matthew at mveazey@downstreamtoday.com.