Primus Aims to Break Ground on GTL Plant in 2013
|
Monday, October 29, 2012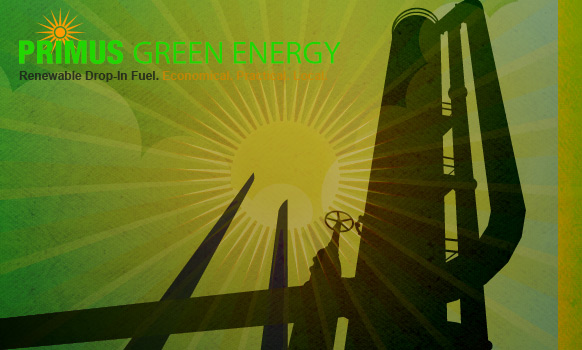 New Jersey-based Primus Green Energy, Inc., is scaling up a technology to convert natural gas into high-octane "drop-in" gasoline.
New Jersey-based Primus Green Energy, Inc., is scaling up a technology to convert natural gas into high-octane "drop-in" gasoline. The company, which has produced fuel samples from a pilot plant and is building an automated demonstration facility, plans to break ground on a commercial-scale gas-to-liquids (GTL) plant next year.
George Boyajian, Primus' vice president of business development, said his company's "STG+" technology is an improved, proprietary version of ExxonMobil's methanol-to-gasoline (MTG) process that Mobil introduced in the 1970s.
"This process has a number of advantages over the Fischer Tropsch (FT) process," Boyajian said, referring to the process first developed in Germany in the 1920s that uses coal, natural gas or biomass as a feedstock to make hydrocarbon-based fuels.
Today, Qatar is home to two pioneering GTL plants based on FT: Shell's Pearl GTL facility and the Sasol-Qatar Petroleum joint venture's Oryx GTL plant. Chevron, the Nigerian National Petroleum Corp. and Sasol are building a facility similar to Oryx in Nigeria. Elsewhere, Uzbekneftegaz, Petronas and Sasol are planning to build a GTL plant in Uzbekistan and Sasol is studying the feasibility of building a GTL facility in Louisiana.
Boyajian pointed out that low natural gas prices have helped to improve the economics of GTL technologies in the United States, but he said the FT process itself carries an inherent disadvantage from a cost standpoint.
"[T]here are significant challenges with the FT technology, most notably that it yields synthetic crude that must then be 'cracked' or processed into other products, adding considerably to the expense," Boyajian said. "As a result the FT process is highly capital-intensive -- witness Shell's expenditure of $19 billion [for Pearl GTL]."
Boyajian said that Primus' technology is easily scalable and, unlike FT, directly produces 93-octane gasoline.
"In other words, it doesn't require the extra intermediate step to process the synthetic crude, nor does it need multiple processing lines for each of the other products," Boyajian explained.
"In the Mobil [now ExxonMobil] process, as in the FT process, the natural gas feedstock, which is made up primarily of methane, is 'reformed' into syngas, which is made up of hydrogen and carbon monoxide," he continued. "This fuel precursor is then transformed into methanol, which can then be used to produce liquid transportation fuels."
According to Boyajian, Primus' adaptation of the ExxonMobil process can yield more than just gasoline. In fact, the "plus" in Primus' trade name signifies its ability to process natural gas into other products such as diesel, jet fuel and aromatic chemical feedstocks such as toluene and xylene.
"Compared to the ExxonMobil process, our process is also simpler, more integrated and has a high degree of flexibility in terms of feedstock and scale," Boyajian said. In addition, he said that STG+ is more economically feasible than either FT or MTG.
Primus expects to be able to profitably produce gasoline and jet fuel at a price competitive with similar oil-based products at $65 per barrel (excluding incentives). In addition, the company asserts the threshold for economic viability is much lower with its GTL technology compared to FT.
"Unlike competing technologies such as FT, we can economically produce fuels at a much smaller scale," Boyajian said. "While a FT plant may cost $20 billion, we are able to build a plant for $200 million. We plan to build such plants in the geographical areas where natural gas is available."
Boyajian also pointed out Primus' STG+ process takes advantage of existing fuel delivery infrastructure.
"Unlike other alternative fuels such as ethanol or compressed natural gas, Primus Green Energy's gasoline requires no costly engine modifications or overhauls to the fuel delivery infrastructure," he said. "In fact, because of its purity, low corrosion and stability, we expect that our fuel will improve the performance and useful life of engines, as well as improving emissions quality."
Primus' first commercial plant, a 25 million-gallon-per-year facility that Bechtel Hydrocarbon Solutions is designing, will be accessible to existing natural gas infrastructure. Primus plans to begin building the plant at a location in the U.S. in 2013. The initial facility will produce syngas from dry natural gas, but Boyajian said that it will be able to process more expensive natural gas liquids as well.
"Primus has the option of using three different sources of syngas: building steam methane reforming in-house, purchasing syngas from an industrial supplier or purchasing an existing syngas plant that will be co-located with our commercial plant," Boyajian continued. "Building steam methane reforming technology in-house is highly capital-intensive, so we are leaning toward the latter two options, but a final decision has yet to be made."
Boyajian said the primary end product at its first commercial plant will depend on its strategic partner, but Primus expects the facility to produce some gasoline in addition to jet fuel.
"We are now in conversations with potential strategic partners such as airlines and gasoline retailers with whom we would partner, with the partner buying the plant's output under a long-term purchase contract," Boyajian said.
Ultimately, Primus envisions broadening the reach of its GTL technology to remote oil well sites far away from natural gas infrastructure.
"Large volumes of oil-associated natural gas are vented or flared because there's no way of getting it to market," Boyajian concluded. "With our technology, oil and gas companies will be able to monetize their reserves of stranded gas by transforming it into valuable liquid transportation fuels."
Matthew V. Veazey has written about the upstream and downstream O&G sectors for more than a decade. Email Matthew at mveazey@downstreamtoday.com. Twitter: @MatthewVVeazey