API Urges RFS Revision; Ethanol Lobby Calls That Course 'Backwards'
by Matthew V. Veazey
|
DownstreamToday Staff
|
Monday, August 13, 2012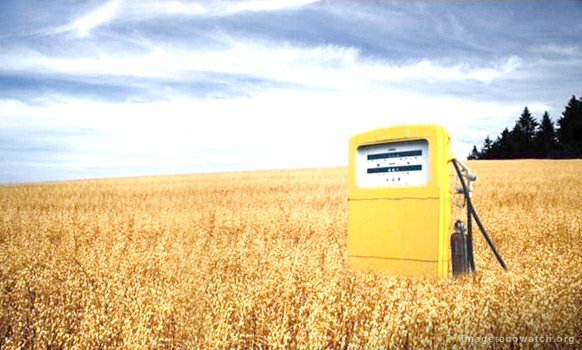 API argues the Renewable Fuels Standard is being undermined by impractical requirements and bad EPA decisions. Ethanol industry representatives disagree.
An official with the American Petroleum Institute (API) said last week that the program to ensure that transportation fuel sold in the United States contains a minimum volume of renewable fuel is failing and needs to be re-worked.
"The RFS [Renewable Fuels Standard] program has been the most important mechanism for bringing biofuels into the nation's energy mix," said API Downstream Group Director Robert Greco in an August 8 call to reporters. "But it is being undermined by impractical requirements and bad agency decisions."
The Energy Policy Act (EPAct) of 2005 established the RFS program. Initially, it required 7.5 billion gallons of renewable fuel to be blended into gasoline by 2012. The Energy Independence and Security Act (EISA) of 2007, however, expanded the RFS program. As the U.S. Environmental Protection Agency (EPA) points out, EISA extended the mandate to diesel, raised the renewable fuel volume to be blended to 36 billion gallons by 2022 and created new categories of renewable fuel with their own unique volume requirements. In addition, the 2007 law required EPA to ensure that each category of renewable fuel emits fewer greenhouse gases than the petroleum-based fuel it replaces.
Greco said the biofuels volume requirements that Congress established will raise renewable fuel concentrations above the 10-percent ethanol (E10) level. API opposes going beyond this E10 "blendwall" given the current body of research. In June of this year, however, EPA gave final approval for fuel retailers to sell gasoline blends with 15-percent ethanol (E15) for motor vehicles built in model years 2001 and later – a move opposed by API, automakers and fuel retailers. API and automakers have maintained the EPA's latest decision could lead to cause corrosion in engines, fuel storage tanks and fuel distribution equipment.
"To increase the amount of biofuels blended in gasoline, EPA has approved the sale of E15 for a portion of the nation's vehicle fleet," Greco said. "It approved E15, even though it knew or should have known of the existence of compatibility problems and even though it knew engine testing was ongoing."
In addition, Greco said that fully implementing the RFS would raise the per-gallon ethanol concentration in gasoline to an average exceeding 20 percent.
Greco also said that EPA still needs to resolve the matter of fraudulent renewable fuel credits sold to some refiners. In order to prove to the EPA that they have met renewable fuel standards, refiners buy renewable identification numbers (RINs). According to American Fuel & Petrochemical Manufacturers (AFPM), U.S. refiners have unknowingly purchased 140 million fraudulent RINs and have paid an extra approximately $200 million to replace them with valid RINs.
"The reality is that the EPA is failing to ensure market integrity in the Renewable Fuel Program, and the RFS is failing American consumers," AFPM President Charles T. Drevna said July 11 of this year while testifying before a U.S. House panel investigating RIN fraud. "Rather than focusing its efforts on creating a program that will help prevent biodiesel producers from committing RIN fraud in the future, EPA has chosen to sit back and rely upon a 'buyer beware' enforcement scheme that penalizes the victims of fraud."
"EPA told refiners the bad credits were the companies' problem and they'd have to purchase more RINs, potentially adding more costs to making gasoline," Greco said last week. "This is a problem the agency could have, and should have, fixed by now. Instead, the situation has introduced uncertainty in the RINs market and hurt some smaller biofuels producers."
Greco also took an opportunity last Wednesday to criticize a "bizarre" EPA requirement that refiners blend cellulosic ethanol into gasoline despite that fact that the renewable fuel is not commercially produced.
"EPA has ruled that refiners must purchase credits for this non-existent fuel," Greco said. "Requiring refiners to pay for a fuel that doesn't exist is regulatory absurdity. It drives up costs and does nothing to increase use of biofuels. It may even undermine public confidence in the RFS program itself."
The Ethanol Lobby Responds
In written statements responding to Greco's comments, representatives of the renewable fuels community disagreed with the view that the RFS is not working and must be fixed. Rather than directly refute API's assertions regarding E15, RIN fraud and cellulosic ethanol credits, officials with the Advanced Ethanol Council (AEC) and the Renewable Fuels Association (RFA) leveled charged rhetoric in their respective defenses of the RFS status quo.
"API has it backwards," remarked Brooke Coleman, executive director of AEC. "The problem is our dependence on foreign oil, which in turn costs consumers billions of dollars and comes at great cost to the economy and the environment."
Coleman asserted that the RFS is "part of the solution" to reducing reliance on oil imports. She also alleged that the oil industry views the RFS as a threat to its supposed "stranglehold on American consumers."
Coleman also characterized the report that Greco presented Wednesday as "just a basic regurgitation of the well-worn talking points" that API allegedly has used to "weaken a landmark piece of legislation that threatens to bring consumer choice to the gas pump."
A senior official with RFA called API's analysis "just another tactic" in an ongoing effort by the petroleum industry to spur Congress to repeal the RFS.
"While the drought has allowed the livestock community to take a prominent role in denouncing domestic ethanol production, many petroleum interests are still committed to seeking an end to America's use of renewable fuels," stated Geoff Cooper, RFA's vice president for research and analysis.
"The RFS has been the most successful energy initiative ever under taken to directly replace fossil fuels in Americans' gas tanks," concluded Cooper.
"It is creating domestic jobs, cleaning the environment, and reducing America's dependence on oil -- a fact not lost on API. Given the attention generated by livestock interests in opposition to American biofuels, today's report was much more about a 'me, too' effort than meaningful discussions that advance America's clean energy agenda."
Matthew V. Veazey has written about the upstream and downstream O&G sectors for more than a decade. Email Matthew at mveazey@downstreamtoday.com. Twitter: @MatthewVVeazey