O&G Companies Score Well in Transparency Ranking
by Matthew V. Veazey
|
Rigzone Staff
|
Tuesday, August 07, 2012
The extractives industries were well-represented in a recent global ranking of transparency of corporate reporting on various anticorruption measures. In fact, oil and gas companies Statoil and BG Group took two of the top five spots among Transparency International's listing of 105 of the world's largest publicly listed multinational companies, which collectively boast a value exceeding $11 trillion.
"We have identified three dimensions of transparency that are particularly important if companies wish to demonstrate that they are serious about fighting corruption and being accountable to all stakeholders, including the local communities where they operate," said Carl Dolan, senior policy officer with TI's European Liaison Office in Brussels.
Regardless of the industry to which a company belongs and the regulatory regime under which it operates, Dolan said that TI's ranking of transparency – based on a scale of 10 being most transparent and 0 being least transparent—considers three factors:
how openly a company reports its anti-corruption efforts
how clearly a company is structured and where it is located
the level of transparency a company exhibits in making financial and non-financial contributions to the countries where they are located.
"Many companies do all these things very well, regardless of where their operations are located and regulated," said Dolan, citing Statoil and its top score of 8.3 as an example.
"I think the commitment to reporting that Statoil has shown … is something that other companies in other industries should try to emulate," Dolan added.
Seventeen of the 105 companies in TI's listing represent the oil and gas industry. Ten of the oil and gas companies earned scores above the midpoint of 5. This group includes three U.S.-based companies: ExxonMobil, Occidental Petroleum and Chevron. All but one of the remaining seven companies in the group – India's ONGC – are based in Europe. Russia's Gazprom picked up the lowest score among the oil and gas industry players with a transparency ranking of 2.8.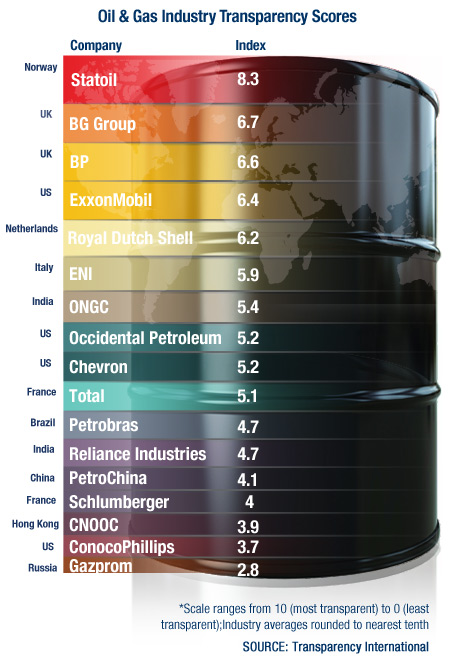 The average score for all 17 oil and gas companies is 5.2, putting the industry in fourth place among the nine industries in which TI grouped the multinationals. (Although the chart also shows a 5.2 score for Telecommunication, this figure is rounded up from that industry's average of 5.165. The non-rounded average for Oil and Gas is 5.23.) Winning the highest industrywide score was Basic Materials (6.1 average), which includes mining companies such as Rio Tinto and BHP Billiton. Financials and Technology garnered the two lowest industrywide average scores of 4.2 and 4.1, respectively. With a 1.1 score, The Bank of China sits at the bottom of TI's 105-company list.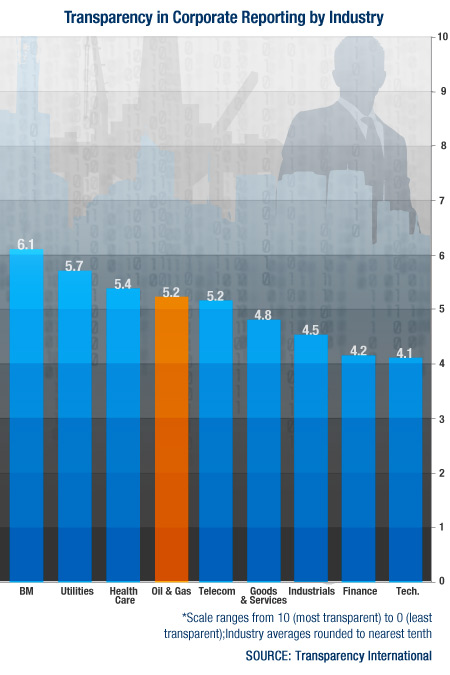 Dolan attributes the relatively strong rankings of many in Oil and Gas and Basic Materials to their involvement in the Extractive Industries Transparency Initiative (EITI) for the past decade. Supported by various companies, governments and civil society groups, EITI exists to promote transparency in countries rich in oil, gas and minerals. Under EITI's "global standard" for natural resources revenues, companies disclose payments to governments and governments disclose the receipt of these payments. A published EITI report independently verifies and reconciles these tax and royalty payments.
"[Companies' EITI involvement] has improved their record of reporting their financial contributions to individual countries in the hope of improving governance and accountability," Dolan said. To be sure, he added that ENI, Statoil and other companies have been embroiled in high-profile corruption scandals that prompted them to make "very public commitments to cleaning up their act."
Costs and Benefits of Greater Transparency
Andrew Schrage, co-owner of the blog Money Crashers Personal Finance, added that two major pieces of legislation enacted in the United States in the past decade have contributed to greater transparency in corporate reporting.
"With the passage of the Dodd-Frank Act in 2010, all corporations registered with the stock market are required to report all payments made to governments regarding oil, gas and mineral extraction on a per-country basis," said Schrage.
"The passage of the Sarbanes-Oxley Act in 2002, which was basically a response to the Enron scandal, made for a whole host of new reporting requirements, some of which are almost impossible to keep up with," noted Schrage. "This has caused many publicly traded companies to simply go private."
Schrage pointed out the cost of and time spent on complying with Dodd-Frank and Sarbanes-Oxley has negatively affected profits and caused the productivity of companies to stagnate.
"A recent report showed that compliance with current Dodd-Frank rules will cost roughly 24 million man hours annually, and all of the regulations haven't even been written yet," Schrage said.
Although more detailed corporate reporting can add to business costs, Schrage pointed out that companies also benefit from increased transparency.
"There are many benefits for a corporation with strong reporting practices," Schrage said.
"The company can enhance its public image and build trust within the community where they operate. Transparent corporations can improve efficiency and proactively address concerns before they become major issues. This also provides for a better and more open investing environment for the consumer."
Impetus from Greater Visibility
A key reason why extractives companies generally did well in the TI rankings likely also stems from the high visibility of their businesses. Drilling an oil well or mining for copper is much more conspicuous than, say, making a financial transaction. However, Dolan points out other factors provide the impetus for increased transparency as well.
"It is not only the operations [i.e., drilling] that are highly visible, but also the impacts [e.g., pollution and displacement of local populations]," Dolan said. "This obviously brings an increased level of scrutiny, and quite rightly so."
Given various banking scandals during the ongoing financial crisis, Dolan said that companies in Financials now find themselves under higher levels of scrutiny akin to what their peers in Oil and Gas and Basic Materials have faced.
"But I think the main difference is there is no equivalent of the EITI for the financial sector," Dolan added.
A 'Step-Change'
Acknowledging the progress that oil and gas companies have made in corporate reporting through EITI and other initiatives, Dolan points out they could do more in terms of improving transparency.
"The fruits of the current commodity boom may be the last opportunity for a generation in the developing world to put themselves on a sustainable development path," Dolan said, calling for a "step-change in accountability and transparency."
First, Dolan advocates oil and gas companies reporting the payments they make for every project that they operate—not just for each country where they operate.
"The deals that are made to win these projects often involve vast sums of money and local communities have a right to know how much and to whom they were paid," Dolan reasoned. "These would yield tangible benefits in terms of good relations with these communities and would allow media and civil society activists to follow the money in a way that would make officials much more accountable."
In addition, Dolan recommends that companies consider reporting more than just payments to governments.
"They should report a whole range of financial information – for instance, sales, revenues, profits -- that enables an informed debate about how value is shared between companies and governments," Dolan said. "This is particularly true in times of increasing austerity."
Dolan pointed out that increased transparency is a key ingredient for companies to build trust with their various stakeholders: investors, customers, employees, regulators, local communities and civil society groups.
"Companies need to manage all these relationships very carefully, and how they manage them will have a significant impact on performance and reputation," Dolan said. "Some of these communities are legally entitled to a share of the royalties or other payments that companies make to central governments."
Even when a company does fulfill its obligations, Dolan acknowledges that corruption on the part of government officials can still diminish its goodwill with local citizens. However, he sees greater openness about financial matters as a way to counter unwarranted accusations by locals.
"When they do not receive their share, they frequently blame the companies, even though the problem is often a result of corruption on central or local government," Dolan concluded. "If companies were more transparent about the financial contributions they make, this would help dispel myths and reduce tensions."
Matthew V. Veazey has written about the upstream and downstream O&G sectors for more than a decade. Email Matthew at mveazey@downstreamtoday.com. Twitter: @MatthewVVeazey