Russian-Chinese Gas Pipeline Cancellation Offers LNG Opportunities
|
DownstreamToday Contributor
|
Tuesday, August 18, 2015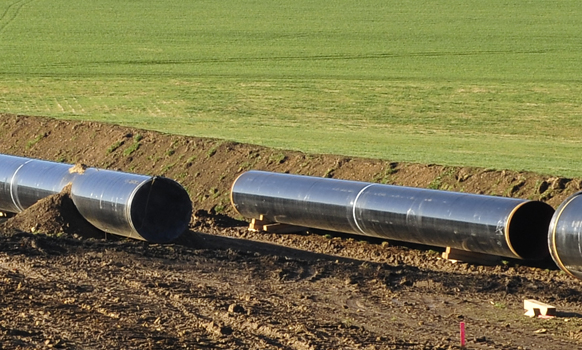 Project cancellation provides space for LNG suppliers, energy researcher tells DownstreamToday.
Last year one of the biggest developments impacting natural gas markets in Asia wasn't just the plunge in global oil prices of around 50 percent and a corresponding drop in liquefied natural gas (LNG) prices of around two-thirds. Two multi-billion dollar natural gas pipeline deals struck between Russia and China also caught the attention of the energy world.
In May 2014, the two countries signed a $400 billion deal for Russia to deliver 38 billion cubic meters (bcm) (1.3 trillion cubic feet) of gas per year for a 30-year period through the Power of Siberia (POS) natural gas pipeline. The eastern route is expected to initially deliver 5 bcm of gas in 2018 and become fully operational in 2019.
Last November, Chinese state-owned oil major China National Petroleum Corp. (CNPC) also signed a preliminary agreement with Russian gas giant Gazprom for construction of the 1,740 mile (2,800 kilometer) $300 billion Altai gas pipeline (a western route) that was to deliver 30 bcm of gas per year for 30 years from western Siberia in Russia to China's Xinjiang region. When the two mega pipeline deals were reached last year, it was predicted that they would meet almost 17 percent of China's natural gas consumption by 2020.
Not only did the two mega deals cause forecasters to predict significant downward pressure on LNG prices in Asia toward the end of the decade, but also changed China's gas import mix by calling into question previous ambitious forecasts for the country's LNG imports. However, in news that was sparsely covered by Western media outlets, in late July of this year media in both Russia and China reported that the Altai route gas deal was now off the table.
The Siberian Times, on July 24, quoted two Russian officials who said that the signing of the Altai pipeline, which they also called "Power of Siberia 2," was being postponed for an indefinite period of time. The officials cited the slowdown in China's economic growth and Beijing's review of its energy balance as the reasons for the postponement.
Geography reportedly was another reason for the Altai pipeline cancellation, even though it would have been cheaper to build Altai instead of POS. Moreover, Altai would pull spare capacity from existing gas fields; in contrast, POS will utilize gas from new fields. The Altai pipeline would reach China at its remote western border, requiring costly investment in new pipeline infrastructure to bring gas to market in China's heavily populated and industrialized east coast.
Pipeline cancellation not unexpected
Some media reports, particularly in Russia, indicated that the Altai pipeline cancellation was somewhat unexpected. However, Keun-Wook Paik, senior research fellow at the UK-based Oxford Institute for Energy Studies and author of the book Sino-Russian Oil and Gas Cooperation: The Reality and Implications, told Downstream Today that the suspension of the Altai project under China's current sagging economy is no surprise.
"It will be entertaining news for the LNG suppliers as the 30 bcm/y or 21 mt/y pipeline gas supply suspension will offer a comfortable space for LNG supply options to compete against the pipeline gas from the Central Asian Republics," he said.
Paik added that collapsed spot LNG cargoes could easily find the market in China's coastal provinces but the volume is not massive. "The main burden is coming from the large-scale term cargoes as the three Chinese NOCs [national oil companies] are desperate to dispose or reduce the contracted volume with a very dear price," he said. "Finding the buyers will be a kind of 'mission impossible' task. Of importance is the sluggish Chinese economy, which is ruling out any possibility of double-digit gas demand growth."
Paik makes two valid points. First, amid weakened gas demand in China and a plethora of long-term LNG supply contracts that the country's NOCs have signed in the past few years with soon to come on-stream LNG projects, these Chinese companies have been scrambling to reassess and possibly renegotiate their contracts. In late July, Ryan Lance, CEO of Houston-based independent oil major Conoco Phillips, addressed speculation that Sinopec wanted to renegotiate the terms of its contracts with the A$25 billion (US$1.45 billion) Australia Pacific LNG project that his company is building with Origin Energy at Gladstone, Australia. Reports claimed that Sinopec wasn't ready to take the volumes it had agreed to buy. Lance said that the project was on track for exports before the end of the year and that ConocoPhillips expected its supply contracts with Sinopec to be honored. As far back as December, Reuters said that the LNG boom was over as China looked to sell out of long-term deals.
Second, Chinese gas demand is slowing, keeping in-step with the slowdown of its economy. According to the BP Statistical Review of World Energy 2015, gas consumption in China grew between 12 and 13 percent in 2013 and by 8.5 percent in 2014. However, in the first half of 2015 it has grown only 2 percent.
Power of Siberia still protected
Juxtaposing the POS pipeline and the Altai pipeline, Paik said that the POS pipeline situation is completely different because the pipeline gas market (20 bcm/y) in northeastern Chinese provinces have been and are still protected. "Even if there is a one- or two-year delay with the POS, the gas market will not be affected," he said. "The remaining 18 bcm/y volume (which is targeting the Bohai Bay market) out of the 38 bcm/y volume, however, could be affected if a very competitively priced LNG supply is targeting the Bohai Bay's gas market. So the timing of 38 bcm/y POS gas supply is critically important as not to lose its POS gas market to the competitively priced LNG supplies."
Paik added that the success of the POS pipeline will depend on staged development with minimum financial exposure. "Under Gazprom's current approach, even the 18 bcm/y POS gas supply to the Bohai Bay market will face very serious challenges from competitively priced LNG supplies," he concluded.