Opportunities Abound for Millennials in Refining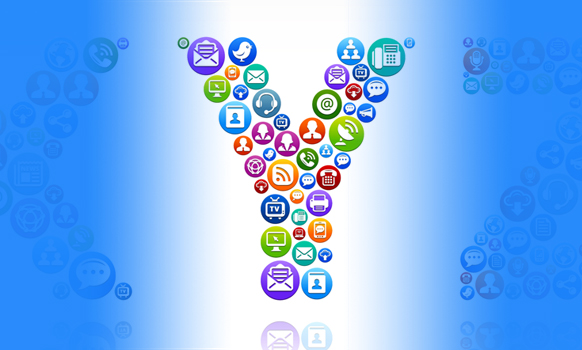 As with other sectors of the economy, the influence of "Generation Y" in the refining industry is growing.

AUDIO CAST
Matthew Veazey, senior editor of DownstreamToday.com and Rigzone.com, chats with Millennial HR and branding expert Dan Schawbel about the misconceptions and career priorities of Generation Y.
They've been called lazy, entitled, narcissistic and more, but they've also been praised as flexible and willing to sacrifice and make hard decisions. They're Millennials, and generalizations about "Generation Y" range from unflattering to laudable. What's not debatable, however, is that persons born from the early 1980s to mid-1990s are gaining influence in the workforce. In fact, Millennials now comprise the largest single generation in the U.S. labor force, according to the Pew Research Center. Moreover, they now outnumber another large demographic cohort – Baby Boomers – and make up more than one-quarter of the U.S. population, the U.S. Census Bureau reported in June of this year.
According to April 2014 figures from the U.S. Bureau of Labor Statistics, the median age of workers in the petroleum refining industry is 43.9 years – higher than the 42.4 median age for all industries. Like other "graying" sectors of the economy, the refining industry must fill demographic gaps within its ranks as Baby Boomers retire and Generation Xers advance to higher-level vacancies. Recruiting specialists with major refiners recently told DownstreamToday what career opportunities they offer for Millennials and what they are doing to target members of that demographic group. Read on for their insights.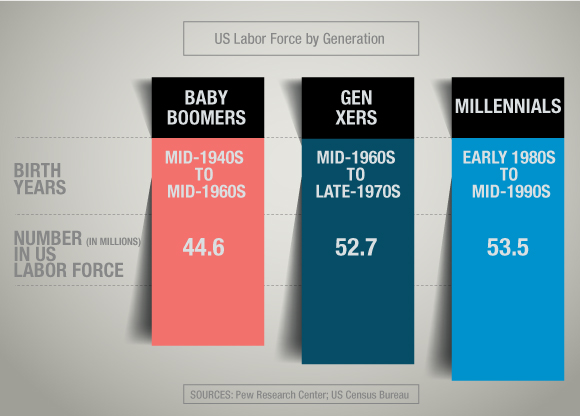 US LaborForce by Generation
DownstreamToday: What sort of refining, and other downstream, opportunities do you offer recent graduates, interns and others relatively new to the workforce?
Tony Moore, Talent Acquisition Supervisor, Marathon Petroleum Corp. (MPC): We have opportunities throughout our company, in many different fields. We strongly promote our internship and co-op programs as we end up hiring a large majority of them for full-time positions after they graduate. In short, we have entry level positions in engineering, accounting, logistics, marketing, and operations in all of our seven refineries and many of our field locations. More detail on our open positions can be found at JoinMPC.com.
Jonathan Rosenberg, Manager, Talent Planning & Acquisition, Phillips 66: Phillips 66 has had its largest intern and new hire class since becoming a new company in 2012. Being a diversified energy manufacturing and logistics company, our focus is on engineering (chemical, mechanical and electrical) and health, safety and environment (HSE) roles. Having said that, we also have many opportunities in supporting functions such as real estate and facilities, procurement, finance, information technology and human resources.
In addition, the resurgence of manufacturing in the U.S. has grown the need for Millennials with technical skills. Phillips 66 has supported various initiatives that involve career paths requiring a two-year degree, allowing us to be successful in an area that has traditionally been a challenge for recruiting. For more information please visit p66oncampus.jobs.
Johan den Bakker, EUAF Recruitment Marketing Manager, Royal Dutch Shell, plc: At Shell we have a variety of technical and commercial roles available in our downstream business around the world. Roles vary from process engineering and asset maintenance style roles through to broader engineering roles, and then Health, Safety, Security and the Environment (HSSE) and more commercial roles spanning disciplines such as Finance, HR, Sales and Marketing, Supply Chain and Downstream Commercial.
A career in Engineering offers wide possibilities to form international connections with colleagues, and develop a solid foundation in roles tasked with maintaining, developing and ensuring the safety of our refineries. We also have exciting roles in our innovative research centers. Roles are dynamic and varied, ranging from setting up, maintaining or improving sites, processes and technologies to working on ground-breaking projects. Working for Shell offers the opportunity to be involved in projects that have real meaning as energy sourcing and production continue to be a global challenge.
Shell actively supports a diverse workforce. We've got interesting propositions for people from different backgrounds and cultures to work on various projects around the world, from Pernis, Europe's largest refinery, or our technology center in Amsterdam to innovative projects like Prelude FLNG, the world's first giant floating liquid natural gas facility, off the coast of Australia. We're looking for innovators to join our diverse and inclusive teams.
We offer assessed internships that last from 12 weeks up to 16 months. These opportunities allow students to work on well-defined projects with clear objectives and deliverables allowing them to gain valuable experience and skills that put into practice theories and concepts learnt at university. It's also an opportunity for students to get a look into the energy industry and see what it's like working for a global company like Shell.
The Shell Graduate Programme is open to graduates with up to three years' work experience. The Programme aims to develop both professional expertise and leadership potential. Graduates will work and learn as an integral part of a talented, inclusive global team. During the structured Programme they are supported through a combination of planned training, informal learning, on-the-job training, regular check-ins and inspiring mentors.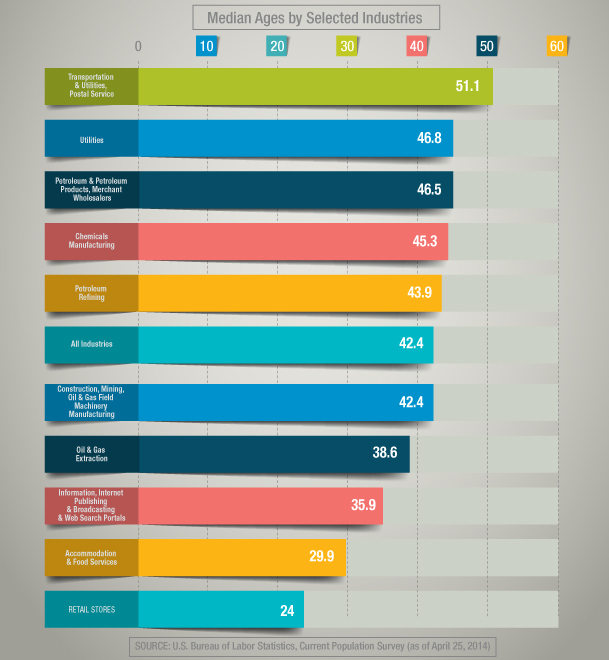 Median Ages By Selected Industries
Back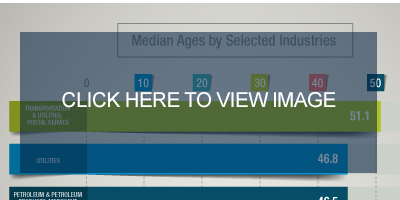 Shelly Underwood, University Relations Lead, Talent Acquisition, Tesoro Corp.: Tesoro has a Summer Internship Program for students in refining, logistics and administrative roles. It's a program we're proud of and we really work to give students a stronger understanding of our business as a whole, challenge them with projects, and provide them with networking and other development opportunities. We've gotten very positive feedback from students that have gone through the program. In fact, nearly half of the eligible 2014 class started their careers as Tesoro employees following graduation.
We have associate- and entry-level opportunities and we recruit from a range of majors, including accounting, multiple engineering disciplines, industrial hygiene, environmental and occupational health, finance, IT, HR and supply chain management. We also encourage career growth and cross-functional exposure through initiatives like our Rotational Development Program.
DownstreamToday: In your experience, what's different about Millennials in terms of career priorities compared to other generations? Conversely, what consistencies have you observed across generations?
Underwood: In our experience, Millennials are eager to voice and receive feedback and actively seek networking and mentorship opportunities. They're looking to define their professional passions and strike a positive work-life balance.
Like many other generations, Millennials welcome collaboration and are eager to learn, work hard and achieve goals. They seek a high-performing workplace culture but one that is also inviting and family-oriented.
Millennials want to participate in and give back to their community, which is something we encourage and help facilitate at Tesoro through our community investment activities and employee engagement initiatives.
Moore: When applying for a position at Marathon Petroleum, I don't think priorities between Millennials and other generations are all that dissimilar. Regardless of age and experience level, applicants are typically looking for a company with a bright future, career development options, great benefits, and a culture of responsibility and respect; MPC excels in all of those areas, which I think is part of the reason we're successful at finding quality talent for all of our available positions. I've noticed that Millennials do come into MPC with their next few career moves in mind. When statistics show that most people will have 3-5 career changes in their lifetimes, MPC gives them opportunities to have those career changes with the same company. We are dedicated to providing our employees with the opportunities to learn new skills and tackle new challenges.
Rosenberg: In our experience, Millennials want the ability to develop and have a role where they can make an impact in the company and in the community.
The internships we offer are based on meaningful work that delivers true value to the business. We continually receive feedback from campuses that Phillips 66 provides interns with challenging projects and hands-on experience to support their future career.
We also focus on early career development programs across the company. For example, University hires are targeted for the Professional Refining Engineering Program (PREP) which allows new engineers to learn more about the energy business, affords opportunities within the company to grow and develop as a professional, and provides exposure to business leaders who connect participants to our strategic growth plan for Phillips 66.
Millennials can also make an impact through one of numerous employee resource groups which focus on professional development, engagement, outreach and community involvement.
Arlene Manolo, APME Recruitment Marketing Manager, Shell: For Millennials, innovation and a creative, dynamic work environment are generally most important. We've also noticed that flexibility and work-life balance are key priorities. Often Millennials want to join the right environment where they feel they have responsibility from the start. They can also be looking for international career opportunities, a dynamic and challenging work place, variety in the role, an opportunity to specialize and leadership development opportunities.
Shell aims to meet these desires through the structured and challenging Shell Graduate Programme and the Shell Advanced Technical Programme. These programs, combined with well-established leadership coaching, appeal to students who want to know they have real career prospects ahead of them.
We have found that Millennials seem to want to progress quickly in their careers, probably more so than previous generations. As a business we also want to have people performing at a more autonomous level quickly. We use the structure of the Shell Graduate Programme and the Shell Advanced Technical Programme to ensure that solid foundations are laid and that people progress when their skills and knowledge are at the right level.
DownstreamToday: Have you observed certain preconceived notions about refining – and the oil and gas industry in general – among Millennials that makes recruiting them more challenging? If so, what are some common concerns that you try to overcome?
Rosenberg: Millennials want to work for socially responsible companies. A 2013 Universum survey of U.S. business students placed Phillips 66 on top the list of companies seen as having a great corporate social responsibility reputation.
Millennials have an opportunity to make an impact in our industry in many ways. As our CEO has stated, the energy industry helps the global economy thrive by providing affordable abundant energy that is essential to sustaining modern life and improving the standard of living and the health of people in the developing world.
Moore: Those who visit us at career fairs and recruiting events are usually well prepared. Our interactions with potential candidates are extremely positive.
den Bakker: Yes indeed. We find they can be happy to share their opinions on the energy industry and sometimes we need to discuss wider issues rather than just discussing their specific role.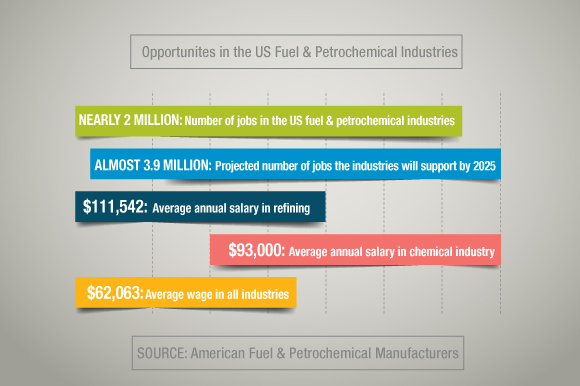 Opportunities Abound for Millennials in Refining
DownstreamToday: How would you best summarize your approach to recruiting Millennials?
Manolo: We continue to seek their feedback to ensure we improve the process and we do this through our Candidate Experience Survey, as well as gaining more anecdotal evidence from smaller-scale internal reviews.
We make sure that our attraction plans are based on a clear brand strategy and are candidate-centric. We also adopt innovative ways of sharing our content (for example stories about life at Shell from people who work here, project updates, exciting news about our innovations etc.), with the aim of inspiring people to consider working in the energy industry and for Shell in particular.
We never stop learning about the Millennials. We tailor and target our messaging so that we can reach them in places they are expecting to see us, such as at university events and career fairs, and also in more unconventional spaces, such as Instagram.
We also have interesting partnerships and competitions to engage them. For example:
Shell Ideas360 is a global student competition that encourages students to tackle Energy-Food-Water challenges. We involve employees as mentors and reviewers in the competition. This has greatly helped us to establish our company as an inspiring and cool brand among Gen Y.
Technical partnership with Ferrari for over 60 years. We invite selected students to join us at a F1 Grand Prix ™ event. They can meet our leaders and visit the Ferrari paddock. It gives them an exclusive experience with Shell. After experiencing Shell's culture during the event, talented individuals have been inspired to successfully apply for a role with Shell. It's a win-win situation.
Thad Satterfield, Director, University Relations, Phillips 66: We continue to have a high level of engagement on campus – building relationships early to connect engineers to opportunities for school success, soft skill development and professional experience. We partner with universities to sponsor summer bridge and early success models to help recruit students to STEM fields and provide scholarship, mentoring, on-site field trips and internships to connect classroom learning to careers. We invest in student organizations and capstone projects to ensure engineers have the soft skills needed to be successful when launching their careers. One example is our SHIELD Scholar program. The scholarship provides tuition assistance, enrichment activities, community service engagement and a company mentor to help guide the student through college to graduation.
Moore: Our recruiting team is very active at universities across our operating areas. We believe in the power of face-to-face interactions, and as such, we dedicate resources to facilitating as many opportunities to do that as possible. In the past few years, we've launched several new technologies to aid in recruiting more tech-savvy candidates. We're active on social media, especially LinkedIn, where our recruiters are making contacts and answering questions about our company. We also work with a service called HireVue to allow candidates the opportunity to answer pre-interview questions via webcam at their own convenience.
Underwood: Tesoro engages year-round with students on university campuses, connects prospective talent with Tesoro employees in their roles of interest and utilizes online forums and social media to tell our story and share opportunities.
Tesoro is a growing company with a lot of opportunity for new hires to power their career forward and immediately make an impact. You can find more information at careers.tsocorp.com.
Matthew V. Veazey has written about the oil and gas industry since 2000. Email Matthew at mveazey@downstreamtoday.com. Twitter: @Matthew_Veazey