India's Refineries Poised for Change under Diesel Deregulation
by Tim Daiss
|
DownstreamToday Contributor
|
Tuesday, May 19, 2015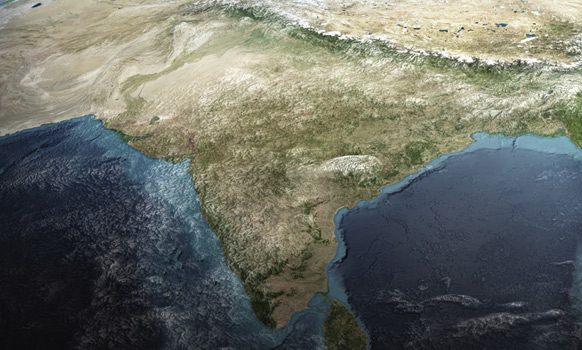 Eliminating diesel subsidies should impact India's privately and publicly owned refineries.
India's economy has trended upward for the last decade and-a-half, growing at an average rate of 7 percent since 2000. On the back of this growth, the country has become a major exporter of finished oil products. At the end of 2013, India had 4.35 million barrels per day (bpd) of refining capacity, making it the second-largest refiner in Asia after China.
India had 17 public-sector refineries in 2013 owned by seven state-owned companies, according to the U.S. Energy Information Administration (EIA). It had three private refineries owned by the country's two private refiners: Reliance Industries and Essar Oil Ltd. The country also boasts three joint-venture refineries.
However, changes are underway that will alter the country's refining sector in the long term. In October 2014, India's Cabinet Committee for Economic Affairs liberalized the country's diesel prices by removing government subsidies for the fuel. Before deregulation, government subsidies for diesel were paid only to public-sector refineries while the country's two private refiners received no subsidies.
The cost of subsidizing diesel in India was not only a politically charged issue but one that drained government coffers of nearly $50 billion over the 10-year period leading up to deregulation. The Wall Street Journal said that providing diesel at below-market rates cost the government approximately $10 billion last year alone. Radhika Rao, an economist at DBS Bank, said that deregulation "shields the government's finances from volatility in global oil prices, because of which the subsidy bill often went up."
Before the regulatory change, private Indian refiners limited sales to the domestic market and mostly exported to capitalize on greater profit margins abroad. Now they are incentivized to sell domestically also. Some analysts have also predicted that diesel price deregulation will reduce Indian oil product exports because it will allow refiners to receive international market prices for diesel within India. However, other analysts claim that deregulation will have little impact on the country's finished oil products exports.
Dhananjay Sinha, head of research for institutional equities at Mumbai-based Emkay Global Financial Services Ltd., told Downstream Today that overall exports of petroleum products from India have declined by 6.4 percent on a year-to-year basis in volume terms (from fiscal year [FY] 2014 to FY2015). He added, however, that the major declines were seen in naphtha and fuel oil – mainly on the back of the slowdown in the global economy.
"The value of exports of petroleum products decreased by 12 percent to $55.8 billion, due to declines in both volume and corrections in global crude oil prices," Sinha said. "Post-diesel deregulation oil marketing companies were making higher marketing margins, which grew from Rs 0.70 per liter from October 2014 to Rs 1.1 per liter currently." He added that, given the context of slower domestic consumption of refined products and the surplus capacity, he does not expect reduction in exports merely because there is a higher margin in the domestic market.
However, India's overall exports – not just its finished oil products – started declining in October (the date of diesel deregulation) due to a slowdown in global demand, appreciation of the rupee against the euro and a steep fall in oil prices.
Suresh Sivanandam, Wood Mackenzie Principal Analyst – Refining and Chemicals, agrees that exports have not been affected yet due to recent diesel price deregulation. He told Downstream Today that even before deregulation there was a surplus market of products from private refineries in India; the subsidy system prompted these facilities – not linked to government (public-sector) refineries – to primarily export their surplus products.
"In the past, one of the two private refineries (Reliance) shut down its retail sector, the other (Essar) didn't," Sivanandam said. "But now with deregulation more options are open for them in the domestic market." He added that diesel deregulation is not affecting exports yet because India still exports so much.
Deregulation will also have a positive impact on public-sector refiners' capex plans. Before deregulation lower profitability discouraged public-sector refiners from upgrading or modernizing their facilities and instead motivated them to concentrate on their retail networks, Sinha said. He explained that, during the subsidy era, public-sector refiners had to face the brunt as far as capex was concerned. Now, with deregulation, these refiners are shifting their focus, he added.
"But post-diesel deregulation, companies' working capital have improved significantly which helped them in reducing interest costs and safeguard their profitability, as diesel subsidy constituted 55 percent of the total subsidy burden," Sinha said. "We believe these companies will have enough bandwidth to focus back on upgradation and modernization, post the deregulation, thereby gaining efficiency in the coming years."
Sivanandam said that public-sector refiners were losing a lot of money pre-deregulation. Although some public-sector refiners like Indian Oil were actually already upgrading facilities, they were doing so on a general basis, he noted. Now, he added, they should be able to upgrade on the back of greater profitability.
India's oil refining sector is also poised for change beyond its recent deregulation of diesel prices. Increased competition from overseas is already heating up. Sivanandam said that competition for Indian refineries comes from U.S. shale oil development because the U.S. is now a large exporter of refined oil products. Meanwhile, he noted that pushback from the Middle East will create trouble for Indian exports.
Sivanandam's analysis is correct. Saudi Arabia is about to become a major exporter of not only crude oil but finished oil products also, and the Kingdom will challenge India's oil products export market share in Asia and Europe. Saudi Arabia increased its export of refined oil products from 55.9 million tons (mt) in 2013 to 73 mt in 2014 – a year-on-year increase of 17.01 mt.
In addition, Saudi Arabia is on track to become the world's second-largest exporter of refined oil products by 2017. It is scheduled to bring on-stream two new refineries this year, adding 800,000 bpd capacity for a total of more than 3 million bpd of capacity.