Lloyds Register Exec Offers 'Key Word' for FLNG Survival
by Matthew V. Veazey
|
Rigzone Staff
|
Friday, May 08, 2015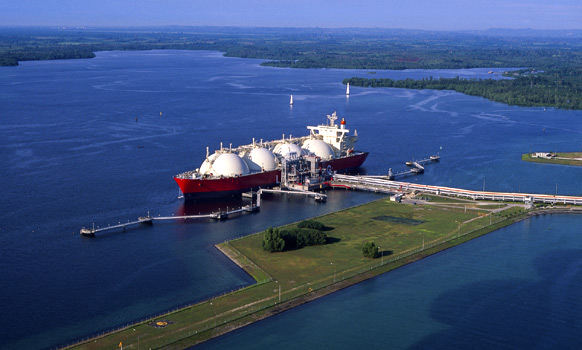 FLNG players can weather an "L-shaped" price recovery by adopting new technologies early, says Lloyds Register exec.
The price of liquefied natural gas (LNG) is tied to the price of crude oil, and investors' enthusiasm for a number of proposed LNG terminals has cooled during the current oil and gas industry downturn. Although the cost of deploying a floating LNG (FLNG) project can be significantly lower than that of a conventional land-based LNG terminal, the nascent FLNG sector has not been immune to the effects of lower LNG prices. Whether prices recover in a relatively short "V-shaped" pattern or a more gradual "L-shaped" pattern is anyone's guess, but FLNG project developers that more readily embrace groundbreaking new technologies should survive, an executive with Lloyds Register told DownstreamToday on the sidelines of the recent 2015 Offshore Technology Conference (OTC) in Houston.
"We all hope for a kind of V-shaped recovery," said Duco de Haan, commercial development director with Lloyds Register, which has provided classification and project management services for Shell's groundbreaking Prelude FLNG project. However, "all the prognoses are showing a more L-shaped recovery, a slight improvement in oil price."
How can companies adapt to a more gradual price recovery? Aside from "getting a firm grip on the cost base," companies will need to enhance their efforts to prolong the integrity of their assets and management systems, de Haan noted. Embracing new technologies is vital in that regard, he said.
"Early adoption of technology and the implications of smart technology can have a huge effect on capital expenditures (CAPEX) and operational expenditures (OPEX)," de Haan pointed out. "Technology is very much the key word in order to withstand the 'stress test' (of lower prices) as well as the test of resilience in the coming months, and perhaps even years."
Deploying cryogenic risk assessments combined with advanced 3D modeling serves as one example where FLNG developers can lead in adopting advanced technology, said de Haan. Cryogenic risk assessments and advanced 3D modeling facilitate improvements in the design of FLNG assets, he explained.
"If you're able to see the exact implications of a cryogenic spill over equipment that has enormous density, you can design with more precision" and avoid costly over-engineering, continued de Haan. "With this new technology, we can influence how the asset is maintained … through the life of the facility. You also influence operation expenses. This one technology has huge implications for the efficiency of FLNG."
Integrating carbon nanotubes with copper electric wiring in cables illustrates another potential pioneering move for FLNG developers, de Haan said. Using carbon nanotubes increases the rigidity of cables, alleviating mechanical stresses on the copper wiring, he explained.
"It makes the cable far stronger than the more traditional setup," he said, adding that other benefits include lighter weight and lower voltage leakage.
Applying fiber optic sensing technologies to steel surfaces, which can provide data to help the FLNG facility personnel pinpoint stress areas and more accurately address maintenance needs, is another advancement that can be deployed in the near term, de Haan observed. Eventually, he anticipates the application of "smart" hull coatings to FLNG vessels can provide even richer data.
"Long term, I see Big Data as having a greater influence on the overall market," said de Haan. "With FLNG, we will be able to extract so much data out of the FLNG sites, but the trick is to transfer it into information. The key intellectual property lies in the algorithms, in being able to transfer those data points into meaningful information."
"FLNG is absolutely the way forward," concluded de Haan, noting that it is more cost-effective than onshore LNG facilities. "The whole model of FLNG is different. It's a different animal. While you can overcome the technical challenges, it is the way forward."
Matthew V. Veazey has written about the oil and gas industry since 2000. Email Matthew at mveazey@downstreamtoday.com. Twitter: @Matthew_Veazey