South Korean Refiners to Profit from Cheaper Crude Oil, But...
|
DownstreamToday Contributor
|
Monday, March 23, 2015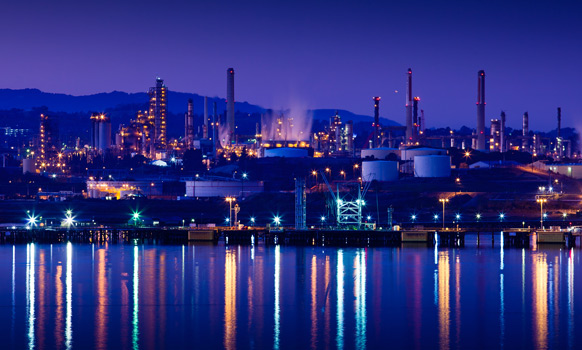 A leading exporter of oil products, South Korea faces a new era of competition.
Even though South Korea has no oil and natural gas reserves of its own, the country is home to three of the largest oil refineries in the world and has positioned itself as one of the dominant oil product exporters in the Asia-Pacific region.
However, developments are unfolding that will both benefit South Korea's oil refining sector as well as challenge its dominance in the region. First, plunging oil prices – which have dropped by more than 50 percent since mid-June and are expected to remain low at least until the second half of 2015 – will help South Korean refining margins, which have been low in recent years, according to a Business Monitor International (BMI) report from February.
Vivek S. Mathur, senior analyst at ESAI Energy, told Downstream Today that South Korean refinery margins should recover with some strength in petrochemical spreads after a very weak second half last year. "Relatively weaker oil prices are supporting modest economic growth in South Korea, and domestic oil demand as evidenced by stronger January data, which appears to show an uptick in transport fuel demand on a year-on-year basis," he said.
Antonio Della Pelle, managing director of data provider and energy consultancy Singapore-Enerdata, agrees that low oil prices will support a rebound in South Korean refining margins this year and the oil refining industry as a whole. However, he also added a note of caution.
"The main concern for refineries such as in South Korea is growing supply, notably from India and the Middle East, amid weak demand from China that will continue to weigh on margins," Della Pelle told DownstreamToday. "Moreover, the situation is not going to improve for the Korean oil refining industry."
Della Pelle makes a valid point. Faced with declining demand from their two biggest buyers China and Japan, South Korean refineries "are frantically searching for new markets and contemplating ways to bring down costs by diversifying crude supplies," according to a Platts report from November.
Diversifying crude supplies for South Korea, however, is easier said than done. In 2013, the country imported nearly 2.5 million barrels per day (bpd) of crude oil, making it the fifth-largest oil importer worldwide. Of that amount, nearly 90 percent was imported from the Middle East. Middle Eastern suppliers offer discounts to South Korea to maintain market share, according to the latest U.S. Energy Information Administration (EIA) analysis of South Korea's energy sector.
Diversifying crude oil sources for South Korea will also be difficult because the country's refiners are mostly configured to process Middle Eastern crudes. Yet, these suppliers may not have a proverbial free lunch forever. Mathur said that these suppliers will also be watching policy trends in South Korea – particularly recent measures that provide subsidies to refiners importing crude oil from the Americas, Africa and Europe in an attempt to diversify the crude import slate.
Looming refined oil products battle
Many analysts state that India will continue to offer stiff competition for South Korea because it already has several world-class refineries. The EIA, citing FACTS Global Energy data, said at the end of 2013 India had 4.35 million bpd of refining capacity – second only to China, Asia's largest refiner. India enjoys several advantages over its South Korean counterparts, including being closer to Middle Eastern suppliers. Its proximity to the Mideast lowers transportation costs, thereby allowing it to pass these savings on to buyers of its refined products.
Mathur said that India is poised to expand market share in the Asia Pacific region, especially as expanding capacity in the Middle East displaces Indian distillate and gasoline barrels from the West. However, he added that he doesn't believe they will pressure South Korean runs.
Della Pelle takes the argument further, stating that the dynamics of oil refining are changing. Juxtaposing exporters (South Korea, India and Saudi Arabia) and two major refined product import countries (China and Indonesia), he said that South Korean refined oil product exports fell from 55.23 million tons (mt) in 2013 to 53.4 mt in 2014, a drop of 1.83 mt, while India's exports fell from 69.79 mt in 2013 to 64.71 in 2014, a drop of 5.0 mt.
Saudi Arabia, however, is the new refining player that makes the story compelling. The Kingdom, known mostly as the world's leading crude oil exporter and the de facto OPEC leader, increased its export of refined oil products from 55.9 mt in 2013 to 73 mt in 2014, an increase of 17.01 mt year-on- year. Meanwhile, China's import of oil products dropped last year to 43.82 mt from 52.7 mt in 2013, while Indonesia's imports rose last year to 43.97 mt from 32.64 in 2013.
Della Pelle said data show that Saudi Arabia is now a double key player both in the supply of crude oil and, most recently, in the supply of refined products. In fact, Saudi Arabia plans to become the world's second-largest exporter of refined oil products by 2017 and this year is scheduled to bring on-stream two new refineries, adding 800,000 bpd capacity for a total of more than 3 million bpd of capacity.
"The amount of refined products that came on stream in 2014 flooded the market, and if we look at the two import countries then we can see import is shifting from North Asia (China) to South East Asia (Indonesia) and geographically the demand is getting closer to India and Saudi Arabia," Della Pelle said. "South Korean refiners need to implement smart actions to stay competitive in the new environment and their large-size refineries are a good thing to have."
Saudi Arabia is much more a game changer than India, and overall both Indian and Saudi Arabian refineries will be direct competitors to South Korean refineries, according to Della Pelle. He added, however, that the Korean refinery business is global – there are many variables other than just oil to take into account.