Quest for More Fuel-efficient LNG Ships May Trump Oil Price Slump
by Tim Daiss
|
DownstreamToday Contributor
|
Monday, January 26, 2015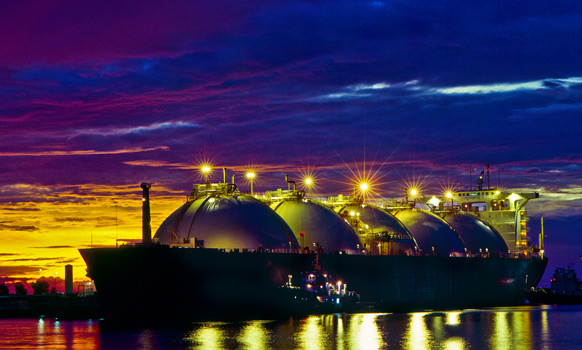 Despite plunging oil prices, the trend for more fuel-efficient LNG ships may continue.
The end of last year saw a flurry of activity in the liquefied natural gas (LNG) shipbuilding industry as several builders finalized orders in December. Daewoo Shipbuilding & Marine Engineering (DSME), South Korea's third-largest shipbuilder, booked orders for nine LNG carriers from two customers on December 30, four LNG carriers from returning customer Angelicoussis Shipping Group and an order for five LNG carriers from an Asian customer, whose identity was not disclosed.
Just two weeks earlier, DSME announced that it had signed a contract to provide six LNG carriers worth 1.3658 trillion won ($1.2429 billion) to a European ship owner, Hellenic Shipping News reported. Industry experts claim that British oil major BP placed the order.
On December 24, Mitsui OSK Lines (MOL), Japan's largest ship builder, announced that it had ordered another LNG carrier with compatriot shipbuilder Japan Marine United, the third LNG carrier MOL ordered for the year. The three ships will be used at the Cove Point LNG project in Maryland, which will be completed in 2017. On December 10, Japan's K Line announced that it had signed a long-term charter contract for construction of a new 164,700 cu m LNG carrier to serve Chubu Electric Power.
Four countries to comprise bulk of new LNG carrier orders
Because the LNG carrier market is closely linked with liquefaction capacity, North America, Africa, Qatar and Australia (the main gas-exporting regions) will comprise the bulk of new LNG vessel orders going forward. While Qatar is currently the world's largest LNG exporter at 77.7 million tonnes of LNG capacity, seven Australian gas export facilities are due to come on-stream in the next three years, mostly to feed rising demand from Asia, where imports account for approximately 70 percent of global LNG trade. Once completed, Australia's new projects will give the country a total capacity of 85.8 million tonnes, making it the world's largest LNG exporter.
Houston-headquartered classification society American Bureau of Shipping (ABS) predicts that approximately 100 LNG carriers will be purchased by different ship owners globally between 2017 and 2020. However, some claim that there will be a slump before demand starts to pick up again to meet that projection. London-based independent maritime advisory Dewry Shipping Consultants Ltd. said in an August report that continuing weak demand and excess tonnage are expected to depress LNG shipping earnings in the near term; but, the report continued, longer term the sector could face vessel shortages as ordering slows and liquefaction projects come on stream.
Over the past year LNG demand in Asia has dropped substantially due to more gas entering the market and warmer temperatures in the Northern Hemisphere. Korea Gas Corp. (Kogas), Tokyo Electric Power and Chubu Electric -- three of the world's biggest LNG buyers -- withdrew from spot LNG markets at the end of last year as abundant reserves left from the previous mild winter was enough to meet current demand from customers, Reuters reported.
Andrew Buckland, Senior Analyst - LNG Shipping at energy consultancy
Wood Mackenzie, told DownstreamToday that the relative decline of East Asian LNG demand will be bad for shipping demand in that it will probably reduce long-haul trade. For example, LNG exports from West Africa to East Asia likely will decline and the LNG will instead go to shorter-haul markets in Europe and South America, he explained. Longer-term U.S. export projects may require fewer ships if more of the exports end up in Europe or the Americas than in Asia, Buckland added.
LNG shipbuilding and LNG-oil price link
Though Buckland believes that declining Asian LNG demand will affect LNG shipbuilding, he disagrees with some analysts who cite plunging oil prices and oil-linked LNG prices as a drag on LNG shipbuilding.
"Even prior to the oil price fall we didn't think a lot of the proposed LNG projects would actually progress as there were too many projects chasing a limited market," he said. "It is convenient for companies to put all the blame on the low oil price. But these projects were struggling because of lack of market."
Buckland said that he expects several LNG projects around the world to be postponed or cancelled though 2015. Moreover, the price of oil will likely take the blame but many of these announcements of postponement and cancellation should have been made 12 to 24 months ago, he noted.
"Consequently, we don't see much of a negative impact of LNG shipbuilding demand from the fall in oil prices, but for those who expected all the projects to go ahead it will obviously have a negative impact," added Buckland. "What it may do is deter speculative orders for ships."
Will the two recent Russia-China mega natural gas pipeline deals – worth a combined value of $700 billion and a slated to deliver a total of 68 billion cubic meters (bcm) worth of gas starting in 2020 – after LNG shipbuilding plans? Wood Mackenzie's forecasts do not anticipate a negative impact, Buckland said. "Although this deal will limit upside to northern Chinese LNG demand - it is unlikely to impact LNG imports into markets further south, with LNG remaining competitive," he explained.
However, amid its gas negotiations with Russia, China is also increasing its own LNG shipbuilding activities, Port News said. Wang Jinlian, secretary-general of the China Association of the National Shipbuilding Industry, said China is now focusing on building vessels with a higher value, such as LNG and liquefied petroleum gas (LPG) carriers, according to the report.
China replaced South Korea as the world's top shipbuilder in 2010, but South Korean shipbuilders – with their greater technological prowess – still lead the high-end segment of the market, yielding higher profits, the report added.
Buckland said that he expects South Korea to continue to dominate LNG shipbuilding but believes that U.S. exports to Japan will create opportunities for Japanese yards.
"Despite the fall in oil prices the trend for more fuel-efficient LNG ships will continue," he concluded.