Catalytic Processes Could Yield Alternatives to Refineries, Ethane Crackers
|
Monday, September 15, 2014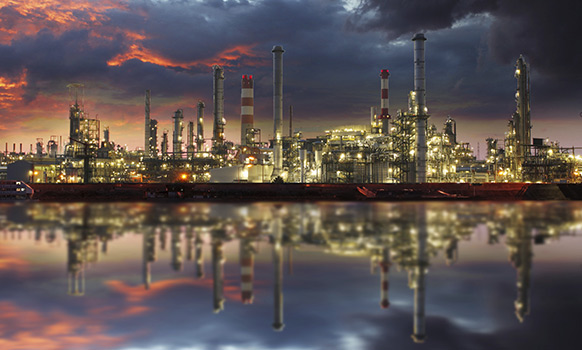 Natural gas-based processes could be alternative for ethane crackers, oil refineries, California-based technology developer tells DownstreamToday.
A California-based company claims that it has found a commercially viable technique to directly convert natural gas into liquid fuels or petrochemical building blocks.
"Natural gas is the next logical step for the energy and chemistry industry," said Rahul Iyer, vice president of corporate development with Siluria Technologies, which is partnering with world-class refining and petrochemical companies to roll out its catalytic processes for producing ethylene and liquid hydrocarbon fuels or fuel blend stocks.
Last month, Siluria announced that it raised nearly more than $30 million in a financing led by Saudi Aramco Energy Ventures (SAEV) – the venture investment arm of Saudi Arabia's national oil company – in its fourth stage of financing, also known as a Series D financing round. In addition to SAEV, Siluria has partnered with Brazil-based petchem manufacturer Braskem and the German-headquartered gases and engineering firm The Linde Group to commercialize its oxidative coupling of methane (OCM) processes. Neither the OCM concept nor the quest to make it commercially viable is new, but Siluria is confident that it has found the right ingredients – and the right partners – to achieve an outcome that has eluded others for decades.
"It's an abundant, clean feedstock and economically viable supplies are expanding," Iyer said of natural gas. "The problem has been that we haven't had the technology to take full advantage of it. It is mostly burned or consumed as a direct fuel. By using our proprietary catalytic processes, we can change the outlook for gas to benefit producers, fuel and chemical makers and consumers."

The 'next logical step' for natural gas. Images courtesy of Siluria Technologies.
Read on for more insights from Iyer regarding the outlook for Siluria's catalytic OCM and ethylene to liquids (ETL) processes.
DownstreamToday: When you announced the Series D financing, you indicated that researchers since the early 1980s have unsuccessfully sought a "viable catalyst" to make OCM a commercial reality. Why do you believe you've overcome this technical barrier?
Rahul Iyer: The previous catalysts, while at times achieving promising yield and selectivity, were hampered by a number of issues including requiring very high operating temperatures and very short catalyst lifetimes, on the order of hours to days.
Recognizing this, Siluria applied a combination of new innovations in catalyst development, a thorough definition and understanding of the problem, and a highly motivated, creative research and engineering team to develop a unique catalyst to enable OCM to be commercialized.
We combined three innovative technologies:
the synthesis of nanowire catalysts allowing us to create vast numbers of unique, novel inorganic nanowire structures
unique templating technologies
high-throughput screening tools to rapidly evaluate hundreds of catalysts, unlike traditional methods that evaluate one catalyst at a time.
Using these tools, over the past five years, we have created and examined over 75,000 catalysts compared to the few hundreds studied before. Through this, we were able to identify OCM catalysts that operate at significantly lower temperature – hundreds of degrees lower – and at higher pressures have high activities and have standard lifetimes measured in years.
DownstreamToday: Why is the August 20 announcement of the initial close of Siluria's Series D financing round such an important milestone for the company? What direct bearing will it have on deploying the OCM and ETL processes?
Iyer: For our Series D round, we set out with two goals in mind. The first was to achieve a capital raise of about $50 million and the second was to bring in strategic partners to complement our existing group of financial investors. With this initial close we've got $30 million already. Over the next several months we expect to complete the round, likely north of our $50 million goal.
Regarding our second goal, we have advanced our OCM and ETL technology to the stage where we are ready to explore large-scale commercialization. As such, we really value the expertise and commercial potential of strategic partners like Saudi Aramco, who led the round and joined our Board of Directors. As the largest hydrocarbon company in the world, Aramco has a lot of organizational capability and hydrocarbon resources, and we look forward to exploring ways to work together.
DownstreamToday: Is OCM meant to be an alternative to building ethane crackers, which rely on supplies of natural gas liquids (NGL)?
Iyer: Yes. Our OCM technology converts methane into ethylene. This opens up a new feedstock option beyond the NGL/ethane predominately used in North America or naphtha used everywhere else for ethylene production.
OCM is a very different approach. Crackers operate by taking large amounts of energy to break apart the naphtha or ethane feedstock to then create ethylene. OCM, on the other hand, builds up from methane to form longer chains hydrocarbons such as ethylene. More importantly, the OCM process releases heat rather than consuming in the case of crackers. This means it's more efficient, requires lower capital and has much less environmental emissions.
The economic benefits of OCM are very substantial. If one were to build a world-scale ethylene plant in the U.S. Gulf Coast based on the three approaches – OCM, ethane, naphtha – over the last few years, the cash cost and capital charge advantage of OCM compared to naphtha cracking would have been a savings of approximately $1.25 billion per year. On a similar basis, the advantage of OCM over ethane cracking would have been approximately $250 million per year. Given the historically low price of ethane in the U.S. today, we expect companies will continue to invest in crackers for ethylene production. However, OCM offers a unique alternative in terms of comparable economics with a more abundant feedstock, greater flexibility in scale and smaller energy/environmental footprint.
DownstreamToday: Please outline how ETL differs from gas to liquids (GTL) and why you believe the former is simpler and more flexible than the latter?
Iyer: To our knowledge, other GTL processes use some variation of Fischer Tropsch (FT) or Methanol to Gasoline (MTG) to convert natural gas to liquid fuels. FT is a nearly century-old process that involves very high temperatures and a very high cost. The FT process starts with breaking down methane into syngas (a mixture of carbon monoxide and hydrogen) and then building it back up yielding a broad range of hydrocarbon products from light olefins to waxes.
First, we skip the syngas step entirely, instead forming ethylene as our catalyst. Our process takes the OCM ethylene to which we apply an additional step we call ETL, or ethylene to liquids. This brings about a second big difference from FT – in that the ETL process produces a very targeted and specific liquid product, such as gasoline. We could also produce diesel, jet fuel or other products, if we wanted, by varying the ETL catalyst. The result is a simple process, lower capital costs, and more flexibility in terms of scale. Importantly, our OCM and ETL technology integrates seamlessly with existing facilities, like gas processing plants, producing high-value liquids and methane and, optionally, ethane.
DownstreamToday: How do you believe that OCM will change ethylene manufacturing?
Iyer: Ethylene is an extremely large market at roughly 330 billion pounds per year, equating to a $200-plus billion annual market.
No technology will change this market overnight. We see opportunities with first projects in the 75,000 tons per year to start, before moving on to larger scales such as 1,000 kilo-tons per annum.
To execute on this strategy, earlier this year we announced a partnership with The Linde Group – a world-leading gases and engineering company – to offer an integrated package combining Siluria's OCM technology with Linde's separations and recovery systems, for licensing to the ethylene industry for both revamps or expansions at existing ethylene plants and for new world-scale ethylene plants.
DownstreamToday: What impact do you see ETL having on GTL and even oil refining?
Iyer: Our technology offers an attractive alternative to traditional crude refining and existing GTL processes in terms of economics, product slate and environmental impact. The good news for Siluria at this stage is that the market for transportation fuels is massive, meaning that we will have numerous opportunities to deploy our OCM + ETL technologies without necessarily displacing existing processes. It's hard, however, to overstate the potential we see here. Ultimately Siluria could serve an important role in transitioning our crude-dependent society to a more diverse and cleaner energy mix, including abundant natural gas.
Matthew V. Veazey has written about the upstream and downstream O&G sectors for more than a decade. Email Matthew at mveazey@downstreamtoday.com. Twitter: @The_Mattalyst