Excelerate Pursues Another First with Texas FLNG Project
by Matthew V. Veazey
|
Rigzone Staff
|
Tuesday, May 06, 2014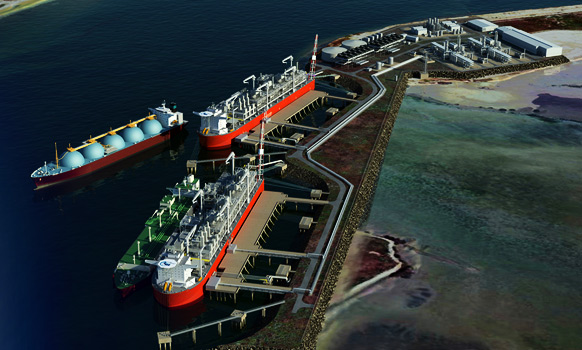 Excelerate may deploy the United States' first floating LNG export facility off the Texas coast.
Excelerate Energy L.P. proudly ticks off a list of firsts that it has contributed to the realm of floating liquefied natural gas (LNG) technology and services on its website. Indeed, in less than 10 years the Texas-based company has made the following noteworthy accomplishments:
delivered the world's first floating storage and regasification unit (FSRU)
commissioned the world's first deepwater LNG port
completed the world's first gas port
commissioned the first LNG facility on the U.S. East Coast in 30 years
commissioned the first LNG regasification facility in South America
performed the world's first dockside ship-to-ship (STS) transfer of LNG
commissioned the first LNG import facility in the Middle East
This past February, Excelerate filed an application with the U.S. Federal Energy Regulatory Commission (FERC) to build, own and operate the first floating LNG (FLNG) export facility in the United States. The proposed Lavaca Bay LNG Project would provide a significant economic boost to the Texas Gulf Coast. It would create 2,500 construction jobs and approximately 180 direct jobs during operations, according to Excelerate. Moreover, the project would add more than 600 other permanent jobs to the region's economy, the company states on its website.
Adding FLNG to the United States' nascent LNG export sector creates an interesting twist to the evolving domestic natural gas export story. Rigzone recently caught up with Rob Bryngelson, Excelerate's president and CEO, to discuss what could be his company's next first.
Rigzone: What are the advantages of an FLNG project for natural gas producers as well as the companies that would buy LNG from Excelerate?
Bryngelson: FLNG facilities have a smaller land footprint, are more cost-efficient and have a shorter time to market than conventional terminals. With 45 months from final investment decision (FID) to commercial operations, FLNG facilities allow for early gas and LNG monetization. Lastly, there is greater cost control with construction taking place in a controlled shipyard environment.
Rigzone: Compared to the other LNG export projects that have been proposed along the Texas Gulf Coast, what niche would Lavaca Bay LNG fill?
Bryngelson: We see an opportunity with the Lavaca Bay LNG project because of its ability to access up to nine pipeline interconnects – making it one of the most attractive gas sourcing costs of all U.S. projects.
Rigzone: As the prospective pioneer in floating liquefaction in the United States, what are some of the unique challenges that Excelerate faces that land-based LNG export project developers do not?
Bryngelson: As aforementioned, there are many upsides to building an FLNG facility. We are also utilizing proven technology that has been used for decades in LNG production. The challenge is answering the question, "Does this technology work on board a vessel?" We ran into the same challenge when we introduced floating regasification to the market in 2005, but are finding people are more receptive to the concept of FLNG now that floating regas has been widely adopted within the LNG industry.
Rigzone: Because you would be the first-mover in U.S. floating liquefaction, how receptive have potential customers been to the concept itself? How has Excelerate responded to any hesitation on their part?
Bryngelson: We've had several groups come through and do detailed due diligence work on our floating liquefaction. They've come in being skeptical and they've left being convinced it works. Our approach is to not create something new, but to repackage existing technology and make sure it works in a marine environment. By using this approach, we save on costs and on time, and can rely on proven technology.
Rigzone: Where else – in North America and beyond – do you see potential opportunities to deploy your floating liquefaction technology?
Bryngelson: There are potential opportunities with FLNG anywhere there is stranded gas, limited land-availability, or, for midscale and small-scale projects, where a land-based terminal is cost restrictive.
Rigzone: When do you anticipate a decision from FERC? Assuming that it's favorable, what's next?
Bryngelson: We anticipate having our FERC certification within the next 12 months. We will make our FID on the project pending FERC approval, and will begin construction in early 2015.
Matthew V. Veazey has written about the upstream and downstream O&G sectors for more than a decade. Email Matthew at mveazey@downstreamtoday.com. Twitter: @Matthew_Veazey