Americas Ahoy for Floating Liquefaction?
by Matthew V. Veazey
|
Rigzone Staff
|
Monday, April 30, 2012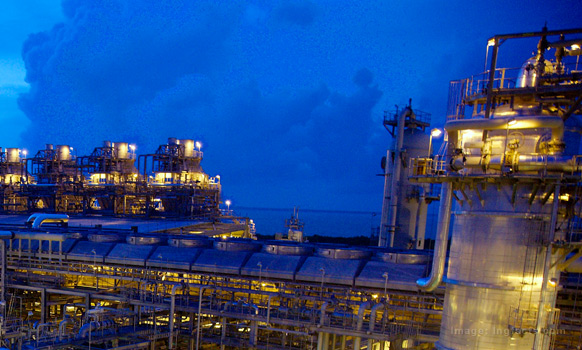 The FLNG community are closely watching Shell's Prelude project in Australia's deepwater Browse Basin.
Many in the floating liquefied natural gas (FLNG) community will be closely watching Shell's Prelude project in Australia's deepwater Browse Basin in the coming years. The pioneering project stands to become the world's first floating liquefaction facility, serving as a template for exploiting remote offshore gas reserves in the Americas.
"The use of FLNG units is usually proposed to commercialize stranded gas where pipeline access is not economical to build," said Tom Phalen, Vice President for Upstream Project Operations with Fluor.
Phalen noted any FLNG terminal features three key elements: the mooring or berthing facilities; the ship or hull, including the LNG tanks; and the topsides equipment to either re-gasify the LNG or to liquefy the natural gas. Topsides facilities include loading arms to load or unload LNG plus a gas connection to receive or discharge gas.
Scott Shields, Founder and Principal of Houston-based Morgan Shields Consulting, observed that enhanced mobility, streamlined permitting and reduced regulatory risk are often advantages of FLNG developments over land-based terminals.
"Outside North America, sovereign and regulatory risks can be substantial and difficult to assess and control," Shields said. When these risks render a project unsustainable, the FLNG developer can simply pull anchor and re-deploy its assets to a more inviting location or profitable project.
FLNG may offer enticing economic and regulatory benefits, but Shields cautions that other factors -- increased production cost, significant technological and cost risk, and commodity storage impairment -- often offset those advantages.
Phalen pointed out that a floating storage and regasification unit (FSRU) often makes economic sense as a temporary gasification solution when natural gas is needed quickly with minimum infrastructure for a relatively short period of time. Also, an FSRU offers a practical option where land access is limited.
"Cost estimates have improved very recently on regasification terminals, with companies like Excelerate Energy paving the way to new FLNG techniques and operations," Shields added.
In the Americas, Excelerate has been engaged in five FLNG regas projects extending from Massachusetts to Argentina. Other locations in the Western Hemisphere with FLNG import potential include the Dominican Republic, Jamaica and Panama.
Liquefaction, meanwhile, is another story.
"The costs of liquefaction have historically been five times the costs of regasification," Shields observed. "Therefore, what might be a small production cost speed bump on the regas side becomes a mammoth handicap on the liquefaction side."
"Recent cost estimates on FLNG liquefaction projects in Australia have improved," acknowledged Shields. "But since there has been no actual FLNG liquefaction project to date, cost and technology risks remain high. I don't think I have ever seen a project with this magnitude of risk actually come in close to initial cost estimates."
One up-and-coming FLNG export base in the Americas may be Brazil. Major discoveries in Brazil's ultra-deepwater pre-salt fields have prompted Petrobras, BG Group, Galp Energia and Repsol to contemplate what would be the first FLNG project offshore the South American country.
Near the growing Caribbean and Central American markets, Colombia is another prospective FLNG exporter. Pacific Rubiales and partner EXMAR are building and developing a liquefaction and regasification barge to export production from the La Creciente gas field.
In the U.S., prospects for FLNG liquefaction projects are less promising given the abundance of onshore natural gas.
"It doesn't make a whole lot of sense," noted Chris Faulkner, CEO of Dallas-based Breitling Oil and Gas.
Faulkner, whose company operates in the Haynesville, Eagle Ford, Marcellus and Granite Wash plays, expresses more optimism about onshore LNG exports from projects such as Cheniere's Sabine Liquefaction endeavor.
"It would affect us and the industry as a whole in a very positive manner," Faulkner said. He noted markets such as Europe and Asia would be highly attractive destinations for U.S.-sourced LNG.
"[Exporting LNG] could help to spur activity in dry gas windows like the Haynesville, Faulkner added.
Michael Stosser, New York-based attorney with the law firm Day Pitney LLP, contends challenges to U.S. floating liquefaction projects exist beyond economics.
"There are significant issues that relate to import/export authorizations that would be required by the Department of Energy," Stosser explained. "Further, there are issues that relate to workmen safety and other safety issues, as well as environmental issues, all of which are regulated by the federal government."
"Each project faces unique challenges depending on factors such as jurisdiction, location, project design and political support -- or the lack thereof," concluded Steven C. Sparling, who chairs the Global LNG Team with the law firm Sutherland Asbill & Brennan LLP.
Trying to estimate how many jobs could be created in the Americas as a result of floating liquefaction would be highly speculative at this point. Nevertheless, one could reasonably assume that any such projects would spur demand for engineering, construction and maritime professionals.
Matthew V. Veazey has written about the upstream and downstream O&G sectors for more than a decade. Email Matthew at mveazey@downstreamtoday.com.