Pathological Complacency: When Things Can Go Wrong By Being the Best
by Matthew V. Veazey
|
Rigzone Staff
|
Friday, February 03, 2012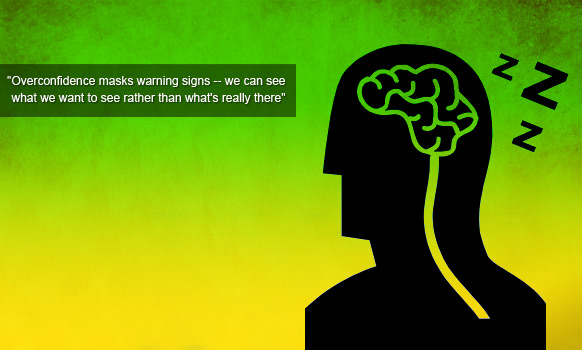 World-class know-how can ironically introduce a very real danger into the oil and gas workplace.
Every day legions of men and women report to work at oil and gas installations worldwide, ensuring that global energy markets receive a steady supply of hydrocarbons and refined products. Although these individuals regularly work in hazardous environments such as offshore drilling rigs and oil refineries, they consistently demonstrate their ability to negotiate the risks inherent in their jobs.
Given the extensive skill and experience that these workers demonstrate and their employers demand on a daily basis, having world-class know-how and safety policies and procedures in place can ironically introduce a very real danger into the mix. When an individual, workforce or facility owner becomes excessively certain of their ability to safely operate a complex oil and gas facility, a mindset called "pathological complacency" can set in.
When workers become pathologically complacent, they "become morbidly self-satisfied that they are 'at the top of their tree,' where they have a certain belief that they are the best or good enough in their field of work," explained Maxine Fawcett, Aberdeen, UK-based Principal Consultant with Intertek Consulting & Training. Fawcett advises oil and gas industry clients in behavioral change in the areas of safety and environment.
"They are so convinced of this that they become unaware of underlying dangers that arise from their lack of awareness or consciousness of their situation or their certainty that they have their situation under control," continued Fawcett. "They are convinced of their own infallibility."
An Insidious Threat
Fawcett contends that using a seemingly extreme adjective like "pathological" to describe this level of complacency is warranted given the potential consequences: death or environmental destruction. Moreover, she notes that the mindset may blind one to the warning signs preceding events such as a well blowout or plant explosion.
"We don't readily see warning signs if we aren't expecting them -- and psychologically it is very easy for us to explain away the warning signs and interpret them based on past experience, even when the situation is very different," said Fawcett.
"We tend to say, 'This is just like that valve breakdown we saw two years ago and we were able to work around it. We could do the same here,'" added Fawcett. "It's not so easy to say, 'This is similar to that old valve, but what's different is the extent of the corrosion -- so this time we should treat it differently.'"
Old Assumptions and New Risks
"There is a general over-reliance on checklists that prevents people from really thinking about risk," commented Fawcett. Although she acknowledges that electronic work control systems with drop-down menus are easy to use and help to prevent workers from forgetting key tasks, she asserts that they serve to speed the workflow and prevent real assessment of risk. She cites the 2010 Macondo well blowout in the Gulf of Mexico as a tragic reminder of the limitations of these systems.
"An example of this appears to be the safety case for Macondo, which seemed to be a cut-and-paste job from another safety case designed for drilling in the Arctic, with its mention of 'walruses,'" Fawcett explained.
"As a result, plans for emergency response in the safety case were woefully inadequate and indicated that the document authors had gone for speed of production of the paperwork rather than a proper assessment of all the contingencies that should have been considered and a review of the real dangers."
Fawcett pointed out that the proliferation of deepwater oil and gas projects, along with the industry's growing interest in Arctic drilling, underscore the importance of relying on more than just past experience. She noted that the deepwater and the Arctic trends remain "highly experimental" and fraught with many dangers, and she cautions against the temptation to rely solely on conventional wisdom in developing safety and training protocols for these areas.
Pathological Complacency
in the Oil & Gas Industry
Examples of pathological complacency that Intertek's Maxine Fawcett says she has seen in her experience with the oil and gas industry include the following:
Waiting for failure before repairing corroding hoses that can leak or catastrophically fail with discharges to sea or into the water table.
Allowing planned maintenance or corrective maintenance activities to build up, reasoning that addressing safety-critical elements will sufficiently manage the risk but not looking at the cumulative risk of the total backlog.
Putting vessels into shutdown programs for major inspection or repair but then excluding them as a result of time or monetary constraints. Fawcett notes this process may repeat itself year after year. "The vessel keeps being put onto a list that never changes," she explains.
Moving into developing regions around the world, operators assume that local labor forces will follow complex safety-related procedures and think the "Western" way.
Relying on checklists for hazard identification but failing to consider what is not on the checklists.
Elaborating on the kinds of things not picked up by a hazard checklist, Fawcett said such items might include: using substandard materials; accepting a work-pack (a project management term describing a subset of a project) that is incomplete and "making do" with whatever materials are at hand; a work colleague whose mind is elsewhere (perhaps on marital troubles); and so on. She pointed out that a checklist can prevent one from looking beyond the obvious when planning or carrying out a task.
"When you assume you understand or know the conditions in a situation, it doesn't leave a lot of room for doubt, for moving forward cautiously with a sense of fallibility or applying wisdom when faced with massive risk," Fawcett said.
Calling deepwater technology and procedures primarily "an extension of what's been used in the past," Fawcett contends that operating in still-experimental areas such as deepwater and the Arctic demand "a complete rethink" of the real dangers to anticipate in extreme environments.
"Overconfidence masks warning signs -- we can see what we want to see rather than what's really there," Fawcett said.
"The tragedy of the Macondo disaster is that a well-established operator was pathologically complacent about the impact that many years of intense organizational cost-cutting would have on the behaviors of every person in the organization and the risks they were prepared to take," said Fawcett. "Combine this with the additional dangers of deepwater drilling and maybe it was a disaster waiting to happen."
An incident 11 years ago at ConocoPhillips' Humber Refinery in the UK also illustrates a dramatic consequence of missing warning signs. On April 16, 2001, the initial catastrophic failure of an overhead pipe released a cloud of liquefied petroleum gas that ignited and caused subsequent pipe failures and explosions. There were no fatalities or serious injuries from the incident, but it did cause significant damage to the refinery complex and off-site properties.
The 2005 UK Health and Safety Executive (HSE) report following the agency's investigation attributed the incident to "a systematic failure to understand the conditions that the pipework was operating under, and to appropriately inspect pipework in the Saturate Gas Plant of the refinery." In addition, HSE uncovered failings in ConocoPhillips' management of change arrangements.
"At some point in the plant's history, the pipe had been put back into continuous use and a quick-fix put into place for corrosion in the pipeline," explained Fawcett.
"The management of change system did not kick in, and so the opportunity for a multi-disciplinary assessment was missed. The opportunity for responding to surprises was long past. Many opportunities for a thorough inspection were missed, with the pipework in question being left out during risk-based assessment."
In Fawcett's view, the Humberside episode reveals the shortcomings of strategies for risk-based inspections -- in downstream as well as upstream situations.
"If you only inspect those pipes at high risk, at what point do low-risk pipes become high-risk," she asked. "For upstream operators, focusing only on safety-critical elements of maintenance, with the view that non-critical elements are therefore 'safe,' is a common occurrence. Another example of pathological complacency and delusion?"
The Solution?
Although her professional focus as a HSE behavior change consultant has been in the oil and gas and petrochemical industries, Fawcett is quick to point out that pathological complacency exists well beyond the rig floor and the refinery distillation column.
Consider the Jan. 13, 2012, wreck of the Carnival cruise ship Costa Concordia on the rocky shores of the Italian island of Giglio. The ship capsized after the captain allegedly changed course to do a "salute" to give passengers a closer look at the island -- a practice that violated proper procedures and, in this case, has resulted in 17 confirmed deaths. The bodies of 15 others who were aboard the ship still have not been recovered.
"Apparently he'd done the salute before, and it was relatively common for other cruise liners in the company to do so," noted Fawcett. "It would appear that an attitude of arrogance played its part in the disaster -- 'I can do this, I'm good enough', etc. However, a culture must exist in the cruise ship organization that made it acceptable to break the rules in this way, whether by silent consent or by judging that the practice was an 'acceptable risk' with no challenge taking place."
For possible strategies to remedy pathological complacency in virtually any workplace where significant hazards exist, Fawcett recommends approaches employed by the aviation and other industries. Read more about it Monday on Rigzone and DownstreamToday.
How do you feel about safety, risks and dangers in your workplace? Is your company proactive or reactive to HSE concerns? Share your thoughts by leaving a comment on Rigzone.com.
Matthew V. Veazey has written about the upstream and downstream O&G sectors for more than a decade. Email Matthew at mveazey@downstreamtoday.com.