Obama's Keystone XL Decision: What Have Workers Got to Lose?
by Matthew V. Veazey
|
Rigzone Staff
|
Monday, January 30, 2012
Although President Obama decided to deny a vital presidential permit for TransCanada's Keystone XL pipeline project earlier this month, his move certainly did not settle the issue. In fact, it has intensified an already contentious debate that should rear itself throughout this year's elections.
One of the key arguments in favor of the pipeline, which would carry crude oil from Canada's oil sands to Gulf Coast refiners, is that it would create thousands of jobs. TransCanada contends Keystone XL could yield 20,000 new jobs -- 13,000 in construction and 7,000 in manufacturing. In addition to these 20,000 direct jobs, TransCanada cited a June 2010 study finding that the project would support nearly 99,000 indirect and induced jobs. Last September, one of the unions backing the project predicted that Keystone XL over four years would create nearly three times the direct and indirect jobs touted by TransCanada.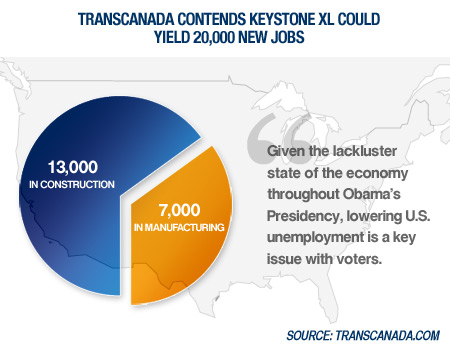 A 2011 report critical of the project that attributes "TransCanada's own data supplied to the State Department" contends the number of "temporary direct construction jobs" would range from 2,500 to 4,650 during a two-year period. Also, the report maintains that steel for the pipeline might not even be manufactured in the U.S. The notion of using such "questionable steel" was one reason the United Steelworkers union recently gave in expressing its support for Obama's decision to reject the project.
A Major Election Issue
Given the lackluster state of the economy throughout Obama's presidency, lowering U.S. unemployment is a key issue with voters. As various public opinion poll results on the website PollingReport.com show, the economy and jobs have long been at the top of Americans' list of issue priorities. Although some elected officials may try to downplay the effect of Obama's Keystone XL decision, they may risk eroding their support among an electorate that clearly wants to see a more robust U.S. employment scenario.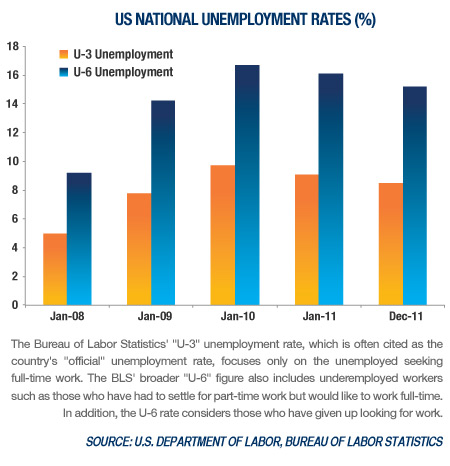 Although the overall U-3 and U-6 unemployment rates presented above have declined from January 2010 through December 2011, another BLS statistic presents a less encouraging trend for U.S. employment. According to the BLS, the Civilian Labor Force Participation Rate (see below) has showed a marked decline since January 2008. In that month, the participation rate was 66.2 percent. One year later, it had declined to 65.7 percent. By January 2010, it was down to 64.8 percent. In 2011, the overall participation rate slid from 64.2 percent in January to 64 percent in December.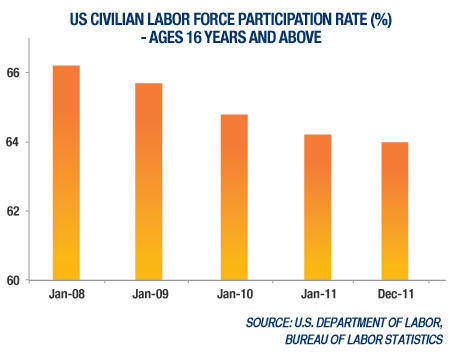 Throughout Obama's term in office, the Civilian Labor Force Participation Rate has fallen nearly two percentage points. Obama's decision to effectively delay the addition of thousands of jobs to the economy at a time when the proportion of Americans participating in the workforce is shrinking has given his opponents a campaign issue that could resonate strongly with voters.
Potential Construction Jobs
Shortly before Obama made his decision, TransCanada released a snapshot of the types of jobs that the construction of Keystone XL would require. The company broke down construction of the 1,600-mile pipeline into 17 U.S. pipeline spreads or segments. TransCanada has estimated that each union-based spread/segment would require an estimated 561 jobs.
Keystone XL - Jobs per pipeline spread/segment

Quality Control

2

Laborer Premium

5

Environmental
Coordinator

1

Welding Foreman

2

R.O.W.
Coordinator

1

Welder Premium

29

Safety
Coordinator

4

Welder backend

16

Engineer

1

Journeyman

8

Foreman

24

Graded Helper

9

Office Manager

2

Welder Helper

66

Purchasing Agent

2

Teamster semi

24

Operator

152

Teamster regular

23

Oiler

28

Mechanic

16

Straw Boss

27

Security

2

Laborer

111

Timekeeper/clerk

1

Project Manager

1

Superintendent

2

Assistant Superintendent

2

TOTAL: 561
Several major labor unions have entered into a project labor agreement with TransCanada for Keystone XL work. These unions that would benefit from the project include Laborers International Union of North America (LIUNA), the International Brotherhood of Teamsters, the United Association of Journeymen and Apprentices of the Plumbing and Pipefitting Industry of the United States and Canada, AFL-CIO, the International Union of Operating Engineers and the Pipeline Contractors Association.
Note that compensation figures in the infographic are based on information from the websites Indeed.com, Salary.com and MyMajors.com as well as the National Society of Professional Engineers. All figures reflect Rigzone staff's best attempts to obtain the nationwide averages and may differ markedly from pay scales negotiated between unions and TransCanada.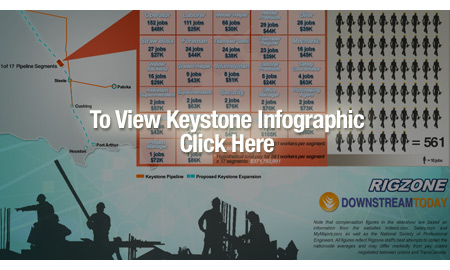 We want to hear what you think about the Keystone XL decision. Click here to leave your comments on Rigzone.com.