Alberta's Redford: Leading the Energy Conversation
by Matthew V. Veazey
|
DownstreamToday Staff
|
Monday, December 19, 2011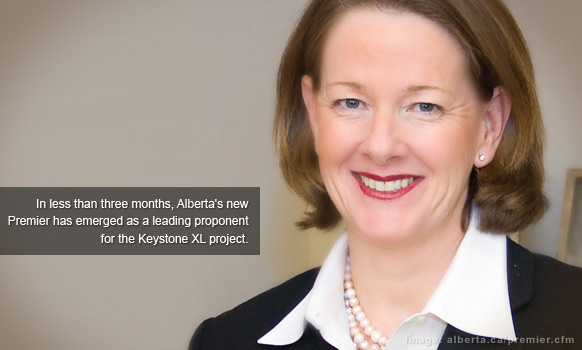 In less than three months, Alberta's new Premier has emerged as a leading proponent for the Keystone XL project.
The Obama Administration on Nov. 10 announced that it would postpone making a decision on whether TransCanada's proposed Keystone XL Pipeline project is in the U.S. national interest. Gaining the designation would be a critical step for the project, which would carry crude oil from Alberta's Oil Sands to refineries on the U.S. Gulf Coast.
Keystone XL has undergone rigorous environmental scrutiny from the State Department, and this past summer the agency found that the 36-inch-diameter oil pipeline would post 'no significant impacts' to most resources along the proposed route. In November, however, the Obama Administration justified the delay in part by citing concerns about the pipeline's proposed route through an area of Nebraska overlying the Ogallala Aquifer. The agency has said that a decision on the national interest designation likely will not be forthcoming until at least early 2013—after next year's presidential and congressional elections. Interestingly, within five days after the Nov. 10 announcement TransCanada had already reached an initial agreement with Nebraska officials to re-route the pipeline away from the environmentally sensitive Sandhills area in question. Gov. Dave Heinemann and other Nebraska officials who had supported modifying the route have since expressed support for expediting the State Department's decision-making process regarding the project.
As of this writing, the U.S. House and Senate were advancing legislation to compel the Obama Administration to reach a decision within 60 days. One prominent supporter of Keystone XL who is closely monitoring the ongoing legislative and bureaucratic maneuvering in the U.S. is Alberta Premier Alison Redford.
Alison M. Redford
Born: March 7, 1965, Kitimat, British Columbia

Education: University of Saskatchewan College of Law, Bishop Carroll High School (Calgary)

Party: Alberta Progressive Conservative Party

Current office: Premier of Alberta (since October 7, 2011)

Previous experience: Member of Alberta's Legislative Assembly; Alberta Minister of Justice and Attorney General; Principal Legislative Advisor and Senior Policy Advisor to Canada's Secretary of State for External Affairs; various advisory and management roles in areas such as constitutional and legal reform, human rights litigation, education programs, policy reform, and judicial training in countries such as Bosnia and Herzegovina, Serbia, Namibia, Uganda, Zimbabwe, Mozambique, the Philippines, Vietnam, and Afghanistan; private law practice.

Personal: Married to Glen Jermyn, one daughter (Sarah).
Although Redford only became premier in October of this year, she has quickly emerged as a leading proponent for the Keystone XL project as well as a voice for the overall growth of Alberta's oil and gas industry. She recently granted DownstreamToday.com an interview to discuss her views on advancing the industry in Alberta and in neighboring Canadian provinces. The exchange follows.
DST: As the chief executive of Alberta, what do you see as your role in advancing the province's oil and gas sector?
Redford: I see a number of roles. Here in Alberta, we have to ensure our regulatory processes encourage investment and make it easier to get new technology in the field. On a national scale, we need to work with our provincial partners and the federal government towards a Canadian Energy Strategy. And of course, we need to tell Alberta's story on an international stage, and continue our advocacy on behalf of the environmental progress that has and is being made but not necessarily credited.
DST: You have quite a bit of international experience both personally and professionally, having lived in Borneo for a time growing up and later working in Africa and Asia during the administration of former Canadian Prime Minister Brian Mulroney. What have these experiences taught you in terms of your relations with an industry as global as oil and gas?
Redford: We need to understand the role of Alberta's energy sector on a global scale. The world is changing. Developing nations are driving demand. For some of these countries, demand for energy isn't just about industry and economy. It's about heating homes and lighting schools and improving quality of life—issues that Alberta knows are so important.
DST: I also understand that your father worked in the oil and gas industry. What lessons did you learn about the industry growing up in an oil and gas household?
Redford: I think we grew up knowing that this was an industry that provided good, stable jobs, an industry where if you worked hard you could provide for your family. We moved around quite a bit for my Dad's job, and that's the way it was. I think that's still the way it is for lots of Albertans supporting their families with careers in the energy sector.
DST: After being elected in October, you noted in your victory speech that Alberta's government 'will do things differently.' What do you aim to change in terms of how the provincial government works with the oil and gas sector? In other words, what do you think needs to be fixed and what does not?
Redford: One in seven Albertans are directly or indirectly employed because of our vibrant energy sector. We need to work with industry to ensure full understanding of our energy portfolio, technological advancements and opportunities to develop new markets. Industry plays a vital role in Alberta's future and government understands that. In turn, government is responsible for ensuring our resources are developed in a sustainable manner. I think industry and government have always understood that the resources belong to all Albertans to must be developed in their best interest and that we all have a responsibility to ensure that happens.
DST: In terms of Alberta's relationships with other provinces as well as Canada's national government, what energy-related challenges do you hope to overcome during your administration?
Redford: We need to work with Ottawa to get Alberta's real energy story heard. We need to work with Ottawa and provinces and territories to develop a strategic, meaningful Canadian Energy Strategy that builds on our strengths and develops new markets. I recently hosted a very productive meeting with (British Columbia) Premier (Christy) Clark and (Saskatchewan) Premier (Brad) Wall, Alberta's partners in the New West Partnership. And something we agreed on was that whether we're talking about oil sands or gas or coal or hydro or whatever it might be, we're all part of an integrated energy economy, and what that means is we all benefit from the success of all other parts of the country. This is what needs to form the base of a national conversation on energy.
DST: I understand that you were born in Kitimat, B.C., which could be the site of a major LNG export facility. How is your working relationship with B.C.'s premier, and do you see any opportunities for the two of you to collaborate in building international markets for Canada's oil and gas resources?
Redford: As partners in the New West Partnership, we're already collaborating. Along with Saskatchewan, we're working as a bloc on trade, investment and labor issues. We've removed barriers for workers and commercial trucks moving between the provinces and we opened a joint office in Shanghai. We're also planning a joint mission to Ottawa in the New Year to bring forward our ideas on a Canadian Energy Strategy. So I'd say the relationship is healthy and positive, certainly.
DST: Were you surprised by the Obama Administration's recent decision to delay action on the Keystone XL project until after the 2012 election? Why or why not?
Redford: My view on that has always been clear. This is part of what's going on in terms of the internal political debate in the U.S. and it's for them to determine what they want to do about the project. The fact remains that Keystone XL is a key piece of infrastructure for our province. We support due process, but also support the pipeline project, and we hope to see the U.S. State Department make a decision on it sooner than later.
DST: Are you confident that the U.S. Government will authorize Keystone XL to proceed?
Redford: Ultimately, because it makes sense for everyone involved, yes.
DST: The Keystone XL project has had an interesting mix of supporters and opponents, with business groups and some labor unions falling in the former column and environmental advocacy groups, farmers, and Republican elected officials in Nebraska in the latter. Opponents like to use terms such as 'dirty oil' or worse to describe the product of Alberta's Oil Sands. In this debate, what do you believe that opponents are overlooking or perhaps misunderstand?
Redford: Obviously, it's encouraging that Nebraska state officials are now back in the supporter fold. Here's what I think is really important in this debate: we need an open dialogue based on facts and not emotion. This is an opportunity for government, industry and environmental groups to have an honest conversation about our energy mix. It's a chance to talk about our challenges and our successes in a constructive way. That's what I would like to see.
DST: What message about Alberta's oil and gas industry would you like to convey to U.S. energy consumers and the broader global energy community?
Redford: Alberta insists on responsible development of its energy resources. And we have an industry committed to technology and innovation. The oil sands are one example of a technology-driven resource that became commercially accessible with the efforts of Canada's best and brightest engineers and scientists.These professionals have also played leadership roles in the development of nuclear power, hydro, and alternatives and renewables. We rely on these talented, skilled people to lead innovation so we can produce more energy, more efficiently.
DST: In terms of advancing Alberta's oil and gas industry as premier, how would you like to be remembered once your term ends?
Redford: We have a vibrant industry. There is confidence in the sector. We just had a record year, surpassing $3 billion in land sales for the first time in Alberta's history. That kind of activity sustains good jobs, strong communities and royalties to support services for Albertans. We need to make the right decisions to ensure that vibrancy continues for the next generation of Albertans. From where I sit right now, forming a strong Canadian Energy Strategy that includes an open, cross-country dialogue on innovation and environmental sustainability is paramount. Also, expanding our international markets are key for the future of the industry. From an Alberta perspective, and as Premier, we're in a position to lead those conversations. As Premier, I intend to do that.