PFC Energy's Schaffer: 1.1 Million Down, 4.3 Million To Go?
by Matthew V. Veazey
|
Editor-in-Chief, DownstreamToday
|
Monday, April 12, 2010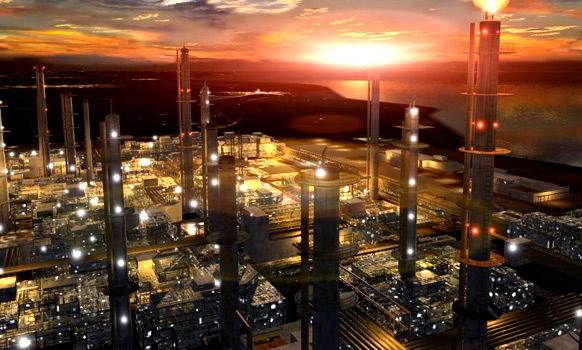 Permanent and temporary refinery shutdowns totaled more than 1.1 million b/d of processing capacity in 2009. PFC Energy estimates that another 4.3 million b/d may be next.
Nathan Schaffer
Shell, Total, Petroplus, Valero, Sunoco and other companies have in the past year announced plans to close or sell refineries in the U.S. and Europe in order to trim excess capacity and adjust to stagnant demand for oil products. In 2009 alone, permanent and temporary shutdowns totaled more than 1.1 million barrels per day of processing capacity as refinery utilization rates fell dramatically. The consulting firm PFC Energy estimates that a total of 4.3 million b/d of capacity will need to go offline over the next three years in order to bring utilization back to regional norms.
"Markets like the U.S. and Europe are prime candidates for rationalization considering the structural shifts in demand," said Nathan Schaffer, PFC Energy's Houston-based Director, Downstream and Petrochemicals Group. PFC's recent study "Atlantic Basin Refinery Rationalization" identifies 58 refineries throughout the U.S. and Europe's OECD countries that the firm contends are at the greatest risk of rationalization through 2013. The study focuses on the U.S. and higher-income European countries because demand in these regions fell by 0.8% annually from 2002 to 2009; in contrast, demand rose elsewhere in the world during this period by an average of 2.4% each year.
'Markets like the U.S. and Europe are prime candidates for rationalization considering the structural shifts in demand.'
Citing statistics from the Energy Information Administration, BP's Statistical Review, and other external sources, Schaffer pointed out the regional utilization rate for the broader Atlantic Basin has averaged 84% over the past 15 years. In this context, the "broader" region includes Africa, Europe, North America, Latin America, and the Former Soviet Union."Given declining demand in key markets combined with an additional 700,000 barrels per day of new capacity expected to come on-line in the U.S. and Europe over the next three years, PFC estimates that approximately 4.3 million barrels per day of existing capacity would need to be eliminated in order to return to that average utilization level," said Schaffer.
PFC Energy arrived at its 58-refinery and 4.3 million-b/d rationalization figures by individually modeling all 230 refineries within the broader Atlantic Basin using its in-house Refining Competitor Simulation model. "The model utilizes actual configuration and representative crude slate data to determine refinery yields as well as incorporate forecast crude and product prices to determine the resulting net cash margin for each site," explained Schaffer. "The resulting rank order by quartile is provided in the study results as one of the key metrics in identifying which sites would be most at-risk -- that is, those in the lowest margin quartile."
Aside from modeling net margins, PFC gauged a refinery's "relative importance" within the owner's portfolio. The firm evaluated the percent of the competitor's total crude distillation that each particular refinery comprised. "This method allowed us to determine which competitors will be driven by more financial and short-term factors versus those that will driven by long-term strategy," Schaffer noted.
PFC also assessed the financial strength of certain companies in an effort to understand their ability to survive an extended industry downturn. Schaffer pointed out the companies were primarily smaller independents; PFC assumed that the major independent oil companies had sufficient financial strength to continue operations but would still consider selling or shutting down refineries based on strategic decisions underscored by low returns.
Finally, PFC's analysis considers several qualitative and strategic factors that influence whether a refinery may be at risk. These criteria include: operational effectiveness/performance, strategic fit/value, levels of integration (upstream crude production and downstream retail network), and future capital investment.
Not Just Another Rationalization
For veterans of the refining industry in the U.S. and Europe's OECD countries, rationalization is nothing new. "Over the last 30 years the number of refineries in this region has declined dramatically, for example in the U.S. where the total has been cut in half falling from approximately 300 refineries to the current 150 refineries," noted Schaffer. "Capacity had been over-built as a result of a price-controlled environment and thus market forces ultimately led to shutdowns primarily of refineries which were isolated and small in capacity."
The current wave of rationalization hits a refining sector that is markedly different in terms of depth. Schaffer expects this new variable to weigh heavily on determining which facilities continue to operate as refineries. "In parallel with the reduction in the number of refineries, overall refining capacity in the U.S. and Europe has fallen over time; however, despite not adding new sites the refining industry has added distillation and conversion capacity over the last 10-15 years through expansions and debottlenecking," said Schaffer. "As a result, the remaining refineries are larger in scale and complexity. The current round of rationalization will still contain elements of scale and complexity, in particular the right kind of complexity; however, it will now have more emphasis on competitive position."
'The current round of rationalization will still contain elements of scale and complexity, in particular the right kind of complexity; however, it will now have more emphasis on competitive position.'
Aside from responding to a competitive landscape that demands greater flexibility, refiners are implementing their rationalization plans amid a market environment that is undergoing a structural shift that goes beyond the impacts of the economic downturn. "Increasing penetration of alternative fuels as well as higher fuel efficiency in vehicles will continue to displace demand for refined products," Schaffer predicted, adding that the scenario will have significant bearing on gasoline exporters in Europe. "PFC Energy's outlook for gasoline – excluding ethanol – has U.S. demand remaining below the peak level hit in 2007, which in turn will affect European refiners that are configured to produce gasoline and currently export to the U.S. market."
Refineries that do not survive rationalization in many cases may serve other purposes. Such was the case last month when Total announced that it will convert its Flanders Refinery in northern France into an operations support/training center and terminal. Petroplus, meanwhile, has pursued the interesting strategy of converting one refinery into a terminal (Teesside in the U.K.), putting another refinery up for sale (Reichstett in France), and buying a shuttered refinery (Valero's Delaware City in the U.S.) that is expected to resume operations. Schaffer is optimistic that other companies will try to prolong the usefulness of refinery equipment and locations.
Refineries that do not survive rationalization in many cases may serve other purposes.
"Given the current market environment there is a strong chance that existing facilities and process units could be relocated or sites converted to terminal facilities," continued Schaffer. "Recent refinery purchase prices are well below new-build costs which could incentivize companies looking to build or expand to evaluate buying existing equipment." He cited Alon as one example of a company that pursued that approach. The Texas-based independent refiner recently bought the Big West refinery in Bakersfield, Calif., and will use the conversion equipment by integrating feedstocks with its existing refinery in Los Angeles County.
"Storage and distribution needs will remain even as supply is taken out which favors conversion to terminals as does the desire to extend the timeline for dealing with environmental remediation," added Schaffer. "Also, public scrutiny and political resistance will be factors in trying to keep sites open."
Winners and Losers
What will be the primary payoff for refiners as they reduce Atlantic Basin refining capacity to align with lower levels of demand? In Schaffer's view, that depends on their level of responsiveness.
"Within the evolving future environment the winners will be those companies that accept a changing reality and then adapt the quickest to achieve a sustainable position," Schaffer said. He explained that achieving such a goal may require a company to proactively close underperforming or non-core assets rather than sell them. "A sale would not resolve the oversupply situation and could bring in new competitors," he added. "Acting quickly could also prevent large financial losses should the poor margin environment be prolonged."
Atlantic Basin refiners employing a less aggressive rationalization strategy could find themselves in a less favorable position. "The losers will be those companies that are slowly reactive to the market evolution and may fail to accept that their refining asset or portfolio is not well positioned," concluded Schaffer.