Niska's Pope: Counting on Contango
by Matthew V. Veazey
|
Editor-in-Chief, DownstreamToday
|
Monday, September 14, 2009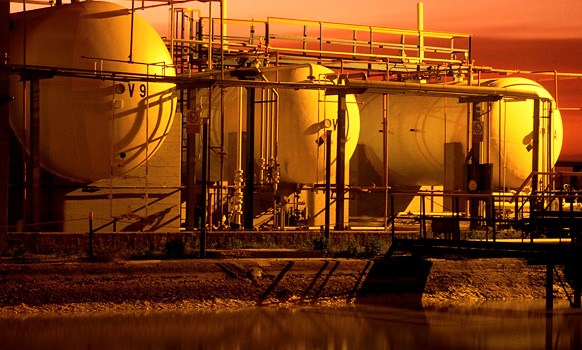 The natural gas storage sector is one segment of the oil and gas industry that is thriving. Niska Gas Storage is expanding its capacity in the U.S. and Canada to meet strong customer demand in the current "contango" situation.
David Pope
The natural gas storage sector is one segment of the oil and gas industry that is thriving. Today's low natural gas prices, and the expectation that prices will go up as supply decreases, give many production companies a strong incentive to store their gas rather than sell it. Niska Gas Storage is expanding its capacity in the U.S. and Canada to meet strong customer demand in the current "contango" situation, which anticipates the New York Mercantile Exchange (NYMEX) natural gas futures contract price will eventually increase significantly.
"Currently, the natural gas storage business is robust throughout North America," said David Pope, President and CEO of Calgary-based Niska. "We see significant contango in the forward NYMEX curve. That strong contango is also present in most regional markets as there are few bottlenecks in the transportation grid to create local anomalies."
Niska, the largest independent natural gas storage company in North America, is undergoing an expansion program that will increase its total storage capacity by 13%. Once the current expansion concludes in mid-2010, the company will boast approximately 180 billion cubic feet (Bcf) of capacity at its four facilities in Alberta (two facilities comprising the AECO C Hub), California (Wild Goose), and Oklahoma (Salt Plains).
Pricing In A Recovery
Pope, who earned a bachelor's degree in chemical engineering at McGill University before starting his career in the energy industry nearly three decades ago, explained that the natural gas storage business has grown as a necessary tool to manage the volatility of natural gas demand. "That demand is increasingly more volatile and weather-sensitive as more residential heating and power generation is supplied by natural gas rather than oil," he said. "Storage provides a more efficient management tool versus the option of curtailing natural gas production. Producers are able to produce at higher, more level rates of production, enhancing payouts on their development prospects."
Acknowledging that the slower economy has diminished demand for natural gas in both the industrial and residential sectors, Pope noted that storage inventory levels are exceeding historical highs. "However, it seems likely that the forward curve is pricing in a recovery in the economy or a decline in supply from reduced drilling," he said.
Shale Gas Game-changers
Aside from diminished demand, Pope attributes much of the increased available supply to major technological advancements that have made it more feasible to exploit burgeoning shale gas plays such as the Haynesville in Louisiana and Texas and the Marcellus throughout Appalachia. He predicts that additional production from these massive plays could dramatically change the supply/demand balance throughout North America. "Long-term, we expect this development to continue to widen the shoulder/winter differential as the higher supply levels in the slow shoulder demand periods must be accommodated through storage," he said. The "shoulder" months are those in the spring and fall; they occur between the higher-demand periods associated with cooling loads in summer and heating loads in winter.
Pope also believes the influx of shale gas on the market might lead to shorter commodity cycles for natural gas. "As a large identified resource, production can be ramped up relatively quickly in response to higher prices and soon dampen prices again," he explained. "Similarly, reduced drilling in response to lower prices will quickly lead to production declines and prices rising again." An effect of such a scenario would be that customers of natural gas storage will be able to profit from the increased commodity price volatility, added Pope.
Gas Storage Demand, Renewables, and LNG
Although some may view such a prediction as counterintuitive, Pope foresees a trend over the next few years whereby the demand for natural gas storage will actually increase as renewable energy sources proliferate throughout North America. "Solar and wind power is intermittent, requiring backup when, for example, the wind is calm but demand is high," he said. "Natural gas-fired power generation is the most easily dispatchable and will naturally fill the backup role, but will require more natural gas storage to hold readily available supply."
Another factor that Pope expects will boost demand for gas storage will be the addition of new liquefied natural gas (LNG) storage facilities in the U.S. and Canada, along with the maturation of global LNG markets. He explained that these two related items will add another element of volatility to the supply/demand balance, directionally increasing storage demand. "Deliveries of LNG to North America will be subject to relative price levels between North America and Europe or other markets, which in turn will be dependent on weather and other local supply/demand factors in all those markets," he said.
Managing Exposure
The key challenge for a gas storage company is managing its exposure to potentially volatile storage values. "Although we believe the fundamental trend is for increasing values, they can also fall from year to year, as winter/summer price spreads (a key component of storage value) did from 2006 to 2008," Pope said. "Through our diversified contract portfolio, growing our capacity, and the success of our commercial team in capturing short-term volatility with other services, Niska did manage to grow our earnings through that period. However, that volatility does make investment in new storage facilities inherently challenging."
Unlike gas storage companies that are affiliated with utilities or transportation customers whose rates are regulated by governmental agencies, an independent storage company such as Niska must assume all of the risk associated with adding new capacity. However, Pope pointed out that independence offers an important upside: the potential for relatively higher rates of return.
Despite the risks associated with Niska's expansion program, Pope is confident about the prospects for growth in natural gas storage demand and capacity over the next decade. "The fundamentals of natural gas supply and demand will drive increased storage demand, indications of which are strongly in evidence today," he said. "There is significant incentive to develop more capacity, and the successful developers will be those who can develop most efficiently." Nevertheless, he recognizes significant hurdles to achieving this outcome. "Suitable geologic features in compatible locations are increasingly difficult to find," he explained. "Regulatory and environmental concerns must be addressed. Reservoirs or caverns must ensure containment of the gas. Financing is more challenging, and technical and construction risks must be managed."
Pope also sees Niska as a gas storage company that will successfully navigate the challenges that lay ahead. Ten years hence, he envisions a larger company with a greater reach throughout North America's major markets. "We have an advantage of having a sophisticated development team with a proven track record in the management of gas storage assets," he concluded. "I also expect that we will have a larger universe of customers and provide services to both producers and consumers of natural gas, along with the utilities, merchants, and banks that provide intermediation services."