BLOG: Brent Crude Value to Continue Rising in 2017
by Andreas Exarheas
|
Rigzone Staff
|
Tuesday, April 11, 2017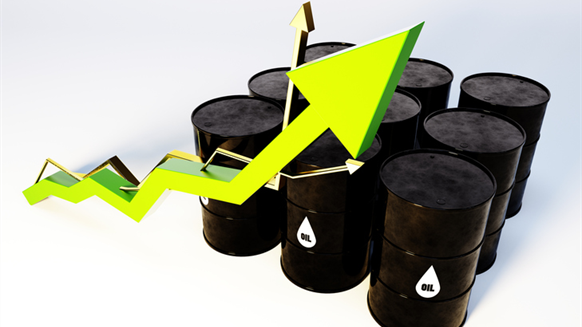 Rigzone readers outline where they think the Brent price will be by the end of 2017.
The value of Brent crude oil will continue to rise in 2017, following a dip in March, according to a Rigzone poll on social media site Twitter.
What do you think the value of Brent Crude Oil will be by the end of 2017?

— Rigzone (@Rigzone) 6 April 2017
Forty percent of the 250 voters that took part in the survey believe that Brent will be worth around $60 per barrel by the end of the year, with 35 percent anticipating a price of around $50 per barrel.
Fourteen percent anticipate that Brent will climb to $70 per barrel or higher, and 11 percent outlined a more pessimistic future for the price of the commodity, expecting it to drop to $40 per barrel or below within the next few months.
Overall, the majority of voters backed a Brent price rise in 2017, with 54 percent expecting prices of around $60 or above, and 46 percent anticipating prices of around $50 or below.
The predictions are in line with those from oil and gas analysts at investment bank Jefferies, who forecasted back in December that the price of Brent will hit $58 per barrel in 2017 and $72 per barrel in 2018, following OPEC's pledge to cut production late last year.
David Pursell, Tudor Pickering Holt & Co. managing director, suggested in the same month that oil could price at above $70 per barrel in 2017.
If these predictions are correct, we could be heading closer to a mass recruitment drive in the oil and gas industry, as forecasted by Rigzone's audience in September last year.
In a separate poll carried out in 2016, 33 percent of 406 voters thought that big employment drives would begin in the sector if Brent hit $70 per barrel.
POLL: What price do you think #Brent #CrudeOil would have to reach to spark a mass recruitment drive in oil and gas?

— Rigzone (@Rigzone) 22 September 2016
After recovering from lows of $27 per barrel at the start of 2016, Brent crude hovered above $55 per barrel for much of January and February this year before dipping to close to $50 per barrel in March. Prices have started to rise again in April, which seems to have prompted some industry optimism, as evidenced by Rigzone's most recent survey.
At the time of writing, Brent was valued at just over $55 per barrel.
Generated by readers, the comments included herein do not reflect the views and opinions of Rigzone. All comments are subject to editorial review. Off-topic, inappropriate or insulting comments will be removed.