Armed With $11 Billion, Thai Oil Giants Hunt for Investments
by Bloomberg
|
Dan Murtaugh & Supunnabul Suwannakij
|
Monday, March 20, 2017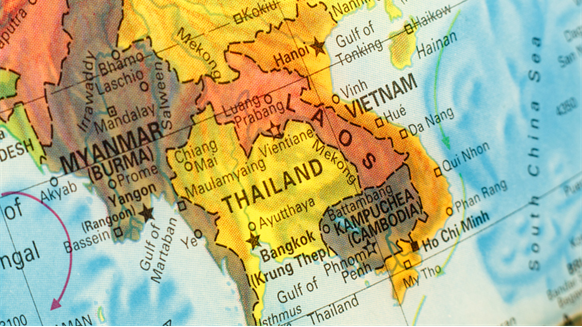 The Asian energy companies sitting on the largest hoard of cash outside China are ready to put it to use.
(Bloomberg) -- The Asian energy companies sitting on the largest hoard of cash outside China are ready to put it to use.
Thailand's PTT Exploration & Production Pcl and its parent company have nearly $11 billion combined in cash and marketable securities, such as bonds and other short-term investments. The explorer is ready to spend from its portion on projects and exploration acreage to rescue declining oil and gas reserves, according to Chief Executive Officer Somporn Vongvuthipornchai.
PTT E&P is eyeing early-life producing assets or projects that are already sanctioned and ready for development, Somporn said in an interview in Bangkok. It's also looking to work with its parent, PTT Pcl, to invest in liquefied natural gas plants, which would help feed the country's growing demand.
"We'll have to rely on mergers and acquisitions to maintain our growth," said Somporn. "We're looking at opportunities in the few hundred million to $1 billion range."
There was no such hunger when Somporn took the reins of the upstream company in October 2015. Oil prices had already fallen from the $100 a barrel range into the $60s, and he watched as over his first six months they cratered below $30 to hit the lowest in more than a decade.
He kept the company focused on weathering the downturn by cutting costs and investments. Meanwhile, proved reserves have fallen from the equivalent of 1.1 billion barrels of oil in 2009 to 695 million last year. That will last just five years at its current production rate.
Short Life
"They have a relatively short reserves life and it's pretty clear they're going to have to acquire to grow as a company," said Neil Beveridge, an analyst with Sanford C. Bernstein in Hong Kong, who has a neutral rating on the company."Domestic oil and gas production is going to decline over the coming years, so that puts more emphasis on companies like PTT E&P to go overseas and build supply."
Oil's crash made deals difficult to close last year because it was hard to agree on long-term values. While the market will remain volatile, Somporn said there is enough of a consensus now for buyers and sellers to find common ground. PTT E&P is using a $50 oil price forecast this year for its investment decisions.
"It's a good time to grow while we have this cash with us," he said. The E&P company has $4 billion in cash and marketable securities, which parent PTT accounts in its $10.9 billion. Only China's big three oil firms, led by PetroChina Co.'s $18 billion pile, have more than that among listed energy companies in Asia, according to data compiled by Bloomberg.
LNG Growth
Most of the company's wells are in Thailand and Myanmar, where Somporn is looking first for new supply. Divestitures by oil majors seeking to maintain dividends in a lower revenue environment provide opportunities to find assets, he said.
LNG is another avenue for growth. Parent-company PTT is looking to expand gas imports to meet growing domestic demand fueled by economic expansion, while domestic production is declining and pipeline imports from Myanmar may be redirected to China.
"There is an opportunity for us to participate more on the LNG value chain," Wuttikorn Stithit, PTT's executive vice president for natural gas supply and trading, said in a separate interview. "It's kind of a natural hedge, because when the price of LNG is high, from the projects we would have some value."
PTT last week announced a higher-than-expected 2016 dividend of 16 baht (46 U.S. cents) per share, signaling an increased focus on capital allocation, according to Mayank Maheshwari, an analyst at Morgan Stanley in Singapore. The company's balance sheet can sustain 20 percent higher dividends in the medium term, Maheshwari said in a note.
1
2
View Full Article
Generated by readers, the comments included herein do not reflect the views and opinions of Rigzone. All comments are subject to editorial review. Off-topic, inappropriate or insulting comments will be removed.