Chevron's Watson: US Should Be More Competitive, But Not Burden Imports
by Deon Daugherty
|
Rigzone Staff
|
Friday, March 10, 2017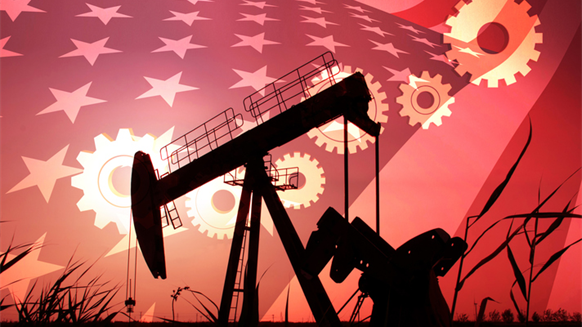 Chevron CEO John Watson discusses regulatory environment in the US and around the world with chairman Daniel Yergin during CERAWeek by IHS Markit in Houston.
Anyone in the developing world knows the social impact of having – or not having – the benefit of continuous power provided by oil and gas, Chevron Corp. CEO John Watson said.
And during a CERAWeek by IHS Markit talk this week in Houston, Watson noted the profound effects of government regulations on whether companies such as Chevron can economically serve that interest.
"What we've seen over the last decade or so is intrusion on business in a way that's really stunted growth in the economy," he said. "It's not just on our industry, either. We need to see the real cost of regulations so we can get the economy moving again."
It is with some irony that the United States now enjoys a record low rate of greenhouse gas emissions as a direct result of the oil and gas industry, he said.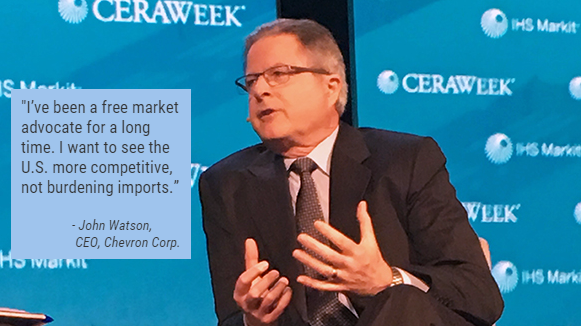 "It's because of hydraulic fracturing that we have cheap natural gas that has naturally displaced coal," he said, highlighting his disdain for a carbon tax. "Why you would pile additional costs on top of the existing energy costs that we're paying today when it's only one of the few competitive advantages that we have – I just don't think it's the right policy for us."
But it's not only at the federal level that regulations can strangle growth. In California, Chevron has a refinery project that is finally moving forward after a judge stopped the project – after Chevron had secured permitting. The project was delayed by six years, Watson said.
"Aspirational" laws dictated by new regulations are put in place before the cost-benefit analysis is complete. For example, he said, the "Cap and Trade" system in California was described as creating only minor administrative costs: instead, it manifests a roughly $2 billion a year.
"That wasn't what [consumers] were told at the outset. They weren't told that it might push jobs out of the area," Watson said. "Fifty percent of Californians live paycheck to paycheck, so they can't afford it. You may be able to afford it. I may be able to afford it. But the average Californian, the average American, is looking for affordable energy. And that's certainly true around the world when you're thinking about policy measures."
At the federal level, there has long been agreement that corporate tax reform is necessary. But the details remain uncertain, and Watson said some proposals could be problematic.
The border adjustment tax is one concept in the proposal; essentially, it would levy a tax on imports. Watson said he has some concerns about it – but with no details, he's not ready to make a conclusion.
"But what we know is the initial effect – if a refinery can't deduct the cost of imported crude its prices are going to go up for consumers," he said, adding that offshore developments also draw from the worldwide supply chain.
"The principle is to try to make American business competitive. It's not to shut out foreign goods," he said. "You have these global integrated supply chains. I've been a free market advocate for a long time. I want to see the U.S. more competitive, not burdening imports."
Generated by readers, the comments included herein do not reflect the views and opinions of Rigzone. All comments are subject to editorial review. Off-topic, inappropriate or insulting comments will be removed.
RELATED COMPANIES