Oil, Gas CEOs Optimistic about Future of E&P in North America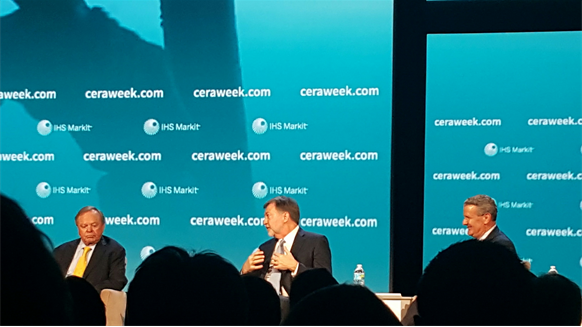 Pictured (l-r) are Harold Hamm, CEO, Continental Resources; Jeff Ventura, CEO, Range Resources; and Al Walker, CEO, Anadarko.
What a difference a year makes.
The tone of this year's CERAWeek by IHS Markit conference reflected the attitude and mindset shift of many in the oil and gas industry. There was more talk of E&P (exploration and production) activity and they were welcomed conversations following the harrowing two-plus year global oil glut that eliminated more than 440,000 industry jobs.
Three industry executives – Continental Resources, Inc. CEO Harold Hamm, Range Resources Corporation's CEO Jeff Ventura and Anadarko Petroleum Corporation's CEO Al Walker – convened during the conference to discuss the future of E&P activity in North America – and what their respective companies are doing to prepare for it.
Natural Gas Demand
Global demand for natural gas is expected to surge in the future, but Ventura believes the United States may have trouble meeting the production requirements.
"Certain oil and gas plays are better than others," said Ventura, whose company devoted the majority of its 2016 capital budget toward acreage in the Marcellus. "A misconception within the Marcellus and other plays is that all acreage is created equal."
The reality is there are core areas and sweet spots. Typically, the core area of the play is only 5 to 20 percent of the total area the play covers, meaning 80 to 95 percent of most plays are not core, he said.
"According to IHS, a play-by-play review suggests all of the plays will face sweet spot exhaustion within 10 years except for the Permian and the Marcellus – which most likely means production from these plays could slow significantly prior to that," Ventura said.
Factoring in projections for natural gas demand in the United States, he believes by 2025, the United States will have to add 77 billion cubic feet (Bcf) per day to offset decline and meet incremental demand.
"Dry das production in the U.S. today is about 71 Bcf per day. The U.S. will have to more than double production from where it is today. That's no small task," he said.
With limited core acreage, a lot of non-core drilling will be required in order to meet demand.
"The current futures price of roughly $3 for natural gas is too low and a higher price will be required to incentivize drilling in non-core areas," Ventura said. "The good news is that on an energy equivalent basis, $3 gas is equivalent to $18 per barrel oil, so there's ample room for the price to increase without impairing its cost effectiveness."
While Anadarko's Walker said his company is very focused on North America, particularly the United States, the company has opted to sell its natural gas assets and non-core gas assets. Anadarko remains with two onshore plays – the Delaware Basin and the DJ Basin – as well as the Gulf of Mexico.
Role of Technology
When oil prices were around $30, Continental, which held acreage early in the Bakken, pulled out, leaving a lot of wells uncompleted, said Hamm. Currently, Continental has 185 drilled but uncompleted wells (DUC) in the Bakken; crews have come onboard to start completing them as the industry moves out of the downturn.
Technology will play an important role in execution of the anticipated E&P activity in the United States.
"It's been tremendous what has happened with technology," Hamm said. "We're not predicting that we'll see increases this year in the overall cost portion because we tend to offset any cost increases with additional technology efficiencies."
Ventura said Range Resources is trying to use Big Data in real time to help drive decisions within the Marcellus. And though technological advances are occurring in the industry, Walker believes more can be done.
"Unfortunately, I think our industry is way behind Silicon Valley," said Walker. "There's a lot of things we can learn and catch up with from Silicon Valley's advanced technology. Whether it's the machine learning and augmented intelligence being able to read seismic data in ways humans can't or being able to understand how to process and use data analytics and artificial intelligence … for example, I have terabytes and terabytes of seismic data that I might use five percent of."
Walker said plays such as the Delaware, in which Anadarko is spending $1.3 billion on infrastructure buildout, will be costlier, but he hopes to offset that by driving down costs per well through efficiency measures.
Effects of a New Administration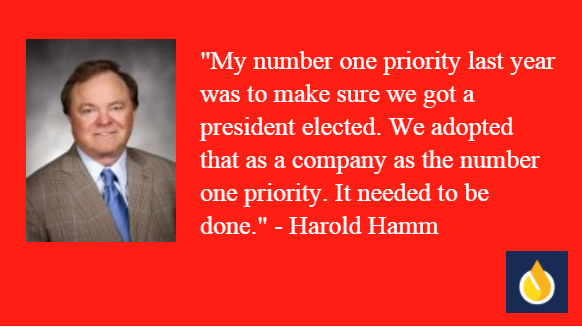 The oil and gas industry has had eyes on Donald Trump since he stepped foot in the White House, namely because he's been touted as pro-energy, pro-business and pro-jobs.
While Hamm took every opportunity to praise Trump, the CEOs seem optimistic about the future of E&P under a new administration.
"My number one priority last year was to make sure we got a president elected. We adopted that as a company as a number one priority. It needed to be done," said Hamm. "We've seen our industry here in America come back from the brink of extinction. We've got a very unique president today. He's unique in the political world because he keeps his promises."
Walker said with a pro-business administration, he's positive about the outcomes in terms of what it means for the potential of energy independence in North America.
"One of the things we need in the Marcellus is more pipelines, which I think are coming," said Ventura. "And Washington will be very supportive of all that infrastructure."
Regulatory woes were also an issue for many oil and gas leaders who felt overregulation kept the industry from moving forward.
Hamm said Trump saw the energy renaissance as a driver of the American economy.
"In the deepwater Gulf of Mexico, we were getting pretty critical in terms of how much more regulation we could take on and still have an industry," said Walker.
Still, Walker veers away from the idea that the oil and gas industry was attacked by government regulations during the Obama era.
"I'm not sure we were a targeted industry as much as I think regulation was probably going a little far in general," he said. "I think there are regulatory aspects of our business that hopefully we'll get some relief from. I'm encouraged by what I'm seeing. On the other hand, there is a level of regulation that is needed … the absence of regulation would bother me as much as overregulation."
Generated by readers, the comments included herein do not reflect the views and opinions of Rigzone. All comments are subject to editorial review. Off-topic, inappropriate or insulting comments will be removed.